Page 3 of 6
When You Buy
We'll match any price (maybe).
Low-price guarantees aren't new, but with the Internet's unprecedented power to help people find rock-bottom prices, shoppers can more easily try to take advantage of them. Merchants, not surprisingly, are responding with strategies designed to make cashing in on these offers difficult.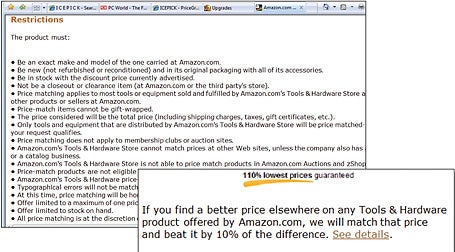 "Merchants know that, thanks to the Internet, someone is going to find a store in Podunk, America, with a cheaper price," says Tim Storm, president and founder of FatWallet.com, a Web site for bargain hunters. If you do spot a better price, though, stores will often wriggle out of their promise to match it by enforcing the guarantee's fine print, which commonly includes exceptions for certain types of merchandise, prices advertised online, prices at stores not considered direct competitors, and prices at stores outside a certain geographic area.
However, we've also seen instances where brick-and-mortar stores have refused to match a price, even when all conditions of the guarantee have been met. Complaints posted at gripe sites describe experiences similar to those we found in an investigation of rebates: Some shoppers stop trying to realize the savings because they don't think it's worth the effort. A contributor to the consumer review site My3cents.com described how a CompUSA store manager had refused to honor a low-price guarantee that would have saved him $5, saying a senior manager wasn't on hand to approve the price drop. Having made the trip expressly to get the product, the shopper paid the higher price.
Engineer Jim Neumiller of Copperas Cove, Texas, paid $247 for a 27-inch Magnavox television at his local Best Buy. But while he was on hold with Best Buy's customer service to arrange for delivery of the set, Neumiller noticed the same set on Best Buy's Web site for $199.
Neumiller demanded the lower price. A Best Buy representative initially agreed and said that he would be credited with the difference. The credit never showed up, however, and when Neumiller called to ask why it hadn't, he was told that the TV was no longer on sale at the lower price. Only after he filed a deceptive-advertising complaint with the Federal Trade Commission and griped on his blog did Best Buy issue him a $50 credit.
To avoid such problems, a good rule of thumb is to review product marketing materials, look for asterisks, and scan the fine print for restrictions or anything else unusual.
It's in stock--until you place your order.
When buying online, don't count on promised delivery dates or inventory representations. Katie Young, spokesperson for the Better Business Bureau serving Alaska, Oregon, and western Washington state, says that even well-intentioned companies sometimes overpromise. She should know: Her office mediates consumer complaints about Amazon.com.
Amazon's second-most-complained-about subject, after refunds and exchanges, is delivery service, Young says. "One of the common scenarios is, a consumer paid for overnight shipping and either never got the item or got it days late," she says. The good news: Amazon usually issues a refund to consumers who complain to the BBB about shipping delays.
Depending on the merchant you're dealing with, online overnight shipping can mean several things. Dell charges $109 for "next business day" delivery of new desktop computers. However, when I ordered a PC over the phone from Dell and added that I wanted to pay for next-business-day delivery, I learned that to Dell this means the system ships the day after it's actually built--which might take up to a week.
Online purchases may also arrive late because the retailer relies on drop shipping, meaning the retailer doesn't actually stock the product, but has the wholesaler send it directly to you. Such sellers may have the best of intentions, but can end up making excuses when they find out that their supplier doesn't have the Civil War commemorative mouse you ordered.
The best way to avoid such problems is to look for red flags, such as a too-good-to-be-true price or user reviews that are either awful or excellent, with no middling evaluations. Also check out the Better Business Bureau's Web site, which has a searchable database of company report cards.