The Wide World of External Drives
At a Glance
Maxtor OneTouch III Mini Edition

PCWorld Rating

Western Digital Passport External 120GB Portable Hard Drive (USB 2.0, 5400 RPM)

PCWorld Rating

LaCie Rugged All-Terrain Hard Drive 100GB

PCWorld Rating

Apricorn Aegis Mini USB Ultra Portable Hard Drive w/Interface - 30GB

PCWorld Rating

Seagate ST3750640CB-RK External 750GB Hard Drive (USB 2.0/FireWire, 7,200 RPM, 16MB)

PCWorld Rating

Western Digital My Book Pro Edition

PCWorld Rating

WiebeTech SilverSATA

PCWorld Rating

Apricorn EZ Bus Desktop SATA

PCWorld Rating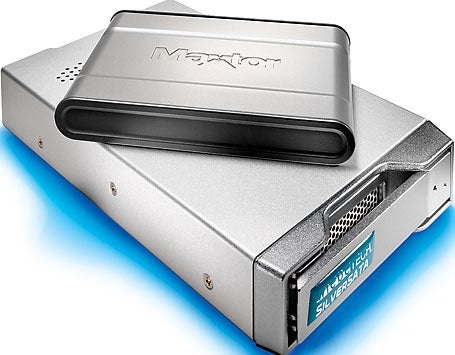 When describing the diversity among today's external hard drives, we almost feel as if we were talking about cars. Some drives exude off-road toughness, while others are sexy and small. And some are surprisingly speedy, while others are roomy enough to accommodate your growing media collection.
To help you find the perfect drive, we tested 14 external units with varying capacities, interfaces, and features. Products include the 1500GB (1.5TB) Maxtor OneTouch III Turbo Edition, loaded with software that configures a RAID setup and makes automatic restore points; Seagate's 750GB Pushbutton Backup Drive, which uses perpendicular magnetic recording technology; Apricorn's 250GB EZ Bus Desktop, equipped with a lightning-fast eSATA interface; Western Digital's ultrastylish 120GB Passport Portable Drive; and LaCie's 100GB Rugged All-Terrain Hard Drive, with shock-resistant features. For easier comparison, we divided the models into two categories that we scored separately: five desktop drives with 3.5-inch platters, and nine portable drives with 2.5-inch platters.
The PC World Test Center ran each product through a series of performance tests. Though some drives offered multiple interface options, we assessed each drive using its USB 2.0 interface unless it had an eSATA interface. External SATA drives rival internal hard drives in performance, and we see eSATA as a desirable, up-and-coming feature in external units. We did not test any drive's Fire-Wire 400 interface (which is slower than USB 2.0) or FireWire 800 interface (which is rare on PCs). We gauged how fast each product performed four tasks: reading and writing a single large 3.06GB file and a 3.06GB collection of files and folders, undergoing a virus scan, and handling a file search. Then, in a set of informal tests, we evaluated drives' hardware features, software bundles, documentation, and overall design.
In our desktop category WiebeTech's expensive SilverSATA I earned our Best Buy nod, thanks to its fast eSATA interface (it also has the convenience of a USB 2.0 port) and unique design. A plastic key unlocks the silver case, so you can swap out drives without shutting down the device; as a result, you can easily expand storage simply by buying bare drives and popping them into the SilverSATA tray. The product isn't cheap, though: Our 500GB setup cost $436. WiebeTech sells additional trays for $30 each and trays with drives starting at $163 for 250GB. The best-performing desktop hard drive was the number two Apricorn EZ Bus Desktop SATA model--and at $149 for a 250GB unit, it has a low cost per gigabyte, as well. Unfortunately, this is an eSATA-only drive and lacks a USB 2.0 port.
Among portable hard drives, Best Buy honors went to the 160GB Maxtor OneTouch III Mini Edition, which delivered the best overall blend of performance, price, features, and software. Significantly, the OneTouch III was the only portable drive to come with a backup button. The category's top performer finished fourth overall: LaCie's 100GB Rugged All-Terrain Hard Drive is a stylish aluminum product that offers three interfaces--USB 2.0, FireWire 400, and Fire-Wire 800--and shock protection inside and outside the drive enclosure. (We did not attempt to test drives' shock protection for this review.)
At a Glance
Maxtor OneTouch III Mini Edition

PCWorld Rating

Western Digital Passport External 120GB Portable Hard Drive (USB 2.0, 5400 RPM)

PCWorld Rating

LaCie Rugged All-Terrain Hard Drive 100GB

PCWorld Rating

Apricorn Aegis Mini USB Ultra Portable Hard Drive w/Interface - 30GB

PCWorld Rating

Seagate ST3750640CB-RK External 750GB Hard Drive (USB 2.0/FireWire, 7,200 RPM, 16MB)

PCWorld Rating

Western Digital My Book Pro Edition

PCWorld Rating

WiebeTech SilverSATA

PCWorld Rating

Apricorn EZ Bus Desktop SATA

PCWorld Rating
Shop Tech Products at Amazon