The Wide World of External Drives
At a Glance
Maxtor OneTouch III Mini Edition

PCWorld Rating

Western Digital Passport External 120GB Portable Hard Drive (USB 2.0, 5400 RPM)

PCWorld Rating

LaCie Rugged All-Terrain Hard Drive 100GB

PCWorld Rating

Apricorn Aegis Mini USB Ultra Portable Hard Drive w/Interface - 30GB

PCWorld Rating

Seagate ST3750640CB-RK External 750GB Hard Drive (USB 2.0/FireWire, 7,200 RPM, 16MB)

PCWorld Rating

Western Digital My Book Pro Edition

PCWorld Rating

WiebeTech SilverSATA

PCWorld Rating

Apricorn EZ Bus Desktop SATA

PCWorld Rating
Page 2 of 4
SATA Rules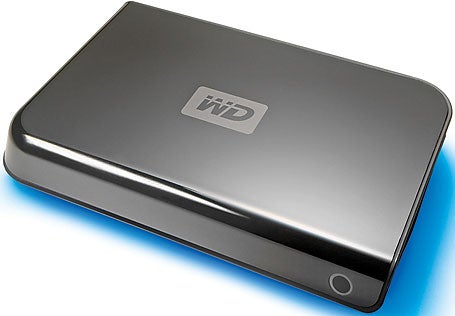 The bottom line on performance is this: If you have a free eSATA port, use it. Our test PC had a new (and currently uncommon) eSATA external port included on its case. If your machine lacks an eSATA port but has an available PCI slot, you can buy a single-port add-in card for $20 or so. A less elegant solution would be to use a pass-through cable to connect directly to a SATA port on your system's motherboard. eSATA drives tend to be far faster than USB 2.0 drives. On average, the two eSATA desktop drives (the WiebeTech and the Apricorn) performed at about 1.5 to 2 times the speed of the USB 2.0 drives on all tests except the file-search operation--and the two interfaces performed comparably on that task.
The high speeds that the SATA drives turned in raised our evaluation standard for the three USB 2.0 products, among which Maxtor's OneTouch III Turbo Edition slightly outperformed the rest. We tested the OneTouch III Turbo at its default RAID 0 setting for striping data across drives. RAID 1, the product's alternative setting, mirrors the same data on each of the enclosure's drives--a redundancy feature in case one of the two drives fails. Mirroring reduces the total capacity of the OneTouch III Turbo by half, however.
Four drives--the LaCie Little Big Disk, the LaCie Rugged All-Terrain Hard Drive, the Maxtor OneTouch III Turbo Edition, and the Western Digital My Book Professional Edition--came with FireWire 800, an interface that video professionals and other people who need high-speed data transfer like to use on their Macs. Few PCs have FireWire 800, so most people would need to install a product such as Belkin's $80 Fire-Wire 800 3-Port PCI Card before they could use it.
If you have PC support for it, FireWire 800 will deliver a significant speed boost (similar to that provided by eSATA) over USB 2.0. All of our tests, except the file-search test, showed improved drive performance with FireWire 800. The Little Big Disk, the One Touch III Turbo, and the My Book Professional Edition ran our tests about 1.75 times as fast when linked via FireWire 800 as they did over a USB 2.0 port. The Rugged All-Terrain Hard Drive ran about 1.5 times as fast when using FireWire 800.
At a Glance
Maxtor OneTouch III Mini Edition

PCWorld Rating

Western Digital Passport External 120GB Portable Hard Drive (USB 2.0, 5400 RPM)

PCWorld Rating

LaCie Rugged All-Terrain Hard Drive 100GB

PCWorld Rating

Apricorn Aegis Mini USB Ultra Portable Hard Drive w/Interface - 30GB

PCWorld Rating

Seagate ST3750640CB-RK External 750GB Hard Drive (USB 2.0/FireWire, 7,200 RPM, 16MB)

PCWorld Rating

Western Digital My Book Pro Edition

PCWorld Rating

WiebeTech SilverSATA

PCWorld Rating

Apricorn EZ Bus Desktop SATA

PCWorld Rating
Shop Tech Products at Amazon