Virtualization App Makes Programs Portable
At a Glance
RingCube Technologies MojoPac 1.0.1

PCWorld Rating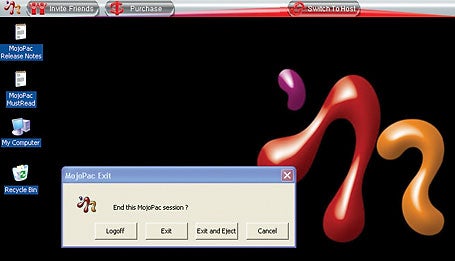 Want to take your favorite applications with you, wherever you go? MojoPac, a $50 program you can use with Windows XP systems, allows you to create a PC of sorts from a portable USB 2.0 device, such as most iPod models or fast thumb drives.
I looked at a shipping version of MojoPac; setup took just minutes. I first registered online and then downloaded the installer file directly to the 1GB USB thumb drive I had connected to my PC. I ran the setup file from there, logged in to MojoPac, and was up and running. MojoPac borrows the keyboard, monitor, and optical drives of the computer to which it's connected.
The MojoPac desktop appears in full screen and looks like your average Windows desktop. My first step was to customize it and install my favorite applications.
I then took my USB drive on the road. Once I hooked it up to a Windows XP PC, I received the option to view my MojoPac desktop just as I had on my computer back home.
All of the applications and data you use are saved to the MojoPac-equipped device, leaving no trace on the host PC. MojoPac's C: drive shows you the data on your portable device, as well as the basic Windows, Program Files, and Document and Settings folders. Though you can neither see nor access files stored on the host PC's hard disk, a wizard can help copy files over.
One potential sticking point with MojoPac: The software requires administrator rights to the host PC. This could be a problem if you wanted to use it on another public PC to which you lack administrator rights. The company says this issue will be resolved in the next version of the software, which should be available by the time you read this.
MojoPac provides a handy solution for frequent travelers who miss using their must-have apps while on the road.
Danny Allen
RingCube Technologies MojoPac 1.0.1
Frequent travelers will like this clever program that allows you to create your own virtual PC.
Price when reviewed: $50 per license
Current prices
(if available)
At a Glance
RingCube Technologies MojoPac 1.0.1

PCWorld Rating
Shop Tech Products at Amazon