Vista: The Upgrade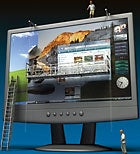 Vista improves upon earlier versions of Windows in many ways (see "Everything You Need to Know About Windows Vista" for more on its features). If your hardware is fairly new, but you're not satisfied with Windows XP, upgrading will definitely make sense--eventually.
I installed Release Candidate 2 of Windows Vista Ultimate Edition, the latest prerelease version as we went to press, on several PCs ranging from a brand-new machine powered by a dual-core Athlon 64 X2 processor, down to a three-year-old 1.4-GHz Pentium M notebook. Many of the upgrades went fine. But when they went bad, they went really bad. The final version of Vista will likely provide a smoother transition, but I'd still recommend waiting a few weeks after Vista's announced January 30th general release before you make the move. Check user forums to see what problems other people have faced, give your device manufacturers time to release new drivers, and generally allow things to settle down a bit.
Free Advice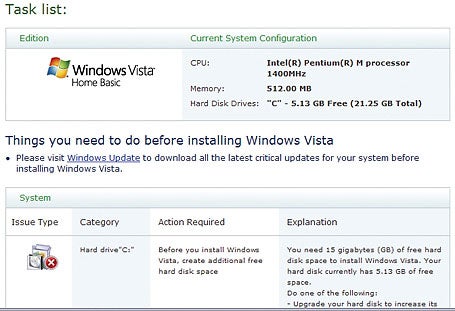 Before you decide to upgrade, you'll want to know whether Windows Vista will work with your system's hardware and software.
Windows Vista has significantly higher minimum system requirements than its predecessors--an 800-MHz processor, 512MB of RAM, and a graphics adapter compatible with DirectX 9. Before you upgrade, download and run Microsoft's Windows Vista Upgrade Advisor, which scans your system and prepares a report listing the components and software Vista will like, and those it won't.
Upgrade Advisor then presents you with a list of problems--such as insufficient memory or disk space, or incompatible software--and a list of tasks you need to do before and after upgrading. On one system I tested--a Toshiba Satellite M35 notebook--it suggested I free up 11GB of disk space and uninstall a couple of Toshiba utilities. It also suggested that I check Windows Update for new drivers for my wireless adapter after installation, and warned that most of the remaining Toshiba utilities, plus Symantec's Partition Magic, Apple's QuickTime, and Zone Labs' ZoneAlarm firewall, might not work as expected in Vista.
If a critical component or peripheral is going to give you trouble, you may want to hold off on upgrading or invest in a Vista-ready alternative.
Start Installing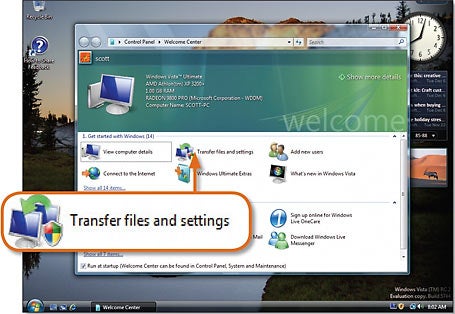 Your first tough decision: Which version to get. See the chart "How Much Will Your Vista Upgrade Cost?" for a breakdown of what comes with which version. Depending on whether you qualify for an upgrade and on which upgrade path you take, your new Windows version could cost anywhere from $100 to $400.
Assuming you have a 64-bit PC, you'll also have to choose whether to install the 32-bit or 64-bit version of your chosen Vista flavor. In my informal tests, the 64- and 32-bit installations were hard to tell apart in normal use. Still, many users may want to stick with the 32-bit Vista for the time being. The performance benefits of 64-bit computing are hard to see unless you perform certain data-intensive tasks like CAD or video and image editing. And while some hardware makers, notably nVidia, have been great about providing both 64-bit and 32-bit drivers for their devices, historically 64-bit drivers have been harder to come by. The traditionally more plentiful 32-bit drivers run only under the 32-bit version, and 64-bit Vista won't let you install unsigned drivers that haven't been through Microsoft's quality assurance process, further diluting the pool of available drivers.
Back Up First
Whether you're upgrading your existing Windows installation--which should leave applications and files in place--or opting for a clean installation, there's always a chance that your files could vanish in the process. Back up your data before you begin, using Windows Easy Transfer. A link to this utility appears when you insert your Windows Vista installation disc in a Windows 2000 or XP machine. You can also use Easy Transfer to migrate your data and settings directly from your old machine to a new Vista computer.
The simplest way to achieve a clean install is to boot your PC with the install disc; you'll be able to choose where to install your new OS, and from there the process moves along at a decent pace. I performed clean installs of Windows Vista RC2 three different times on two systems, and each time the process lasted about 30 minutes, requiring only occasional intervention on my part to select a time zone, create a user account, and tell Windows whether the system would be part of a home network, a work network, or a public environment.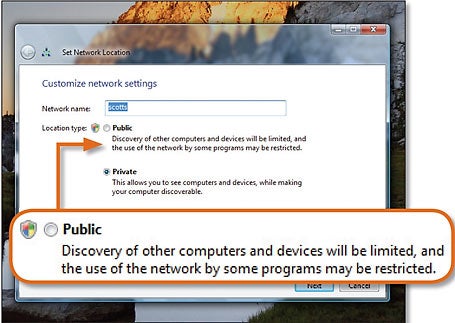 Windows will adjust your security settings based on the type of network you'll use. Vista disables just about every kind of file and printer sharing when you identify your network as a public one. So when you hop on to the Wi-Fi connection at your local coffee shop, you won't be able to browse to any other networked PCs, and they won't see your PC as part of a local workgroup. Selecting home or work networks enables this last setting, which Microsoft now calls network discovery, but leaves other file and printer settings unchanged.
'Personalize' the OS
Once you have Vista up and running, you'll probably want to tweak many of the same settings that made Windows XP or 2000 fit you like a glove. Be prepared to look around for a while--most of the same configuration options are still available, but many have moved or been renamed. Display Properties, for example, used to be accessible with a simple right-click of your desktop.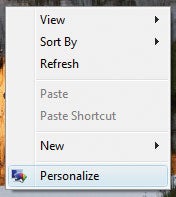 Vista replaces the Display Properties link with one called Personalize. Clicking it opens a new Control Panel interface with links to familiar interface settings dialogs, including Screen Saver, Mouse Pointers, Theme, and good old Display Settings. A new link at the top of the screen lets you control the window color and transparency settings for the Aero interface.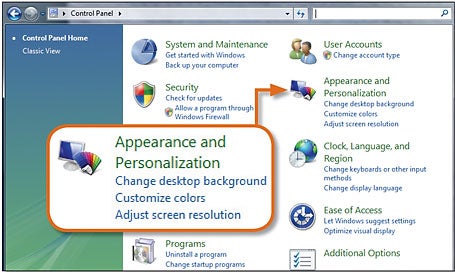 The perennially useful Device Manager now gets its own link in the Classic View of the new Control Panel. Device Manager is still the quickest way to fix any driver problems you encounter: Just fire it up, double-click the offending gadget, select the Driver tab in the resulting dialog box, and then click the Update Driver button to search for a new driver on the computer or via the Internet. There was nothing terribly wrong with the way this procedure worked in Windows XP, and happily, it remains mostly unchanged in Windows Vista.
Mixed Results
Though PC World's sample of three PCs was small, it yielded a surprising variety of installation experiences. I performed a clean install of both the 32-bit and 64-bit versions on an AMD 64 X2 machine, and found the two installations nearly identical. While formal testing will have to wait until final versions of Windows Vista are available, I was pleasantly surprised by the OS's snappiness. I opened, closed, minimized, maximized, resized, and dragged windows all over the screen with no visible jerkiness or hesitation. Internet Explorer served up YouTube videos over a cable modem connection without a hiccup, and Media Center played a Led Zeppelin DVD flawlessly.
The only major glitch I ran into related to hardware support: Both the 32-bit and 64-bit versions failed to identify the PC's Asus PCI wireless network adapter. A quick look on the Asus Web site revealed no Windows Vista driver for the card; until the company writes one, users of this card will have to settle for a wired ethernet network connection.
A clean install of the 32-bit Windows Vista RC2 on the Athlon XP 3200+ system was nearly as uneventful--almost everything worked just fine with the exception of the motherboard's on-board audio system. As with The other desktop PC, the machine's performance felt at least as crisp running Windows Vista as it did running Windows XP. It appears that fears of Vista's Aero interface being a dog are groundless, at least for day-to-day computing tasks.
But I ran into serious trouble attempting an in-place upgrade on the Toshiba Satellite M35 laptop. After a good 20 minutes of looking at the system, the installer declared that I must first uninstall Roxio's Easy CD Creator 6.1--and it then aborted. I removed the offending software, and tried again. This time the installation cranked away for more than an hour, before hanging completely.
Fortunately, when I hit the reset button, the boot menu gave me the choice to roll back the incomplete installation, and within a few minutes, I was happily booting into Windows XP once again.
A clean install proceeded normally on the same system, and I found that Windows Vista again performed similarly to Windows XP.
Conclusion: Be Patient
Glitches like these are typical of the early days with a new OS, which is why you'd be wise to let the die-hard upgraders serve as guinea pigs when Vista lands on store shelves at the end of January. Windows Vista looks online for updates during the install process, which should allow Microsoft to smooth installation wrinkles for later adopters. The new locations for familiar commands will take some getting used to, but Vista's new tools, improved security, and eye-catching interface may just be worth the trouble.
The Easiest Upgrade of All: Buying a Vista PC

Navigating the minefield of a Windows upgrade can be arduous. So arduous, in fact, that lots of smart people time their PC purchases around the release of a new Windows version: They simply buy a PC with the updated OS preinstalled and copy files over.
According to several major PC manufacturers we spoke with, including Alienware, Dell, Gateway, and Sys Technologies, you'll be able to purchase a PC with Windows Vista preinstalled on the same day that the software hits the shelves, which Microsoft says will be in late January 2007. All four vendors report that they'll make the switch immediately across their retail product lines.
If you can't wait that long, you can still have your new PC for the holidays and Windows Vista too. Many PC vendors, including Alienware, Gateway, and Sys, are offering upgrade coupons with systems sold this fall that entitle you to a free Vista upgrade in the new year. But watch out: If you opt for an Alienware PC with Windows XP Home Edition, for example, you'll be in line for an upgrade to Windows Vista Home Basic, which lacks the Aero interface. At press time, HP said its upgrades would be free, and Dell plans to offer free or low-cost upgrades from XP Home to Vista Basic (upgrades of XP Professional and Media Center Edition--to Business and Home Premium, respectively--will be free). So read the fine print. And remember: Any OS upgrade has the potential for pitfalls.
For more on Vista and the upgrade, see our complete Vista FAQ feature.