Page 2 of 6
Free Advice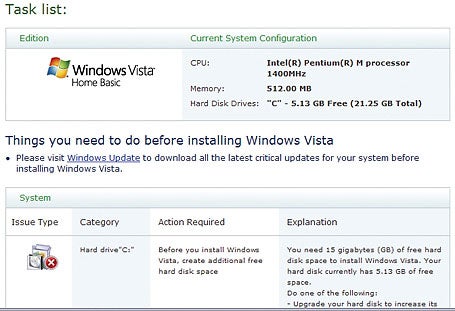 Before you decide to upgrade, you'll want to know whether Windows Vista will work with your system's hardware and software.
Windows Vista has significantly higher minimum system requirements than its predecessors--an 800-MHz processor, 512MB of RAM, and a graphics adapter compatible with DirectX 9. Before you upgrade, download and run Microsoft's Windows Vista Upgrade Advisor, which scans your system and prepares a report listing the components and software Vista will like, and those it won't.
Upgrade Advisor then presents you with a list of problems--such as insufficient memory or disk space, or incompatible software--and a list of tasks you need to do before and after upgrading. On one system I tested--a Toshiba Satellite M35 notebook--it suggested I free up 11GB of disk space and uninstall a couple of Toshiba utilities. It also suggested that I check Windows Update for new drivers for my wireless adapter after installation, and warned that most of the remaining Toshiba utilities, plus Symantec's Partition Magic, Apple's QuickTime, and Zone Labs' ZoneAlarm firewall, might not work as expected in Vista.
If a critical component or peripheral is going to give you trouble, you may want to hold off on upgrading or invest in a Vista-ready alternative.