WebShopper
Grand Reopening: PC World Shopping
You spoke, and we listened. We've made finding the hottest deals and best products from thousands of online retailers easier and faster in our just-relaunched PC World Shopping area. Previously called Latest Prices, our new Shopping section includes the tools and controls you've been asking for. And you can be sure we'll keep on listening.
Among the many improvements and additions we've added are:
a vast expansion of the product choices
better navigation options, including improved search
advanced sorting and filtering capability
tighter integration with expert, unbiased editorial reviews and independent lab-test results
Massive Selection, Improved Navigation
The categories in Shopping have been dramatically expanded and now include more video games and gear, accessories (need a new case for your cell phone?), office products, and much deeper sections for photography and electronics. Naturally, we've kept all of your favorite, and most important, technology product categories.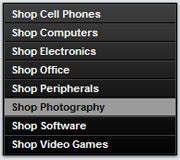 And with this greater selection comes a new suite of tools to help you find exactly what you want.
For example, we've added buttons for major product categories to our navigation system. Located on the left side of the page, these black buttons point to key, popular product areas such as cameras and computers.

We've also revised the search tools to provide another method for finding products. Simply type in what you want; you can further narrow your search by selecting a specific category to go with your typed choice.
Yet a third way to get around is our Browse By Topic list, available on the main Shopping index. Use the links here to get to very specific product categories.
Advanced Tools, Expert Advice
Let's get under the hood. Say you want a camera, but not just any camera: You want an 8-megapixel model with a big LCD and an 8x zoom or better. And you want to know what other people who have owned the camera think about it, and you want it for a low price.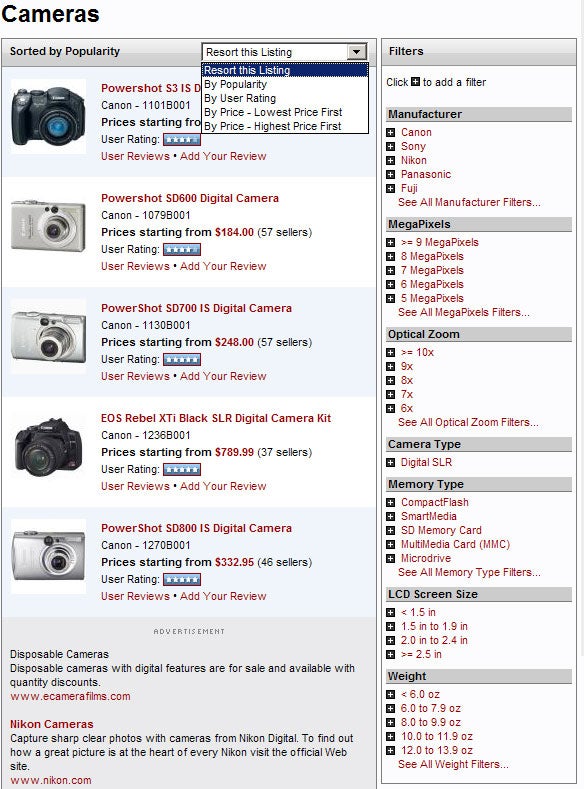 Our new sort-and-filter tools are the answer. These handy helpers allow you to use many different criteria--including major specifications, pricing, and user ratings--to find the perfect match. And very shortly, we'll be adding comparison tools that will allow you to compare products directly and side-by-side.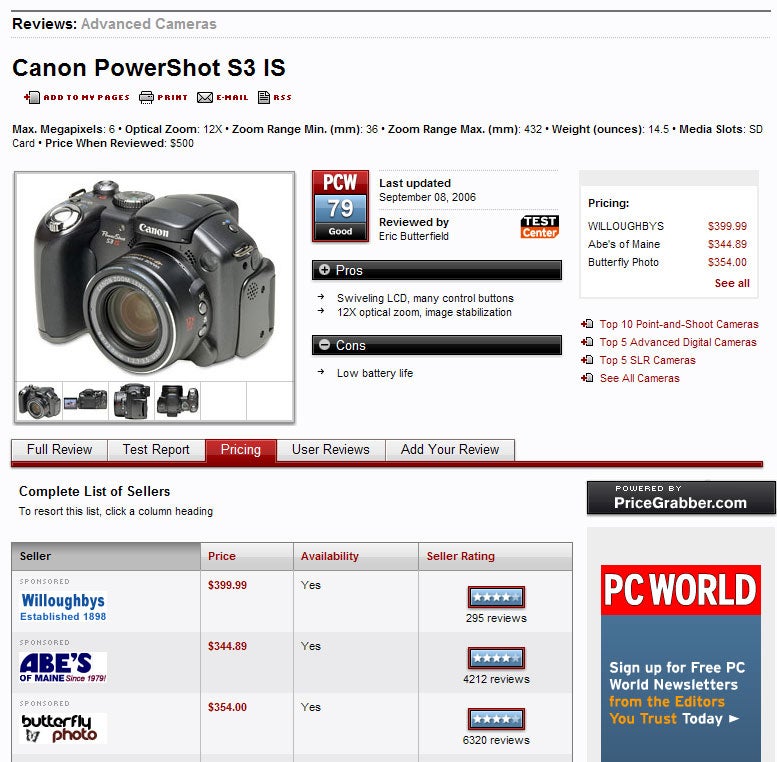 And when you finally find the product that most intrigues you, you'll learn everything about it in one easy-to-use package that includes merchant listings, user reviews and ratings, vendor information, retailer ratings, and professional reviews and independent lab tests (where applicable).
More choices, better tools, and deeper information--that's the new PC World Shopping. More improvements are on the way, but check out PC World Shopping today and let us know what you think.
Shop Tech Products at Amazon