capsule review
Apple iMac (With 2-GHz Intel Core Duo CPU)
At a Glance
Apple 20-inch iMac Core Duo

PCWorld Rating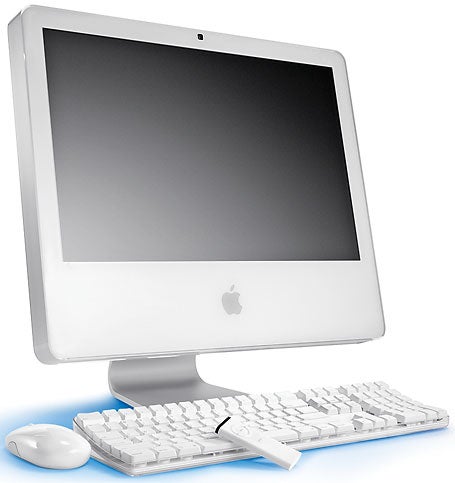 Apple's 20-inch iMac with a 2-GHz Intel Core Duo processor looks identical to the 2.1-GHz iMac G5 that we reviewed in January 2006. The primary difference is that--while Apple's own applications run faster on the new machine--current third-party software such as Adobe Photoshop CS2 is not yet optimized for the Intel processor, and such programs may run much more slowly than before.
Right now most of the Intel-friendly software is written by Apple, whose optimized iLife programs (iMovie, iPhoto, iTunes, and iDVD) were quicker than their PowerPC counterparts in tests conducted by our sibling publication Macworld. Also, Macworld found that the Intel-based iMac started up nearly twice as fast as the previous iMac G5. In my own informal tests, I found using iTunes and browsing the Web with Safari to be much snappier. In contrast, Mozilla's Firefox took twice as long to do the same things.
In a worst-case scenario, software not yet optimized for the Intel processor (such as Microsoft's VirtualPC) won't run at all. Most software, however, just runs more slowly, since Apple Rosetta has to translate PowerPC-based software into a form suitable for the Intel processor. In Macworld's tests, both Photoshop and Microsoft Word took about twice as long to finish tasks on the Intel Mac as they did on the earlier non-Intel G5.
Apple added a mini-DVI port with second-monitor capabilities to the new iMac. However, you'll have to purchase a $19 adapter to take advantage of it.
Because of the Intel-based iMac's performance handicap with nonoptimized software, I rate this shipping iMac a point below its non-Intel predecessor. Though the move to the Intel platform speeds up natively written programs and opens the door to the possibility of users' being able to dual-boot with Windows Vista, currently programs not designed for the Intel Mac (and there are lots of them) lose speed on this machine.
Narasu Rebbapragada
At a Glance
Apple 20-inch iMac Core Duo

PCWorld Rating

Unique all-in-one design and strong speed make this pricey system a winner.

Pros

Unique all-in-one with good performance

Cons

Very limited upgradeability
Shop Tech Products at Amazon