Sony's Packed PlayStation 3: The Nitty-Gritty Details
Page 4 of 4
The Blu-ray Experience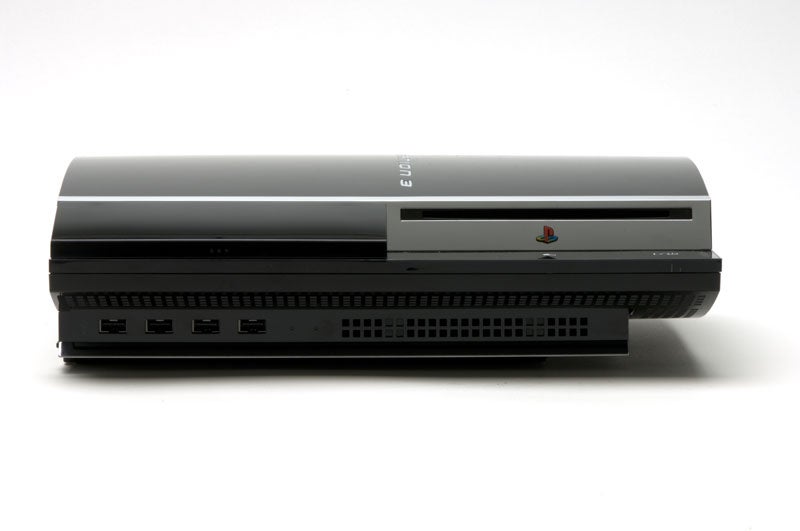 From the outset, Sony intended the PlayStation 3 to serve as an all-purpose entertainment console, with tendrils that extend well beyond the realm of game play. But can the PlayStation 3 hope to compete with stand-alone Blu-ray players from consumer electronics makers?
The short answer is yes. (For a more detailed analysis of the PlayStation 3 as a movie player, see "Burning Questions: PS3--The Blu-ray Movie Experience.") The PS3's movie playback experience is best if you start from scratch, inserting a disc into the front-loading slot just as you power up the unit. The unit took just 3 seconds to load the movie Underworld Evolution, followed almost immediately by the opening sounds of the PlayStation 3 start-up orchestra. The screen then blacked out and loaded the movie disc; total disc load time, from insertion of disc to start of playback, was nearly 24 seconds.
Matched side-by-side with the Samsung BD-P1000 Blu-ray player (using its original, factory-installed firmware from when it shipped last summer), the game console delivered noticeably sharper and crisper image quality, with more depth and more detail than were visible on the Samsung.
Sony's decision to omit the remote from its package seems chintzy and inconsistent with its positioning of the premium PS3 as an all-encompassing entertainment device; it's worth noting that Microsoft includes a remote in the competing Xbox 360 box. (Sony will, however, include a Blu-ray movie--Will Farrell's Talladega Nights: The Ballad of Ricky Bobby, with the first 500,000 systems it sends to market.) But even if you pay for the remote to make the PS3 the entertainment-centric package it's designed to be, you'll be spending a total of just $525 or $625, depending upon which version of the player you get. That's far less than you'd pay if you bought a dedicated Blu-ray Disc player today; they range in price from $899 for the Philips BDP9000 to $1500 for the forthcoming Pioneer Elite BDP-HD1.
Multimedia File Playback
Dedicated areas in the PlayStation 3's XMB handle music, videos, and photos. Two things caught my eye: Videos played in thumbnail previews as I quickly flicked through them; and one photo-viewing mode (called Portrait Slideshow) uses real-time-generated graphics to foster the feeling that you are placing photos on a surface for friends and family to thumb through.
The PS3 supports common file formats such as AAC, JPEG, MP3, and MPEG-4 video, but I had no luck with any of the numerous WMV (Windows Media Movie) and WMA (Windows Media Audio) files I tried to play. I'm currently trying to find out from Sony whether these are supported or not. It's an important consideration if you have a massive collection of music files that you've purchased on a service that uses the WMA format.
In all probability, users will be able to play back more multimedia formats than the PS3 supports out of the box if they install Linux. Already, Linux distributor Terra Soft has announced that the PlayStation 3 supports its Yellow Dog distribution.
The PS3 can play music CDs, access song information from AMG (the All Music Guide) and copy/rip songs to its hard disk. By default, it does so in AAC format at 128 kbps, but you can create MP3 and ATRAC files if you prefer.
PlayStation Online Store and Network
Because Sony won't fully enable the PS3's online features until the official U.S. launch on November 17, I can't yet evaluate how well they work. But that doesn't mean I don't have the latest details for you.
Sony has said that--unlike Xbox Live--the PlayStation Network will be a free service. You'll be able to see when friends are online in order to chat with them by video, voice, or text, or to join multiplayer games. We'd like to confirm this for ourselves, but early feedback following the Japanese launch of the PlayStation 3 is that currently users can leave only text messages for other gamers. Reports further indicate that you can't read messages while in a game; you simply get a pop-up notification. Again, we'll look into this and let you know what we find out.
Regarding the PlayStation Store, Sony has stated that it intends to offer downloadable game demos and movie trailers, and to sell retro games, episodic content, and perhaps eventually even full-length movies. Methods to pay your "electronic wallet" bill will include credit card and special PlayStation cards sold in shops. Downloadable games that Sony has developed will cost less than $15 apiece at launch, and you can expect new titles from a range of developers to appear regularly.
Parting Thoughts
So there you have it: the PlayStation 3 in a rather large nutshell. It truly is technologically superior to both the Xbox 360 and the Wii (which isn't really a direct competitor). But to succeed, Sony and its third-party partners must tap into their traditional strength of delivering compelling games for the console. The PS3 looks like an expensive box at first, but seems less so when you compare its cost to the cost of a stand-alone Blu-ray player, a high-end PC graphics card, the Xbox 360 with its HD-DVD add-on, or even a media center PC.
PC World's resident Blu-ray expert, Melissa J. Perenson, contributed to this story. And special thanks to our IDG stablemate GamePro for graciously allowing us to use their debugged PlayStation 3 until our retail unit arrived.
Shop Tech Products at Amazon