The Best PC Deals Under $1000
Page 10 of 10
Cheap PCs Rated (chart)
In our tests, cheap PCs showed that they could stand up well next to more-expensive models. We tested 14 models priced at less than $1000--including monitor--and found that most of them provided a level of performance acceptable for general business or home use. Just keep your expectations reasonable, and don't expect to be able to play high-end games on these systems--few did well on our graphics tests. Despite their poor graphics performance, most earned a PCW Rating of Good or better, because in our rating system, performance is just one of four major factors that affect the overall rating (the others are price, features, and design).
The PC World Test Center evaluated each system on our WorldBench 5 test suite, which times how long various common tasks in popular applications take. The results plotted a dramatic arc, ranging from the laggardly score of 66 for the Ajump Prive 336 ($499) to the Micro Express MicroFlex 66B's stunning 148.
The MicroFlex 66B ($999) was our clear winner, delivering performance scores in line with those we've seen from much costlier systems. Our number two pick, Dell's attractive and uncommonly narrow Dimension C521, turned in relatively modest performance scores and for that reason is far more typical of the systems in this price range than the powerful MicroFlex 66B--but it also costs $270 less.
To see how our 14 cheap PCs stack up against our usual field of value PCs, click the link below to jump to our most current Top 10 Value PCs chart.
Click the icon below to see the Top Cheap PCs chart from the January 2007 issue of PC World magazine.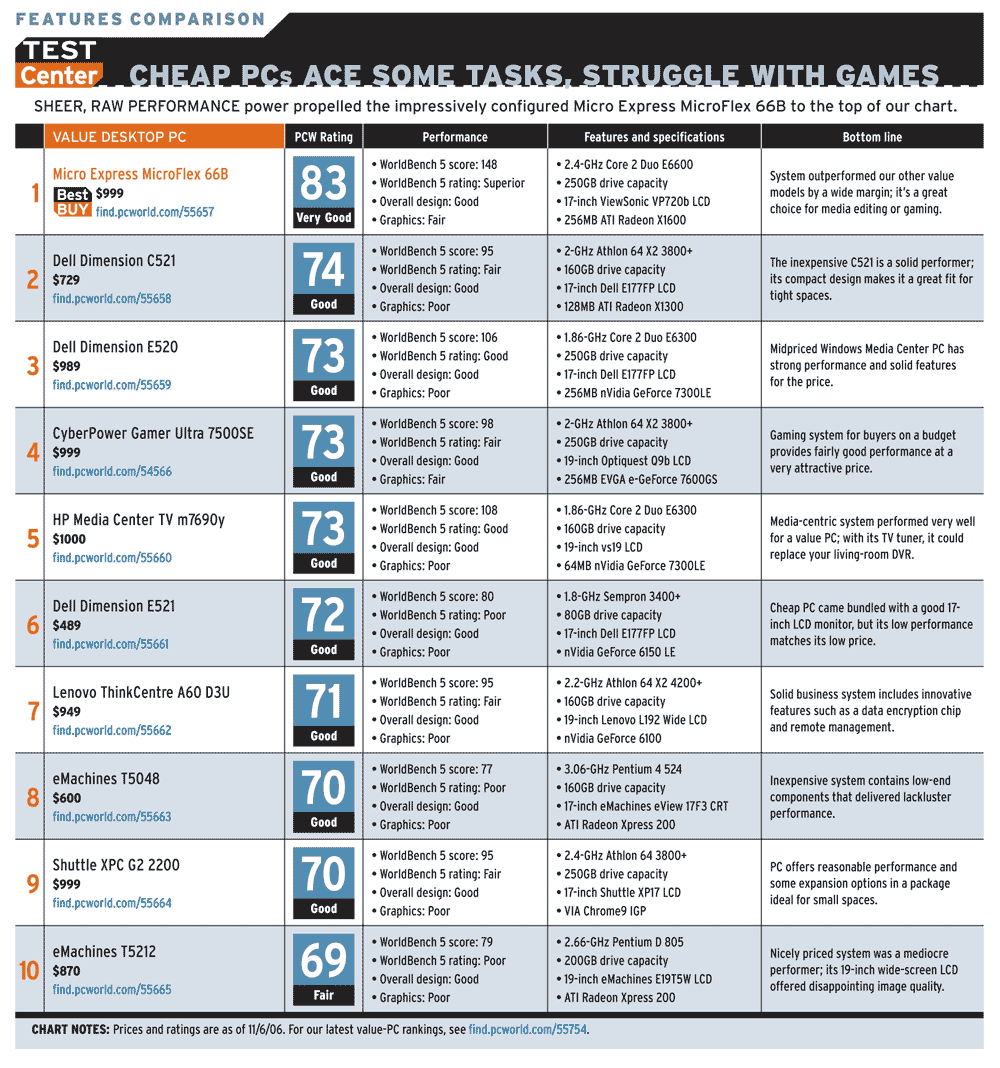 Shop Tech Products at Amazon