The Best PC Deals Under $1000
Page 6 of 10
HP Media Center TV m7690y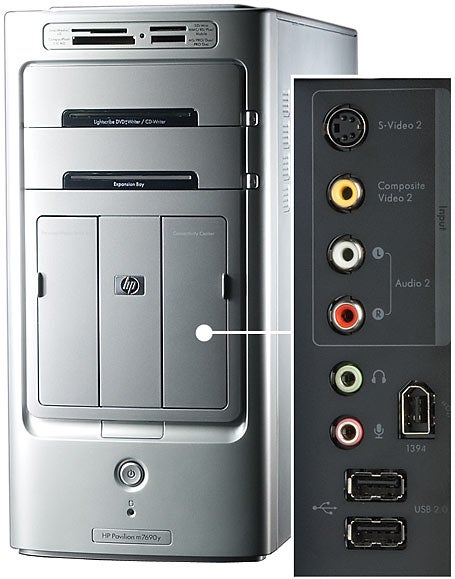 Though it lands at the upper extremity of our cheap PCs price scale, the $1000 HP m7690y justifies the difference in cost with an attractive feature set. The system runs Windows XP Media Center Edition and includes a TV tuner for recording television shows. One of the m7690y's many design conveniences is its multitude of front-mounted ports, including a set of video and audio inputs. The system's integrated audio decoder supports up to 5.1 channels of surround sound and offers S/PDIF inputs and outputs for connecting the PC to a satellite or cable TV box. Also up front: a drive bay for HP's optional removable hard drive.
The m7690y earned a mark of 108 on our WorldBench 5 test suite, the second-best score among models reviewed here. But subpar graphics performance makes this system a poor choice for gaming.
Dell Dimension E521
The Dimension E521 ($489) is the least-expensive computer we tested for this roundup. However, its slow performance and underwhelming specs severely limit its appeal. Configured with a single-core 1.8-GHz AMD Sempron 3400+ processor and 512MB of RAM, the E521 attained a modest WorldBench 5 score of 80--adequate for basic tasks like Web browsing or word processing, but insufficient for running games. It also choked when we tried to play a DVD movie and convert an MP3 file simultaneously; the video simply became unwatchable.
The E521 that we reviewed for this roundup came equipped with a 17-inch LCD monitor, Dell's E177FP. Though we welcomed the inclusion of a slim LCD at this extremely low price, we found the monitor to be just adequate, with undistinguished color.
Shop Tech Products at Amazon