The Best PC Deals Under $1000
Page 7 of 10
Lenovo ThinkCentre A60 D3U
Lenovo's $949 A60 D3U lacks the frills of a consumer system, but it has features that an IT manager might find useful. A built-in data encryption chip safeguards data on your hard drive, software protects your passwords and encryption keys, and Lenovo's ThinkVantage management program allows you to configure and check the system remotely. The A60 D3U's WorldBench score of 95 is more than adequate for most general business tasks.
An unexpected bonus on the PC configuration we tested was the inclusion of Lenovo's first 19-inch wide-screen monitor, the L192 Wide. This cleanly designed display rendered sharp, bright images.
eMachines T5048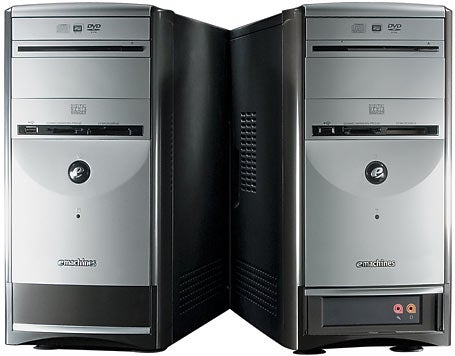 The eMachines T5048 achieves its low price ($600, or $500 after subtracting the mail-in rebates available at the time of this review) by using entry-level components. The T5048 garnered a WorldBench 5 score of 77--slightly lower than the mark posted by the similarly priced Dell Dimension E521. Games were unplayable, as well.
At this price, eMachines bundles its 17-inch eView 17F3 CRT monitor with the T5048. The monitor produced adequate image quality, but images and movies lacked sharpness and had dull colors.
The system came with a dual-layer DVD burner, a multiformat card reader, and a 160GB hard drive. One limitation: The audio output supports stereo speakers only.
Shop Tech Products at Amazon