Microsoft Office 2007: A Worthy Upgrade
At a Glance
Microsoft Word 2007

PCWorld Rating

Microsoft Excel 2007

PCWorld Rating

Microsoft PowerPoint 2007

PCWorld Rating

Microsoft Outlook 2007

PCWorld Rating

Microsoft Access 2007

PCWorld Rating
Page 2 of 7
Word 2007: Smarter and Loaded With New Features
Interface and internet elements shine in this revamped word-processing application.
Microsoft Word is the most frequently used application in the Office suite, so the major interface changes will likely affect most Office users. But whether you'll call these changes improvements or productivity busters will depend on how fast you complete the unavoidable relearning curve. Ultimately, Microsoft's well-executed Help structure, along with a legion of formatting, collaboration, and integrated online tools, make Word 2007 a welcome upgrade.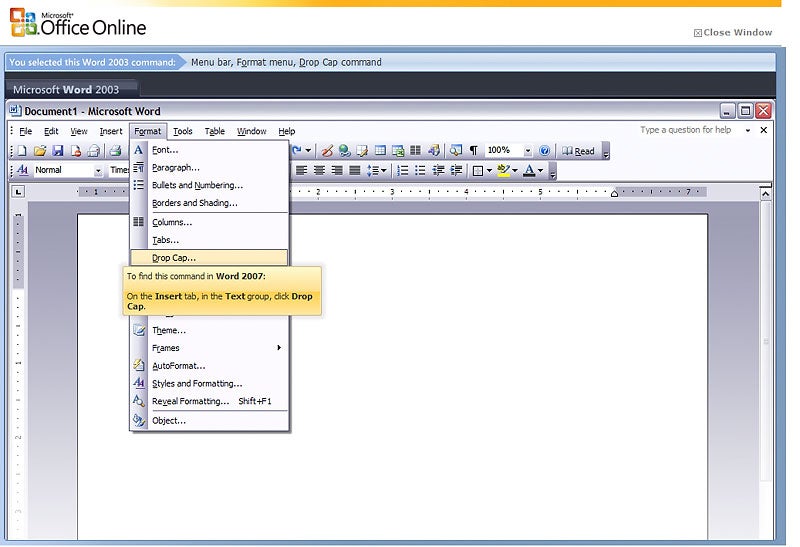 The most conspicuous switcheroo in Word 2007, the ribbon toolbar, does enhance productivity once you figure out where various commands have been relocated. For example, Drop Cap resided intuitively within the Format menu in Word 2003, but it appears on the Insert toolbar in 2007. To aid Word veterans in finding commands, Microsoft has posted the indispensible (but online-only) Interactive Word 2003 to Word 2007 Command Reference Guide. Without the guide, hunting for Drop Cap would be like engaging in an impromptu game of Where's Waldo. The extensive interactive online help (like the limited off-line help) is full of screenshots and video, so you'll need a broadband connection to view it.
Better Mail Merge
The ribbon toolbar's Mailings tab improves on the formerly arcane mail-merge process by walking you step-by-step through choosing a project, selecting recipients (which you can import from Outlook), and writing and inserting mail-merge fields.
Office 2007's other design improvements work nicely in Word. If you highlight text, open the drop-down font selector, and hover over a font, Office's live preview will show you how the highlighted text looks in that font. Word themes--which set colors, fonts (including heading and body text options), and effects (including lines and fills)--reside in the Page Layout ribbon and employ live preview to its fullest advantage. The themes let you jazz up an entire document with one mouse click. Highlighting text in your document brings up a shadow toolbar composed of formatting functions; but if you select a formatting option here, you won't be able to see an on-the-fly preview.
Word Goes Online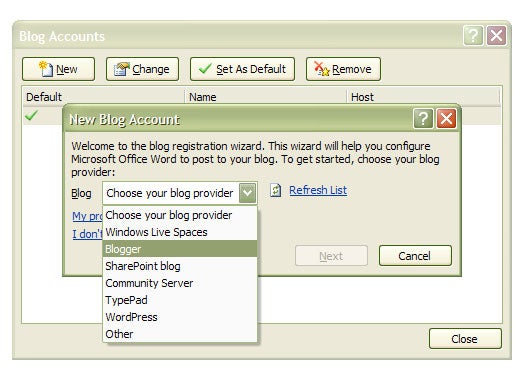 Microsoft obviously designed Office 2007 with the Internet in mind, and you'll need to go online to take advantage of some of the suite's features. Selecting New*Blank Document from the Office button menu brings up a panel that offers a copious array of templates (invoices, business cards, flyers, and so on), most of them located at Microsoft Office Online. If you highlight a word in your document while pressing the ALT key, Word will search the Web to find references, definitions, and more. If you use one of six major blog services (such as Blogger), you can create, publish, and update blog entries directly from Word by typing in your account name and password; if you use something else, you can do the same things after entering a little more information (such as blog feed format and URL). Pressing Publish from the Office button menu will send your document to a blog, a Website, or a document server.
Microsoft has packed Word 2007 with an ocean of old and new features, commands, and tools--and thanks to its new interface, you might actually find and use them. Its improved formatting and page layout functions, together with its tight integration of Web functions, are reason enough to upgrade to Office 2007. Of course Word 2007's $229 stand-alone price ($110 upgrade) and its migration issues with previous versions might give some upgraders pause. But the software's productivity-enhancing improvements are enough to overcome these drawbacks.
--Michael S. Lasky
Microsoft Word 2007
Office's ribbon and live preview features integrate well; some help and document templates are online-only.
$229 ($110 upgrade)
Current prices
(if available)
At a Glance
Microsoft Word 2007

PCWorld Rating

Microsoft Excel 2007

PCWorld Rating

Microsoft PowerPoint 2007

PCWorld Rating

Microsoft Outlook 2007

PCWorld Rating

Microsoft Access 2007

PCWorld Rating
Shop Tech Products at Amazon