Microsoft Office 2007: A Worthy Upgrade
At a Glance
Microsoft Word 2007

PCWorld Rating

Microsoft Excel 2007

PCWorld Rating

Microsoft PowerPoint 2007

PCWorld Rating

Microsoft Outlook 2007

PCWorld Rating

Microsoft Access 2007

PCWorld Rating
Page 4 of 7
PowerPoint 2007: More Presentation Pizzazz, Less Work
Better, easier graphics make this a winning upgrade.
Of all the Office 2007 applications, the new PowerPoint is the most focused on helping people who aren't graphics gurus create documents that show a little style. So it's not surprising that PowerPoint 2007 benefits hugely from Office 2007's highly visual ribbon interface and new design tools. There's still room for improvement in some features, such as multimedia support, but the new elements add up to the meatiest PowerPoint update in many years--one that lets you produce slicker shows more quickly and with less expertise.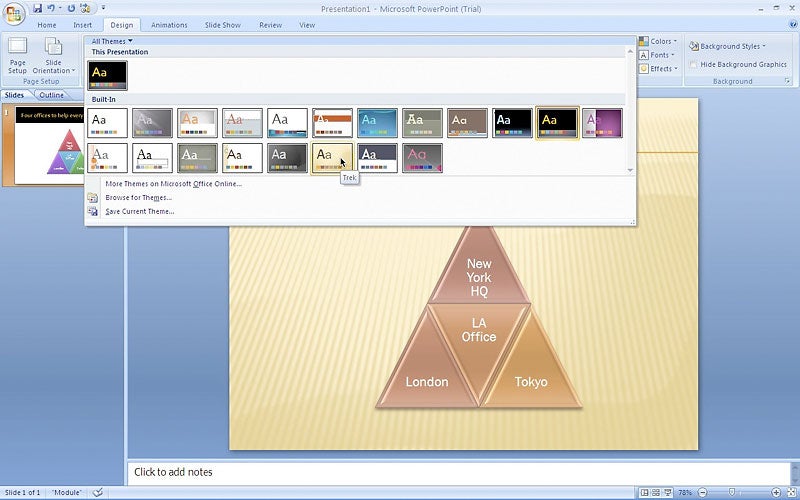 PowerPoint 2007's graphical improvements begin with its new themes--sophisticated, predesigned layouts that improve markedly on PowerPoint 2003's cheesy Templates, though they still fall far short of the stylish ones that Mac users get with Apple's Keynote program. Themes include preset color choices to prevent you from creating ugly presentations, but the multitude of color combinations available will probably seem limitless. If you do feel boxed in, you can modify the colors and layout of a Theme, and then save for later use. Since themes and color selections are also available in Word and Excel, you can apply a consistent look across all your Office 2007 documents.
SmartArt Adds Style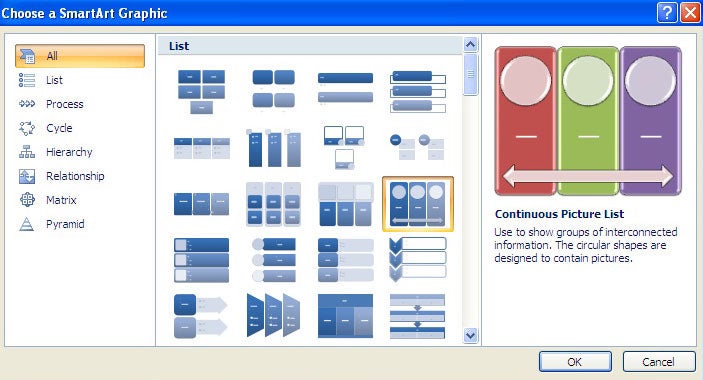 Also new (and available in Word and Excel, too) is SmartArt, a drawing tool for creating graphics that show relationships--for example, organizational charts, pyramids, and cycles. You can add SmartArt elements to a presentation and change their style with a few clicks, and you have to make a real effort to produce one that doesn't look polished and professional.
Adventuresome presenters who don't want to rely on canned elements will like PowerPoint 2007's improved effects--which include drop shadows, perspective, beveling, reflections, and glows. You can apply almost every effect to both text and graphics (including charts and SmartArt) directly from the ribbon, and in almost every case you can see how the change will affect your presentation before you actually apply it.
Better Tables
PowerPoint 2007 includes some worthwhile nondesign improvements, too. Tables, long a headache to work with, are easy to manipulate and style; and moving data between Excel and PowerPoint, complete with formatting, is finally the cakewalk it should have been all along.
Though most of what's noteworthy in this upgrade relates to slide design, other areas have a few worthwhile improvements, too. For instance, a presentation file can now contain subsets of itself that don't include all the slides, making it easier to wrangle variants of a presentation for different scenarios. Also, dual-monitor support is more sophisticated, allowing you to blank out the presentation display temporarily if you need to do something on your laptop that you don't want projected to your audience.
What Still Needs Work
PowerPoint's new look sets the bar so high that the few weak spots in the interface are downright jarring. One involves the new charting engine, which produces much handsomer graphics than earlier versions, but uses a chart type selector that hides your slides and doesn't offer a live preview of what its results will look like. And I can't figure out why PowerPoint--unlike Word and Excel--doesn't show a Theme's name unless you hover your mouse pointer on it.
Cutting-edge presenters may be disappointed that PowerPoint 2007 is still ultimately a tool for creating traditional slide shows, not rich-media extravaganzas or browser-based presentations. Features for adding video, audio, animation, and transitions to a presentation remain pretty basic; and output for the Web still looks so shabby in non-Microsoft browsers that Firefox and Safari users who try to open your presentations will get a message warning them that it may not work. (PowerPoint 2003's ability to broadcast presentations over the Internet is gone altogether--not a huge loss, since it never worked very well anyway.)
A PowerPoint that unfailingly delivered on the new interface's promise and that packed additional multimedia and Web panache would be even more impressive. But PowerPoint 2007 is a winner as is. If you buy it on its own, it costs $229 ($110 as an upgrade); but if you're using any previous version and care about how your presentations look, you need this updated version.
--Harry McCracken
Microsoft PowerPoint 2007
This presentaion graphics software looks great and is easy to use, though it could use a bit more multimedia panache.
$229 ($110 upgrade)
Current prices
(if available)
At a Glance
Microsoft Word 2007

PCWorld Rating

Microsoft Excel 2007

PCWorld Rating

Microsoft PowerPoint 2007

PCWorld Rating

Microsoft Outlook 2007

PCWorld Rating

Microsoft Access 2007

PCWorld Rating
Shop Tech Products at Amazon