Microsoft Office 2007: A Worthy Upgrade
At a Glance
Microsoft Word 2007

PCWorld Rating

Microsoft Excel 2007

PCWorld Rating

Microsoft PowerPoint 2007

PCWorld Rating

Microsoft Outlook 2007

PCWorld Rating

Microsoft Access 2007

PCWorld Rating
Page 5 of 7
Outlook 2007: A Partial Makeover
Apart from the new interface, there's not much new in Office's e-mail and calendar app.
The improvements in Office Outlook 2007 amount to a touch-up rather than a retooling. Still, after surmounting a few glitches in the conversion from Outlook 2003, I came to appreciate the interface enhancements in the program's message, compose, and other windows. If you want to integrate instant messaging and otherwise collaborate (apart from sharing calendars on the Internet), you'll need to have Windows Sharepoint Services running on a Microsoft Exchange server. Because it still lacks easy links to non-Microsoft messaging and collaboration tools, Outlook remains less integrated than you might expect a communications program to be.
Ribbon Is a Winner
The new ribbon interface appears in Outlook 2007 when you open a message or compose mail, and when you open a calendar or task entry. This sleek new look--which replaces the toolbars at the top of the screen with a set of tabbed categories of functions--makes the task of composing messages more like using a word processor than it is in any other e-mail program I've used. I also like the "ghost" menu that appears when you highlight an item. This menu lets you make on-the-fly format changes.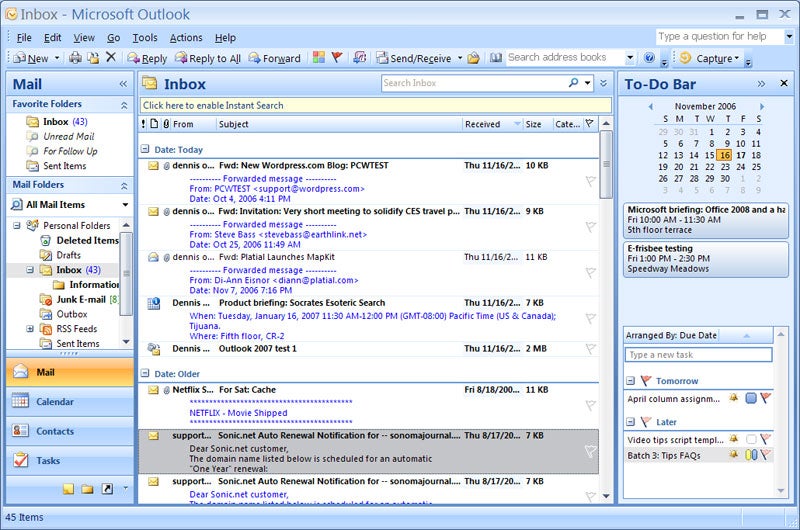 Another appealing new interface touch is the To-Do Bar, which appears along the right side of the screen (you have to click the double chevron to open it if it's not in view). It provides a snapshot of your calendar appointments for the day and quick summary of your most pressing tasks. To open it you have to double-click a task or calendar entry.
Search Glitch
The first time you open Outlook 2007, you'll be prompted to import mail from old accounts. My mail, contacts, calendar, and tasks imported without a hitch from Outlook 2003, but I hit a snag when the program asked me to download and install the Instant Search component. First, I had to let Windows Genuine Advantage validate my PC. After Microsoft decided that my PC was okay, I downloaded the 4.5MB Windows Desktop Search 3 (I was already using the Windows Desktop Search beta). When I tried to install Windows Desktop Search, a message informed me that the program couldn't install because Terminal Services weren't active. Unfortunately, the setup instructions didn't explain how to activate the service. (If you encounter the same message, you can correct the problem as follows: Select Control Panel*Administrative Tools*Services, and double-click Terminal Services in the list of Local Services; then, in the resulting Properties window, choose Automatic (instead of 'Disabled') from the Startup Type pop-up menu.)
Once I got Terminal Services rolling on my PC, Outlook 2007's Instant Search box appeared just above the message headers in my inbox. A search box is an overdue addition to the Outlook inbox, but I don't think I gained much from it because previously I could search Outlook 2003's mail, attachments, calendar entries, and tasks using the Windows Desktop Search box next to my system tray--and Instant Search uses the same search engine.
Preview Attachments
In Outlook 2007 you can preview image, text, and other files via a thumbnail before opening them. When I attempted to preview a PDF file, however, the program prompted me to retrieve a plug-in; and when I checked the Microsoft download site, no plug-in for PDFs was available. Microsoft says that it will not ship a PDF previewer for Outlook, but Adobe and third- party vendors are expected to create one. Microsoft does offer an add-in that lets users convert documents to PDF in eight other 2007 Microsoft Office programs, but not in Outlook.
I encountered one other glitch: I had set Outlook 2003 to import mail from my Gmail account, but Outlook 2007 couldn't access the account the first time it tried. To reactivate my Web mail access, I had to open the Account Settings and click Repair. Afterward it worked just fine.
Outlook 2007's new ribbon and other interface enhancements are tangible improvements, but otherwise the program is much like its predecessor. And though most people get Outlook in an Office suite, it's one of the cheaper Office applications at $110 (no upgrade price). As e-mail, instant messaging, and other forms of communication become more enmeshed, most of us will need programs that link easily to any type of network. Unfortunately, when it comes to accessibility, Outlook 2007 remains very much an outpost in the Microsoft gulag.
--Dennis O'Reilly
Microsoft Outlook 2007
Microsoft's revised e-mail program offers design improvements but doesn't interface well with other communication programs.
$110 (no upgrade price)
Current prices
(if available)
At a Glance
Microsoft Word 2007

PCWorld Rating

Microsoft Excel 2007

PCWorld Rating

Microsoft PowerPoint 2007

PCWorld Rating

Microsoft Outlook 2007

PCWorld Rating

Microsoft Access 2007

PCWorld Rating
Shop Tech Products at Amazon