Microsoft Office 2007: A Worthy Upgrade
At a Glance
Microsoft Word 2007

PCWorld Rating

Microsoft Excel 2007

PCWorld Rating

Microsoft PowerPoint 2007

PCWorld Rating

Microsoft Outlook 2007

PCWorld Rating

Microsoft Access 2007

PCWorld Rating
Page 6 of 7
Access 2007: A New Lease on Life
Redesigned database program has better window management and security measures.
In recent years, Access users have started to wonder about the fate of their favorite database program. Will Microsoft keep Access around and still pack in new features? Or will it eventually replace Access with some version of SQL Server that has a few fancy design tools?
For now, the speculation is on hold. Access 2007 constitutes a major overhaul of the aging database app, adding significant new features and streamlining the interface. For people who manage data in Access regularly, it's a worthwhile upgrade.
Access Tames Its Windows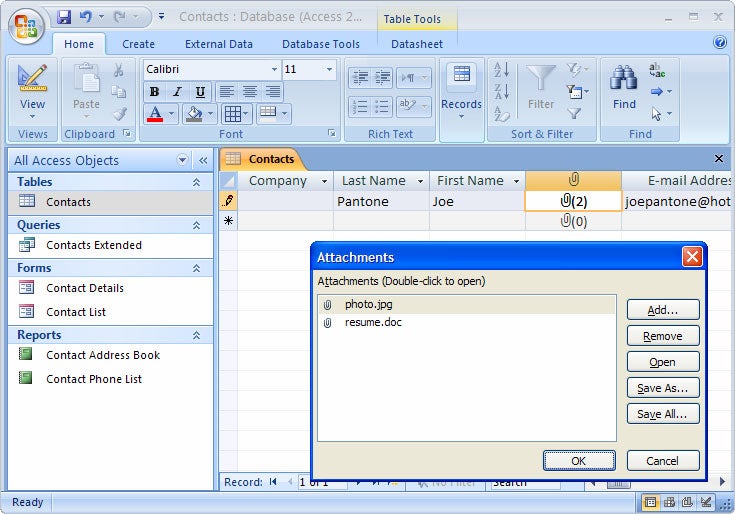 Previous versions of Access have forced users to deal with a dozen floating windows at once. Access 2007 removes the clutter and organizes its windows into neat tabs. At the left, a navigation pane lets users choose the database object they want to work with. The pane is permanently visible, but you can collapse it into a narrow bar if you want more workspace on your screen. The difference is dramatic: Working in the less congested new interface is much easier and more enjoyable.
Fortunately, Microsoft hasn't forgotten about old-school Access users. A buried setting lets you bring back the overlapping windows, which are still useful if you want to see several database objects at a time. Access 2007 handles databases created in previous versions of the program without a hitch, though the new display environment and code security settings will force long-time users to adjust a bit.
Put Files in Your Database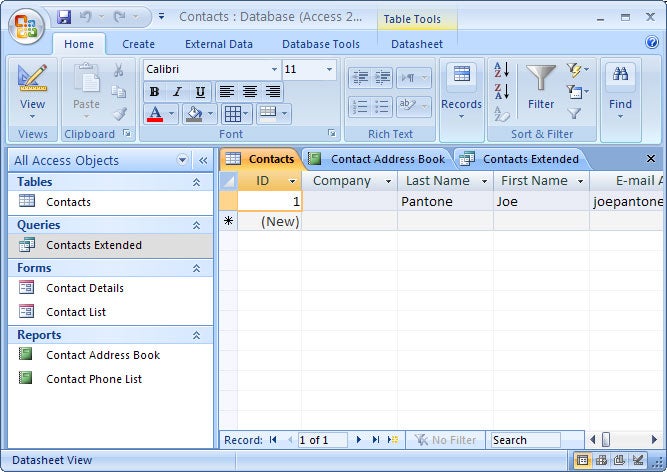 One of the niftiest new features in Access is the Attachment data type, which permits you to embed entire files in your database. It's a great way to store pictures, documents, and other files alongside a related record. But the program's 2GB database size limit means that you can forget about using Access to store movies, music, and other rich-media files.
Interestingly, an attachment field can hold as many files as you want, which makes it an all-purpose container for extra bits of information. For example, if you have a table of employees, you can throw in a personal picture, a recent resume, and whatever else you want.
A Simpler Security Model
Great databases use code, and code can do bad things. Previous versions of Access handled buggy code by popping up a stream of warning messages that users had to click through every time they opened a database.
Access 2007 uses a simpler approach. When you open a database, the program quietly disables all potentially unsafe macro actions and code. A slim security message then appears at the top of the window, informing you that your database has been restricted. You can switch your code back on with a couple of clicks, or you can place your database in a folder that you specifically designate as a trusted location. Once you've done the latter, you'll never see an unnecessary security warning again.
Easy-to-Design Forms and Reports
Designing data-entry forms and reports in Access can be a bit tedious. To get the exact arrangement of information you want, you have to drag each piece of information to the right place individually. Access 2007 improves this situation dramatically with a feature called layouts, which keeps information together in neat columns or tables.
Best of all, layouts are a breeze to work with because Access includes a new WYSIWYG form designer and report designer. Using these tools, you can apply formatting and see the results immediately--a feature that previous versions of Access sorely lacked.
Changes like these make the $229 ($110 as an upgrade) Access 2007 a solid revision for long-time users, and a tempting choice for anyone who needs to manage a large amount of information in a desktop environment.
--Matthew MacDonald
Microsoft Access 2007
Streamlined interface and code management will enhance productivity.
$229 ($110 upgrade)
Current prices
(if available)
Yardena Arar is a senior editor, Dennis O'Reilly is a senior associate editors, and Harry McCracken is editor in chief at PC World. Michael S. Lasky is a freelance writer and PC consultant in San Francisco. Matthew MacDonald is the author of Access 2007: The Missing Manual and Excel 2007: The Missing Manual (O'Reilly Media).
At a Glance
Microsoft Word 2007

PCWorld Rating

Microsoft Excel 2007

PCWorld Rating

Microsoft PowerPoint 2007

PCWorld Rating

Microsoft Outlook 2007

PCWorld Rating

Microsoft Access 2007

PCWorld Rating
Shop Tech Products at Amazon