Microsoft Office 2007: A Worthy Upgrade
At a Glance
Microsoft Word 2007

PCWorld Rating

Microsoft Excel 2007

PCWorld Rating

Microsoft PowerPoint 2007

PCWorld Rating

Microsoft Outlook 2007

PCWorld Rating

Microsoft Access 2007

PCWorld Rating
Page 7 of 7
Using New Microsoft Office 2007 Files With Older Office Suites
Don't like Office 2007's new default Open XML file formats? Here's how to change the defaults back to the formats you're more familiar with--and how to handle the new ones if you're on the receiving end.
The new Open XML default file formats that the 2007 versions of Word, Excel, and PowerPoint use by default have great potential. But for 2007 Microsoft Office users living in a mostly Office 2003, Office XP, or earlier world, they may be a source of endless complaints from colleagues who can't open them. Complicating matters further, users of the different suites have different options for opening and editing the files
Fortunately, it's easy to change an application's XML default back to the (more nearly) universally compatible Office 97-2003 format. Start by clicking the Office button on the upper left-hand corner of the application, the Options button beneath the list of recent documents, and Save in the left pane of the Options window. Then open the drop-down 'Save files in this format' menu, and choose the 97-2003 format from it.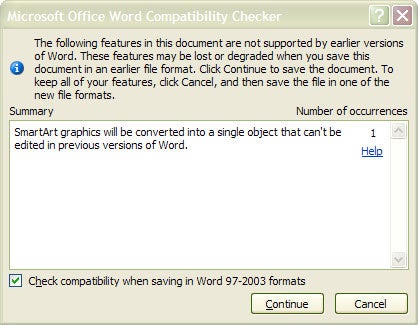 Of course, you can't preserve every Office 2007 feature in functional form in the older formats. For example, saving a Word 2007 document with SmartArt (stylish, editable chart graphics) as a Word 97-2003 document brings up a message saying that SmartArt graphics can't be edited in previous versions of Word. But at least you won't lose the underlying graphics: If you save the Word 97-2003 document as a .docx file in Word 2007, the SmartArt will reappear.
Handling Open XML Documents
If you receive an Open XML document and don't have the appropriate 2007 Office application, one of several things will happen. Assuming that you are a diligent Office 2003 or Office XP user and have kept your suite current--through Microsoft Update, for example--you will have received code (which Microsoft has been quietly shipping through software updates) that makes these versions of the suite Office 2007-aware. This is the best-case scenario, needless to say.
When such users try to open an Open XML document from within the updated Word, Excel, or PowerPoint 2003 or XP program, they'll get a pop-up window informing them that they need to obtain the Microsoft Office Compatibility Pack for Word, Excel, and PowerPoint 2007 File Formats--a free, 27MB download from Microsoft's Web site. After installing the Compatibility Pack, you'll be able to open, edit, and save Office 2007 XML files in Office 2003 or XP.
Older Offices Offer Little Help
The situation is very different if you try to open an Open XML file from within the 2000 edition or an older version of Word, Excel, or PowerPoint. In that case, you basically get no help whatsoever--just a message saying that the application cannot handle the file type.
In fact, you'll be better off if you don't launch your older version of Office at all, but instead double-click the file in Windows Explorer. Windows will respond with an unknown-file-type message, but it will offer to check online for an application that can handle the file--and if you let it, you'll be directed to the Compatibility Pack.
Limited Office 2000 Help
For users of Microsoft Office 2000, the Compatibility Pack supports Open XML files to a limited extent.
With the Compatibility Pack installed, Word 2000 users can open, edit, and save the .docx files directly. In contrast, Excel and PowerPoint 2000 users can't edit Open XML files directly; but they can open, view, and save them to their respective older file format, and then work on them. After finishing their work, users can save the file back to the Open XML format.
Windows Conversions
If you use an older version of Office--or any non-Microsoft productivity app--you cannot open Open XML files at all. But with the Compatibility Pack installed, you can convert Open XML files to their Office 97 counterparts directly from the Windows XP or Vista operating system. Right-click a .docx, .xlsx, or .pptx file, and you'll see a new 'Save as...' menu item; click it, and you'll get a window containing a field for the file name and a drop-down format menu showing the Office 97 format.
When you've edited and saved the file, you can right-click again to return to the 'Save as...' window; this time, the drop-down format menu will have the Open XML option for saving your file.
Old Commands, New Locations
In the likely event that you need help finding the new locations of old Office 2003 tools and commands, you'll be relieved to know that Microsoft offers handy animated Web-based guides to its new versions of Word, Excel, and PowerPoint. Opening a guide brings up a Web page with the old 2003 interface; clicking a pull-down menu command within that page brings up the command's 2007 equivalent, highlighted on the new interface.
--Yardena Arar
Do you have any tips for easing the transition between Office 2003 and Office 2007 or for using the new suite? Share them with the group in the PCWorld.com Office & Business Forum.
At a Glance
Microsoft Word 2007

PCWorld Rating

Microsoft Excel 2007

PCWorld Rating

Microsoft PowerPoint 2007

PCWorld Rating

Microsoft Outlook 2007

PCWorld Rating

Microsoft Access 2007

PCWorld Rating
Shop Tech Products at Amazon