PlayStation 3 Debuts to Crowds, Chaos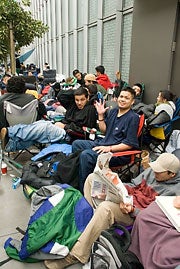 Peaceful PS3 hopefuls line up outside the Metreon in San Francisco.
A week after it first appeared in Japan, Sony's PlayStation 3 console went on sale in the U.S. and three other countries today.
The console is likely to have immediately sold out. Many stores stopped taking reservations weeks ago and the device is already selling for more than $2000 on eBay. That's about three times its U.S. retail price of $599.
Demand for the console is high because Sony is short of the blue-laser diode that sits at the heart of the console's Blu-ray Disc drive. Problems starting up production of that part pushed Sony to scale back the worldwide launch. There were supposed to be about 2 million PlayStation 3 consoles ready for the launch, but that was cut to about 500,000 units.
It's not clear if Sony managed to even ship that many. The company said that 100,000 of the consoles would be in Japanese stores for last weekend's launch but data from a recognized local gaming magazine said the PlayStation 3 sold out on launch day with 88,400 units.
Desperate Gamers Resort to Violence
There were reports of sporadic violence across the U.S. and Canada, where it also launched, as people waited in line to snap up one of the consoles. The most serious reported incident happened in Putnam, Connecticut, where a man was shot while waiting for the console to go on sale. The man apparently confronted two armed men who were trying to rob those in line, according to news reports.
Dozens of police were called to Boston's Copley Place Mall after security guards lost control of a crowd of about 400 people today, The Boston Globe reported in its online edition, and a 19-year-old man was injured after running into a pole while racing others to get a place in a queue outside a Wal-Mart store in Wisconsin, said the Associated Press. In Ottawa, Canada, one man was arrested for being intoxicated after a fight broke out at 2 a.m. this morning among people waiting for a game store to open, according to the Canadian Broadcasting Corp.
The console also went on sale in Hong Kong and Taiwan on Friday. It will hit Europe and Australia in March 2007, according to Sony's current plans.