Protect Yourself While Using Web Shopping Tools
Online comparison shopping sites make finding competing prices on many different products a cinch. But as anyone who has used one of these services knows, they're not perfect. It's easy to find customers complaining of being lured into doing business with online stores that subject them to high-pressure sales calls, bait-and-switch techniques, delivery no-shows, or the delivery of refurbished items advertised as brand-new.
To help you figure out how to get the best deals, save time, and avoid shifty retailers, we went snooping in the online sales world. What follows is the real story of how these shopping engines work.
Paying for Prominence
Most shopping engines are biased toward companies that pay them fees for prominent placement. Comparison shopping engines like Shopzilla.com, Shopping.com, and PriceGrabber.com work with merchants who sign up to make their product inventory available for the engines to search by keyword. Merchants don't pay to have links to their products; rather, they pay the shopping engines when customers click on the links to their stores.
In addition, any company that wants to be first in the unsorted search results can have that position--if they pay for the privilege. To be the first merchant listed in the "LCD" subcategory (Computers>Monitors>LCD) at NextTag.com, for example, a company must pay NexTag at least $1 for every prospective customer who clicks a link to its store from the NexTag site. The more a merchant is willing to pay for clicks to its site, the higher it will rise in search results.
Stores that pay for placement on shopping engines are always identified. The meaning of a "Sponsored Links" list on a page is obvious, but you may also see logos on shopping engines' sites that say "Featured Stores" or "Featured Merchants"; such logos denote paid placement. (Clicking on the words "Featured Store" or "Featured Merchant" inside a store's ad should pull up an explanation of what the terms mean exactly to each shopping engine.)
Tip: To eliminate such artificial emphasis, always re-sort your search results based on price or user review rankings.
Some shopping engines don't charge merchants to be included in search results. Among the no-charge engines are Google's Froogle, ShopWiki, TheFind, and Microsoft's Live Product Search Beta. These shopping search engines crawl the Web looking for products and also allow merchants to submit their product catalog for free.
Ever find that a search engine doesn't have any results for a product you know is available? Shopping engines don't always report the most comprehensive list of products, according to Brian Smith, an industry analyst with research firm Comparison Engines. That's because merchants often remove low-margin and low-cost items from the product catalogs they share with shopping engines, Smith says.
Some Logos Not for Sale
Shopzilla offers a "Smart Choice" seal that cannot be bought and is given to the store that offers the lowest price and has the highest customer ratings. Similarly, Shopping.com highlights a search result called "Smart Buy"--a title the company says cannot be bought. This, according to Shopping.com, indicates "the lowest available price from a Trusted Store." (In tomorrow's story, we'll examine how these endorsements can encourage you to deal with stores you might best avoid.)
Despite the claims of such site picks, a look at the legal fine print at most shopping engines reveals that they take no responsibility for the merchants they recommend. One exception among leading shopping engines is Yahoo Shopping. With select merchants and purchases less than $1000, it offers a Buyers Protection Program. When you buy from a participant in the program and that merchant either fails to ship or delivers something other than what you ordered, Yahoo Shopping offers an expedited process to get your money back.
Comparison Shopping Shams
Choosing the lowest price on a shopping engine can lead to trouble for shoppers. That's because some merchants try to game shopping engines by publishing bogus prices and by inflating their customer ratings.
One tactic stores use is to list a very low price to win your interest, and then require that you call them to complete the deal. Once you're on the phone, high-pressure sales people try to pile on overpriced accessories. If you balk, your order will often get canceled. That's exactly what happened to PC World reporters when we conducted a shopping test of several online retailers a few years ago. Today, all but one of the stores in the article that used these tactics are still in business, and a few are still listed on shopping engines' sites.
Stores listed at shopping engines have also been known to inflate their customer reviews by creating false identities and submitting positive feedback for themselves. And a lot is at stake with user reviews: Forrester Research says that 40 percent of shoppers take retail ratings into account when choosing where to buy.
Leading shopping engines say that they try to sniff out fake reviews and oust merchants who abuse their systems. PriceGrabber--with which PC World partners for its Latest Prices product listings--rejects 5 to 7 percent of merchant reviews submitted to it, according to Kamran Pourzanjani, the company's chief executive officer.
"If bad apples get through, it ruins the reputation of our comparison engine, and then we're done," Pourzanjani says.
E-Commerce Upstarts vs. Megastores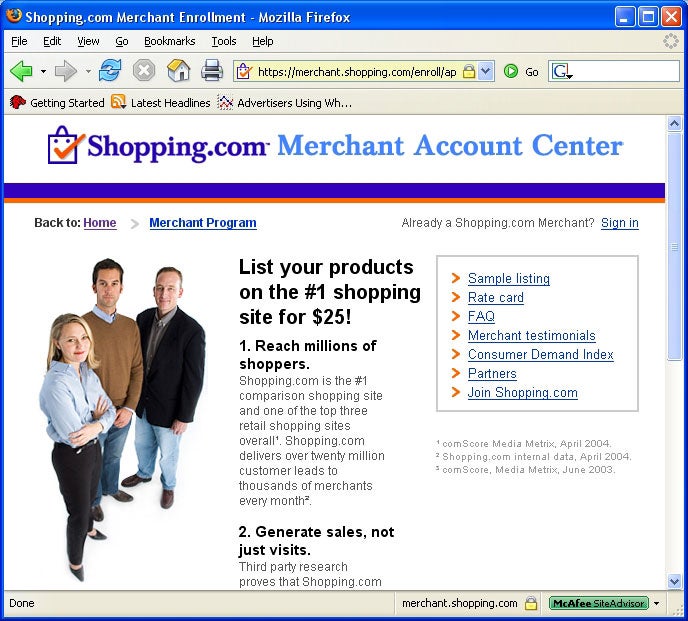 Many of the companies that do business on comparison shopping engines are small companies with little track record. One reason for this is that the barrier to competing with large stores on the same network is relatively low. All that it takes to list items on Shopping.com is a $25 down payment and a promise to adhere to site rules, including not artificially boosting your merchant ratings. Similarly, ShopZilla requires a $50 down payment for new merchants.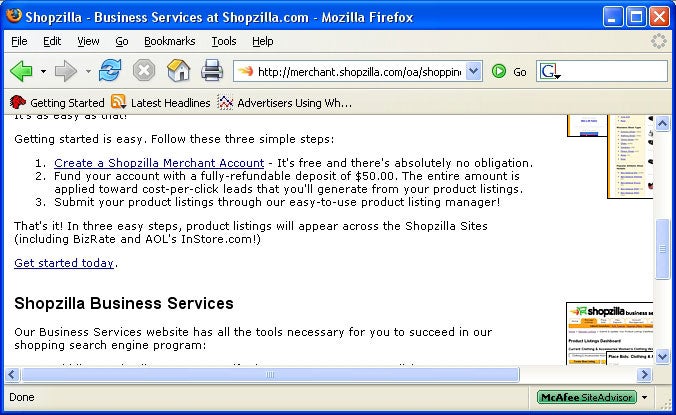 Smaller sites may not have many user reviews on the shopping sites, leaving you to risk doing business with a relatively unknown company. For example, when we searched for a 42-inch Panasonic TH-42PWD8UK plasma television at Shopzilla.com in early November, one company that showed up in Shopzilla results was a business based in Italy that advertised the television for $300 less than anyone else listed on the shopping engine, with no sales tax and free shipping. The catch: The company doesn't accept credit cards--only wire transfer or Western Union transfer, neither of which will protect you should the television not show up or you have some other dispute with the retailer.
One Shopping Engine, Multiple Sites
Serious shoppers should visit multiple shopping engines to find the lowest price and the most reputable merchants. But because some shopping engines go by multiple aliases, you risk wasting time unless you know which ones to skip.
Shopping.com also runs the shopping engines Dealtime.com and Pricetool.com; a search at both sites for a "portable DVD player" delivered identical results. PriceGrabber.com and BottomDollar.com are owned by the same firm. NexTag.com and Calibex.com are one and the same; Shopzilla.com owns Bizrate.com.
Also note that many sites of various kinds have business arrangements in which they use search results from one of the engines; for example, PC World.com displays results from PriceGrabber.
Shop Wisely
Before forking over your credit card number to any online company, check the comparison shopping engine's customer reviews and store ranking. Watch out for suspicious-looking reviews--ones that seem artificially complimentary, or that sound similar to other reviews.
Keep in mind, however, that star ratings tell you only part of the story. Some comparison engines, including Shopping.com, offer rating systems based on an aggregation of all the reviews ever posted to the site. If a company has gone downhill in the past six months, you may not get an indication of that unless you dig deeper into the ratings.
Shopzilla will allow you to see ratings generated within the last week, month, or 90 days; NexTag shows ratings from the last 40 days or 90 days. Such options give you a better idea of a company's recent dependability as opposed to how well the company was rated two years ago.
At the merchant's site, check for TRUSTe certification, which indicates that the company meets the nonprofit organization's privacy and business standards. The BBB has a BBBOnLine Reliability program, the seal for which participating merchants can display on their sites.
However, you should always click on the TRUSTe and BBB logos presented at a site. Most reputable companies link you directly to their BBBOnLine or TRUSTe reports for you to review. If the BBB logo doesn't link directly to a report, visit the BBB or TRUSTe Web sites and look up the company yourself. If you don't find a report, the site may be using the logo or logos fraudulently.
The Truth About Shopping Engines, Part 2: Suspect Advice?
In "Shopping Engines: Suspect Advice?" we uncover how many of the merchants endorsed by shopping engines have received poor ratings by the BBB and other independent sites; we also reveal how some vendors get relisted on shopping engines after they've gotten the boot.