Page 13 of 21
Eradicate Your Web and Windows Tracks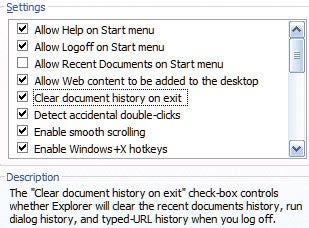 Hey, it's nobody's business but yours what you're doing on your own PC. If you share a system with a nosy roommate or family member, or if you're stuck using public PCs at a conference, you may want to scrub your tracks--Windows' memory of what you've done over the last few hours or days--each time you sign off.
First, set up a browser for sensitive surfing, and use it only for work in which you need maximum security. Clear your secure browser's history and configure it to remember as little as possible. In the chart below are instructions for the most commonly used browsers.
You can also get rid of your Windows history on PCs that you own or share, but the easiest way to keep prying eyes away from your Windows history is to prevent it from being recorded. Download Tweak UI (see "Expand Your Collection of Windows-Tweaking Tools") and run it. Make these changes:
Under 'Explorer' check Clear document history on exit. Uncheck Allow Recent Documents on Start menu, Maintain document history, and Maintain network history.
Under 'Common Dialogs' uncheck Enable AutoComplete and Remember previously-used filenames.
Don't Leave Browsing Tracks
Browser
Initial tweaks
To manually clear history
Internet Explorer 6
Click Tools, Internet Options, set 'Days to keep pages in history' to 0.
In Internet Options, click Delete Cookies..., Delete Files..., and Clear History.
Internet Explorer 7
Click Tools, Internet Options; under 'Browsing history' click Settings. Set 'Days to keep pages in history' to 0.
Click Tools, Delete Browsing History, and then Delete All...
Firefox 2
Click Tools, Privacy; uncheck all items under History section. Check Always clear my private data when I close Firefox.
Click Tools, Privacy, and then Clear Now...