Page 20 of 21
Systray Tips: Turn Off Pesky Apps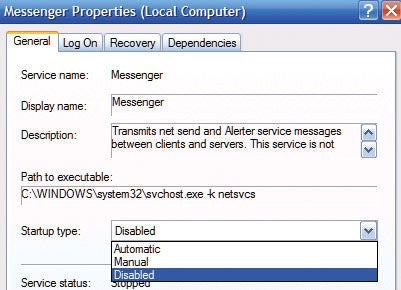 More and more applications continually nag you with pop-ups or plop an icon into your already crowded system tray. Here's how to deal with some of the worst offenders.
Apple Quicktime: To remove the icon from the system tray, right-click it and select QuickTime Preferences. Click Advanced and uncheck Install QuickTime icon in system tray.
Real Player: To remove pop-ups, right-click the Real Player system tray icon. Click Set Real Message Center preferences.... Uncheck all boxes. Click Yes on the 'Warning!' screen. To remove the shovelware, go to the 'Add or Remove Programs' control panel. First, remove The Weather Channel Desktop (click No thanks... at the warning prompt and quit the browser survey launched after); then remove Weather Services. You must remove them in order.
Windows Messenger: To prevent Messenger spam, disable it. Click Start, Settings, Control Panel, Administrative Tools. Double-click Services. Scroll to and then double-click Messenger. Click Stop. Change the 'Startup type:' field to Disabled.