The Web's Most Useful Sites

The lowly browser is becoming the most powerful piece of software on your computer. Despite the promises of chip makers and PC manufacturers, a Web application like Gmail running on a massive server farm thousands of miles away can often be faster and more reliable than the best client-based program.
Developers are pushing browsers to their limits by creating even better online alternatives to desktop apps, ranging from spreadsheets to instant messaging tools to full-blown operating systems.
However, storing your data remotely raises privacy and security concerns, and Web apps that rely on JavaScript are ripe targets for hackers. Browsers still struggle to mimic the interfaces of desktop programs, and no browser yet has an "application mode" that lets it appear on your desktop instead of as just another browser window among ten others.
Despite these limitations, innovative, agile, and low-cost Web services are blooming across the Internet's landscape. We looked at the best of the new Web services in 14 categories, ranging from online office suites and other productivity tools to recommendation services and event-listing sites. We found several knockouts, but we also identified a few sites that aren't quite ready to replace old standbys on your desktop.
Along the way we also found some of the best widgets--small desktop applications that pull data from Web sites--and mashups, which combine the best of two sites to make an even better result.
Word Processors

Google, Thinkfree, and Zoho offer the only true collaborative online office suites, with word-processing applications at their center. In October, Google combined Writely, an online Ajax-enhanced word processor it bought last spring, with its online Spreadsheets program to create Google Docs and Spreadsheets. (Ajax is a technique used to make Web pages interactive and often "live," meaning that changes display without your having to reload the page.) At the same time, Zoho united the log-ins for its online Ajax-based spreadsheet, word processing, and presentation software and will soon offer them as a complete suite called ZohoX, which it says will be free for individuals.
Each of these Web suites offers you significant functionality, but they all come with a major caveat: None will allow you to back up all your files at once or store copies at a third-party data center. You might therefore want to keep a local copy of every document in the event that the service goes down or you find yourself without a broadband connection.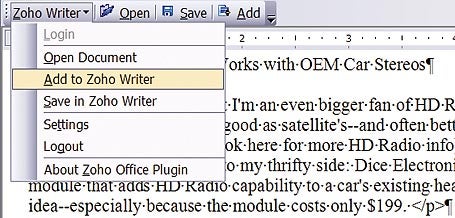 Winner: Zoho Writer features a hideable list of documents divided into sections for private, shared, and public documents, plus templates. Like Google Docs and ThinkFree, Zoho Writer can publish items directly to a blog and can save and import a range of text document formats, from Microsoft Word to HTML. With a plug-in for Microsoft Word, you can save from that application directly to your Zoho account.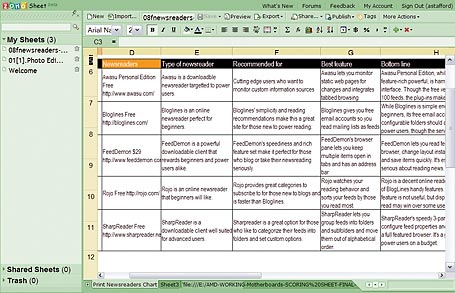 It includes most of the common word processing features, from multiple undo to find-and-replace to extensive text formatting. You can also edit the HTML of a document, but the feature is so hidden you must use the search box to find it. Besting both Google and ThinkFree overall, Zoho handles multiple documents in a single window via tabs and lets you embed a Zoho spreadsheet in a Writer document. Modifying the spreadsheet automatically updates the Writer files.
Zoho also offers a version of its software that runs on your own server and that is free for up to ten users. This option may alleviate security concerns about hosting sensitive business documents outside the office firewall.
Runner-up: Google Docs and Spreadsheets, the new face of Writely, has a clean, if sterile, blue-and-white interface with a single row of icons across the top of the text window. Strong points include automatic versioning (and you can compare versions wiki-style) and easy access to the HTML code. You can upload documents via e-mail, and if you and a coworker open the same document on different systems to collaborate on it, changes made on either system immediately appear on the other.
Many of the most common word processing functions are here, but Docs and Spreadsheets suffers from not having built-in functions for text search or find-and-replace. When you open multiple documents, they have to be in separate browser windows. Oddly, neither Google Docs and Spreadsheets' spelling checker nor Zoho's recognizes its own parent company's name during the check.
Also-ran: ThinkFree offers both a light document editor that is barely useful and a Java-based power editor that looks and feels like a full-blown desktop application. Though the latter relies on a big Java applet to run (one that takes 30 seconds to load on my system), it supports headers, footers, field codes, and almost every other feature in Microsoft Word (including AutoCorrect).
However, unlike Google Docs and Zoho Writer, ThinkFree gives you no way to open multiple documents or to collaboratively edit documents simultaneously.
Chart: Web-Based Spreadsheets Compared
Only Google Docs and Spreadsheets allows multiple people to work on the same document at the same time.
Click the icon below to view the comparison chart.
Spreadsheet
Features
Best feature
Bottom line
Winner
Google Docs and Spreadsheets
-Real-time collaborative editing
-Maximum of 20 sheets per spreadsheet
-No charts
The service instantly saves documents.
The lack of charts is a glaring omission, but the app's speed and instant saving of changes make it stand out. Its robustness and features--like the ability to freeze header rows, its unique capability to let you collaborate with others in real time, and integration with Google's word processor--all make this a great choice for business use.
Runner-up
Zoho Sheet
-Document sharing
-Maximum of 101 sheets per spreadsheet
-4 basic chart templates
A panel lists all your spreadsheets and lets you switch documents quickly.
Zoho Sheet's clear icon-based controls, snappy response, intuitive keyboard navigation, graphs, and sharing options (which let you decide who can read particular worksheets in a document) make this an excellent tool for collaboration. It should improve as Zoho adds real-time collaboration and integrates it with other office offerings.
Also-ran
ThinkFree
-Document sharing
-Maximum of 101 sheets per spreadsheet
-14 powerful chart templates
Java-based power-editing mode makes it feel as good as or better than Excel.
ThinkFree uses a client-side Java applet for power editing, which means that it's mostly running on your computer, rather than on the Web. It's part of a powerful Web suite, but it requires a plug-in to work, and its reliance on an applet for the heavy lifting makes it slow.
Also-ran
NumSum
-Document sharing
-Maximum of 1 sheet per spreadsheet
-3 basic chart templates
Spreadsheets are public by default and allow commenting, tagging, and rating.
NumSum is inappropriate for serious business applications due to its inability to highlight multiple cells, its cut-and-paste limit of just a single cell, and its lack of support for multiple worksheets. Despite those limitations, it has a surprisingly wide range of features and is easy to use.
Bookmark Managers

Being able to access your Internet bookmarks on any computer is handier than e-mailing links to yourself. But what really makes an online bookmarking site useful is its social networking aspect: The ability to share bookmarks with friends, coworkers, and even strangers.
Winner: On Del.icio.us, the original social bookmarking site (now owned by Yahoo), the most popular page features the latest and geekiest tech news as bookmarked and tagged by the site's 1 million registered users. You can use the site to find recipes, podcasts, or the most relevant pages in topics you're interested in.
While it may be hard to remember how to spell the name, using Del.icio.us simply requires two toolbar links--one for your list of links, and the other for adding and tagging pages. It uses a Craigslist-like interface with one field for notes and another for tags. To make things easier for you, Del.icio.us suggests tags for a bookmark based on other users' tags. Since tags are the only organizing method, finding a link later can be hard if your tags aren't consistent. You also can import and export bookmarks, keep tabs on other users' links, and mark certain links as private, though this last feature is difficult to turn on.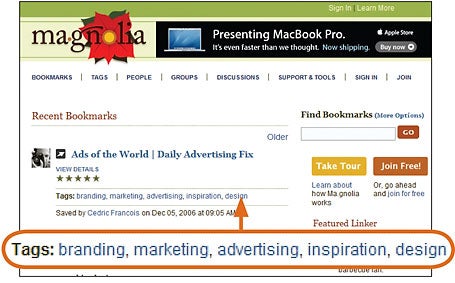 Runner-up: Ma.gnolia.com is Del.icio.us's younger, prettier sibling; it requires only a single toolbar link. Conveniently, Magnolia grabs a Web page's description from the underlying HTML and automatically adds it, so you need only to tag the item. Other useful features include a quick five-star rating system and a "Keep Private" button that is displayed by default. And like Del.icio.us, Magnolia easily imports and exports bookmarks. But with a smaller user base, Magnolia's library of shared bookmarks isn't as useful as Del.icio.us's.
Runner-up: StumbleUpon is an odd social bookmarking site whose real purpose is to show you new sites without your having to search for them. You have to install a toolbar with a button that, when clicked, takes you at random to cool sites in categories that you select, ranging from Chess to Geoscience to Arthritis. You can then vote the site up or down, review it, and choose to add it to your bookmarks list. You can also bookmark any site without ever leaving the page via the toolbar, although the process is not intuitive.
You have to hunt in StumbleUpon's preferences menu to turn on its best feature, Search Links, which appends user ratings and reviews to Ask.com, Google, Live.com, or Yahoo search results.
StumbleUpon's main drawbacks are its busy interface, its continual insistence on your joining its social network, and the necessity of installing yet another toolbar. Fortunately, you can minimize the toolbar and use keyboard shortcuts to stumble and to vote sites up or down; unfortunately, the service gives you no shortcut to simply bookmark a page.
Also-ran: Furl saves a local copy of every page you bookmark on its site, and it's the only one of the three sites here to index the full text of these pages so you can search them. Nevertheless, Furl's relatively drab interface makes it feel like a mid-1990s tool for librarians.
Password Managers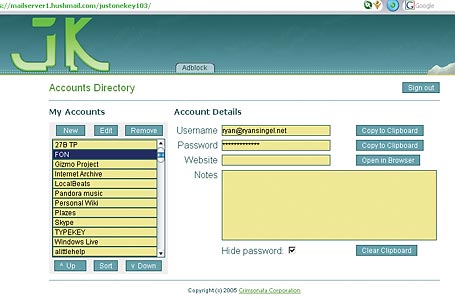 New Web services have inevitably led to an overflow of log-ins and passwords, which many people cope with by foolishly reusing passwords or creating an unencrypted password file. A better solution is an online Web service that can help you organize your passwords and let you access them at a moment's notice.
Winner: Just1Key ($2.49 per month) is the only online password service with real security. To prevent hackers from grabbing your passwords, Just1Key uses a Java applet in a browser window, into which you enter your central password; the applet encrypts the password before sending it to the server. Once that's authenticated, Just1Key sends your passwords list back to you in encrypted form; the applet then decrypts the list so you can read it.
You can cut and paste passwords as needed, but the software is bare-bones. Passwords reside in a single list, which can be unwieldy. You get no search, import, or export functionality, but you can access your passwords on a mobile device, as long as its Web browser is capable of an SSL-based log-in.
Runner-up: A free service founded in 1998, PasswordSafe relies solely on SSL for password transmission; there's no indication about what kind of encryption it uses on the server side. The interface--wisely free of JavaScript--is uncluttered, has a search function and a password generator, and lets you create categories.
While the last feature makes this site a great way to store registrations for nonsensitive sites such as bookmark managers, it isn't really secure enough to store sensitive information like bank account passwords.
Also-ran: Agatra, whose site was still in beta at this writing, says it encrypts passwords using the industry-standard Blowfish algorithm, but it expects you to log in on an unsecured home page. Once you sign in, Agatra sends your passwords via an SSL connection to your browser. For the most popular sites, Agatra will automatically log you in.
While this setup is handy, the convenience may not make up for the security weaknesses raised by the site's reliance on inherently vulnerable JavaScript.
Instant Messaging
Instant messaging isn't just for kids anymore. For many people, it's become an indispensable tool for collaboration in the office and an informal way to make plans and check in with family members. Unfortunately, instant messaging, unlike e-mail, has no agreed-upon standards, so if your kid uses AIM and your boss uses Yahoo Messenger, ordinarily you have to create multiple accounts and run multiple IM applications on your computer. A couple of new IM Web clients, however, can help you sidestep those issues.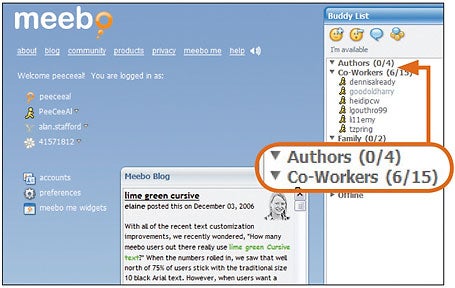 Winner: Meebo, the best of the new Web-based IM services, lets you sign into AIM, Google's GTalk, ICQ, Jabber, MSN, and Yahoo Messenger simultaneously. While the site is open to anyone, registered users can store their log-ins and passwords and be logged in to all the services automatically.
Meebo has a graceful design that lets you run multiple chats inside a single browser window, or you can open the contact list and chat in small pop-up windows. In single-window mode, a contact list clings to the right side of the browser. You can rearrange or minimize chat windows inside the browser. Meebo supports basic font formatting, chat logging, and emoticons, as well, though the lack of a clickable send button is odd.
Security is a concern; you might not want to share your passwords with a third party, and Meebo lacks support for encrypted chats--so you may not want to use it to hold sensitive conversations over a Wi-Fi connection. But as long as you aren't discussing your company's top-secret strategy, it's a great alternative to running multiple desktop IM clients.
Runner-up: KoolIM goes the pop-up route: It opens new browser windows for your contact list and for each chat session. When someone messages you, a chat window pops up just as in traditional IM software. However, KoolIM's alpha still lacks some basic features, such as chat logging, time stamps telling you when a message arrived, and buddy icons; the service also has the same security issues as Meebo.
Also-rans: The Web-based services from the four main IM networks--AIM, ICQ, MSN, and Yahoo Messenger--let you chat without their desktop clients but not outside their networks.
Chart: Web Mail Services Compared
Modern Web-based e-mail gives you much of the functionality of Outlook, and you can access it from almost anywhere.
Click the icon below to view the comparison chart.
E-Mail Service
Features
Best features
Bottom line
Winner
Yahoo Mail Beta
-Two- or three-pane views
-1GB storage
-Has mobile version
Can open and easily switch among multiple messages in the same pane.
Yahoo's beta resembles traditional desktop e-mail programs, allowing you to sort mail by date or sender, resize fields, keep detailed contact information, scroll through messages with keyboard shortcuts, and create rules to sort messages. It's powerful and elegant, though slower than Gmail.
Runner-up
Windows Live Mail Beta
-Three-column, two-column, or three-pane views
-2GB storage
-Has mobile version
Safety bar at top of messages warns of phishing e-mail and blocks images from unknown senders.
Microsoft's beta is feature-packed, with on-the-fly spelling checking, skins, and the ability to send and receive from multiple accounts. You can drag and drop as well as rely on old-school check boxes. Longtime Web mail users and novices will feel comfortable, but the banner ads and clumsy calendar integration seem dated.
Runner-up
Gmail
-Two-column view
-2.6GB storage
-Has mobile version
Can play MP3 audio attachments and open Excel spreadsheets.
Gmail is lightning-quick, lets you chat with other online Gmail users, and integrates nicely with Google's calendar. But its limitations--the inability to add new folders, to open multiple messages in one window, to filter e-mail, and to right-click on anything--will surely frustrate power users.
Also-ran
AOL Mail
-Two-column view
-2GB storage
-No mobile version
You and 99 friends can get e-mail addresses at any available domain.
AOL Mail lets you drag and drop messages and gives you a handy pull-down menu next to every message. But that's as far as the recent upgrade goes. The service lacks mail sorting rules and keyboard shortcuts, it loads interminably slowly, and messages open in external windows, creating clutter.
Also-ran
Web2Mail Lite
-One-column view
-Unspecified storage
-No mobile version
Can track when a Web site changes and send you an e-mail alert.
Web2Mail Lite lets you check a POP3 account and send and receive mail, but beyond that the site lacks folders, drag-and-drop capability, or even an address book and a sent-item folder. It also has an abysmal spam filter.
User Review Sites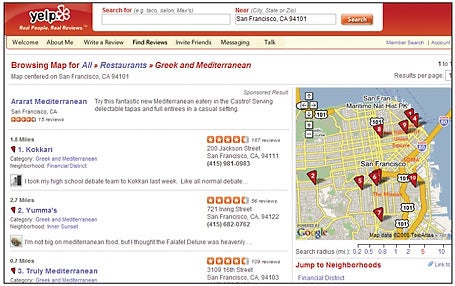 While professional critics can be great guides, there's much to be said for the wisdom of your neighbors--if you can tap that wisdom. Sites such as Citysearch and Yahoo Local have struggled for years to get people to submit reviews of restaurants and local venues, with mixed success. But a newcomer may have solved that problem by striking the right note with users and thereby generating the needed participation.
Winner: Yelp, a San Francisco-based startup with a focus on food reviews, seems to have figured out the magic formula. It combines a pretty interface; social networking features that, for example, let you send kudos to other reviewers; and a sense of community that brings food lovers together. Each listing displays a map and, in the cases of popular restaurants in major urban areas, 50 to 200 detailed reviews with star ratings.
Anyone can read the site's reviews, but registered users (membership is free) can bookmark their favorite restaurants and assemble a network of reviewers with tastes similar to their own.
Though mostly focused on restaurants, Yelpers have started to add reviews of mechanics, furniture makers, dentists, and even car washes. Even smaller cities like Poughkeepsie, New York, now have some local reviewers.
Runner-up: Angie's List, by contrast, charges users $6 a month to read and write reviews of home contractors. The number and quality of reviews varies in the 80 cities Angie's List covers, but larger metros have some very good recommendations, and the $6-a-month fee can easily be recouped if you save $100 on a plumber.
The site feels dated and could use some interactivity. For instance, it gives you no way to rate another person's recommendation, subscribe to their reviews, or ask other people for suggestions.
Runner-up: Given Yahoo's millions of users, Yahoo Local is a bit of a disappointment. The site nicely interweaves snippets of restaurant reviews from local newspapers and professional review sites with user reviews, but simple ratings are more common than full-fledged reviews. The site, which includes reviews of mechanics, restaurants, dry cleaners, and a wide range of other services, allows you to vote on other people's reviews, bookmark pages, and send information to your cell phone.
All that may sound appealing, but Yelp's energy puts Yahoo Local's personality-free site to shame. Yahoo Local reviews tend toward nondescriptive tags such as "good and cheap," while Yelp users may spend a paragraph describing an appetizer.
Runner-up: Citysearch.com, the oldest player in online reviews, combines paid professional reviews of a wide range of businesses, including restaurants, spas, and hotels, with user opinions. Its best feature is the inclusion of handy insider tips, such as which tables to grab for people watching. While Citysearch lets users bookmark sites, you have no way to bookmark your favorite reviewer. And though the breadth of listings is good and user participation is fairly high, it lacks the community feel and vitality of Yelp.
Answer Sites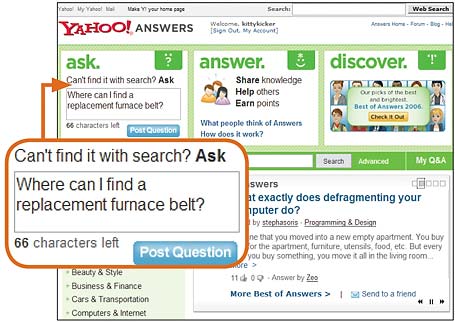 The Web has sites where you can ask nearly any reasonable question--such as "What's the best way to schedule backups for Windows XP?" or whether to break it off with a flaky boyfriend--and get multiple useful answers from strangers within hours, if not minutes. Free advice is supposed to be worth what you paid for it, but some of these sites may have you rethinking that adage.
Winner: The most well-developed answer site is Yahoo Answers. Anyone with a Yahoo ID can post or answer questions, which get funneled into diverse categories ranging from amusement parks to taxes in India.
A rudimentary point system deducts points for asking questions and rewards you for answering questions.
Answers come astonishingly quickly, and they seemed surprisingly good. A question about whether to overclock a new Intel processor garnered three answers in less than 5 minutes, while one about what fertilizer to use for a potted lime tree came in about 15 minutes.
Runner-up: Microsoft is working on its own tag-based answers site called Windows Live QnA Beta. Although answers were somewhat tough to find, QnA users responded nearly as quickly as Yahoo Answers users.
Not surprisingly, queries about Microsoft products brought out the best in QnA members. One about how to schedule backups and disk defragmenting for Windows XP received four answers, including how to use XP's built-in tools, how to run a defrag multiple times via a batch file, and a suggestion for an automated Web backup service.
Even the nontechie questions I asked about magazine recommendations and lime-tree fertilization, however, returned relevant and timely answers.
Also-rans: Metablog site Ask MetaFilter has some very smart people answering quirky questions, but it costs $5 to join. Israeli startup Yeddayedda.com lets you sign up for keywords and be e-mailed when a question matching your expertise hits the system (as with all these services, you can both ask and answer questions); so far it remains only lightly trafficked, however.
Event Calendars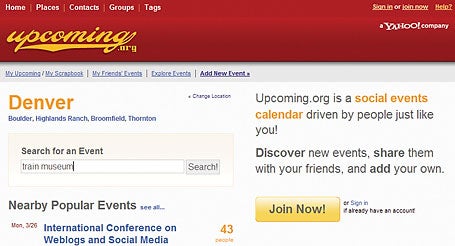 Finding something to do on a Friday night has long been a process of searching your local newspapers or subscribing to e-mail lists of bands or theaters. Now a trio of startups are attempting to make finding events and adding them to your busy social schedule easier.
Winner: Yahoo's Upcoming.org has listings from around the world thanks to its devoted users, who add tons of local events, as well as to the recent inclusion of events from Yahoo Local's listings.
Upcoming has a social networking feel, and every event has a listing of users who say they plan to attend. You also can click on a user's name to see what other events that person plans to attend. While the site feels both basic and cliquish, it is the most active events site on the Web.
Despite the addition of millions of Yahoo Local listings, Upcoming found only 28 listings for San Francisco art openings on the weekend we checked (Zvents found more than twice as many). Still, adding events to your calendar is simple, and Upcoming offers e-mail and text-message reminders.
Runner-up: Zvents has the most full-featured and user-friendly event service on the Web. The site offers a search engine that understands terms such as "this weekend," descriptive listings, and an embedded Google map.
With just a simple click, Zvents' great interface permits you to add events to your Zvents calendar, or to your AOL, Google, Outlook, or Yahoo calendar. Users also can invite people to events, add them to a group calendar, and easily post events to a blog.
A search for "art opening" in San Francisco on one weekend showed 68 relevant matches. Unfortunately, Zvents relies mostly on user-submitted events in most cities, and few users comment on events. Expect Zvents to take off once it automatically populates listings in other cities.
Also-ran: Eventful, another San Francisco Bay Area-based startup, has deep listings, but the search function is too literal: A search for "rock" in San Francisco over a whole week uncovered merely eight listings, only one of which was actually a rock-and-roll performance. One plus: Eventful supports Microsoft's innovative Live Clipboard service, which allows you to cut and paste event data between Web sites.
To-Do Lists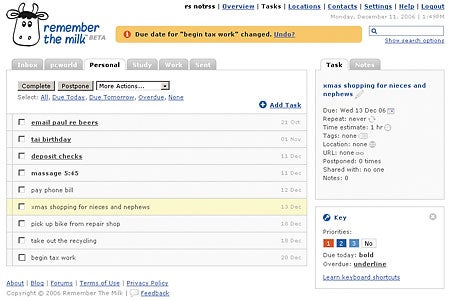 The old-fashioned to-do list, which lets the brain concentrate on the task at hand rather than on others in the future, remains one of the world's best productivity tools. These fresh new sites let you keep track of your obligations and prompt you to keep up the pace.
Winner: RememberTheMilk reinvents the to-do list in a snazzy interface that lets you make lists in configurable categories, all laid out on the front page as tabs. Adding to-dos is easy, though adding deadlines, notes, and time estimates is unintuitive.
You can add to-dos using natural language such as "Call Ted next Thursday," sync with your calendar via the widely supported iCalendar format, and set tasks such as "Pay credit card bill" to recur. RememberTheMilk sends reminders through instant message, e-mail, text message, or a combination of these. You can also upload tasks via a special e-mail address that the site gives you.
It's a tremendously well-rounded free product, with neither more nor less than you need to get and stay organized.
Runner-up: Hiveminder is a bit prettier than RememberTheMilk and relies on tags, rather than categories, to group tasks. While you can't set the time and date for tasks using natural language, you do get a nice drop-down calendar, and you can easily edit or add tags to a group of tasks.
Hiveminder syncs with external calendars, publishes RSS feeds, and lets you e-mail tasks, but the only notification it offers is a once-a-day e-mail. In addition, tags are more difficult to track than categories, and while Hiveminder has a more intuitive interface than RememberTheMilk, it doesn't feel as useful in practice.
Also-rans: Those who prefer minimalism will love 37 Signals' Ta-Da List, where you can build multiple to-do lists. It allows no tags, categories, or time elements--just lists of tasks with check boxes. You can make the list public or subscribe to it as an RSS feed, but it won't send you reminders.
Backpack, Ta-Da List's older sibling, lets you create five shared pages that can include to-do lists, notes, and a shared wiki-style document. It will send you up to ten reminders via e-mail or text message, but these are oddly separate from tasks, which, as in Ta-Da List, have no time element.
Chart: Web-Based Calendars Compared
These sites help you track appointments, import events, and share with others, and will send SMS reminders to your phone.
Click the icon below to view the comparison chart.
Calendar
Features
Best feature
Bottom line
Winner
30 Boxes
-Private, shared, and public events
-Can subscribe to public iCal feeds
-E-mail/SMS alerts
Automatically pulls in data from MySpace, Flickr, Upcoming.org, or any RSS feed.
While you can't drag and drop events in 30 Boxes, you can tag them for sharing with others on social networking sites, and you need only click on a day to add an event and map appointments. It's the prettiest of the calendars, though you can't see a daily or weekly view. E-mail client integration would be useful.
Runner-up
Google Calendar
-Private, shared, and public events
-Can subscribe to public iCal feeds
-E-mail/SMS alerts
Check boxes make seeing or hiding multiple calendars on one page easy.
Google has integrated its Calendar with a Google Desktop gadget, and the software detects events in Gmail messages. You can send invites with RSVPs when you add an event. The interface separates work, holiday, and personal calendars by color. A great choice for Gmail users, but other calendars have more features.
Runner-up
Yahoo Calendar
-Private, shared, and public events
-No iCal support
-E-mail/SMS/Yahoo Messenger alerts
When inviting others to an event, you can check their calendars for availability.
While visually boring, Yahoo Calendar syncs with external apps like Outlook and Palm Desktop, integrates with Yahoo Mail for sending invites, and has a full complement of event options, including 28 preset categories such as Meeting and Travel. However, it will not allow you to import public calendars.
Also-ran
Spongecell
-Private, shared, and public events
-Upload static iCal appointments only
-E-mail/text message alerts
Dragging and dropping events makes rearranging your schedule simple.
Spongecell understands natural language such as "choir practice every other Tuesday" and lets you associate maps, URLs, and images with events. You can also embed a Spongecell calendar into any Web page, and you can add events via e-mail, but the navigation is clunkier than on other sites.
Also-ran
Windows Live Mail Calendar
-Private, shared, and public events
-Subscribe to Microsoft Calendars only
-E-mail alerts
Adding nonstandard, recurring events is easy with the included event wizard.
Live.com's calendar is largely an add-on to the Live.com e-mail service, but currently the mail service doesn't detect events in messages. While the basic task list is a nice addition, the banner ad takes up too much space, and you can't access your e-mail contacts when sending invites.
Video Aggregation Sites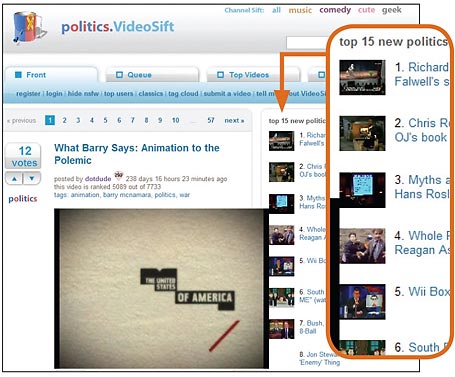 Though YouTube is the best-known video sharing site, plenty more sites feature free clips of crazy lip syncing, Mentos fountains, and even the odd useful how-to video. People are uploading hundreds of thousands of clips every day--how do you sort through them all?
Luckily, other sites will find the best and coolest clips for you. A couple of these sites even let you bookmark and categorize your favorites.
Winner: VideoSift is a video site based on community submissions and voting. The site currently caters mostly to the taste of the geek-and-college crowd, but that should change with time. Here you can mark favorites, comment, vote on clips, and share videos. You can't become a fully privileged user until you submit a video that receives at least five up-votes (probationary users don't get as many voting rights). But finding a good submission shouldn't be too hard, and this site is cool enough to warrant putting in the effort.
Runner-up: VDiddy is the perfect first stop for some post-lunch entertainment. It provides no log-in, bookmarking, or commenting, simply a front page that features the top 12 videos of the moment from 11 different video sharing sites, including all the biggies. A vertical bar on the left lets you switch among the different sites. Hover your mouse over a clip thumbnail to enlarge it slightly; click on it, and it will play in an embedded player.
Runner-up: Dabble, by contrast, is a social networking site that lets you organize, collect, comment on, and share video clips from around the Web. Using a toolbar link, you can bookmark clips from various sites. You can then tag them and make or view sharable playlists. Dabble can't bookmark videos embedded in a Web page, however, and if you attempt to bookmark a video on Dabble before the video ends, Dabble restarts it.
Also-rans: Digg has an active video voting site, but the top clips tend to linger too long. Voting site Video Bomb accepts Flash, QuickTime, and Windows Media videos for upload--but it has no critical mass of submitters yet.
Web Operating Systems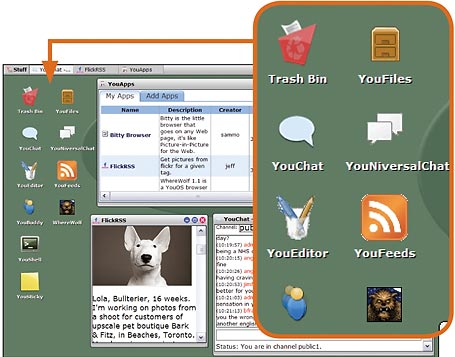 The idea of a Web operating system hearkens back to the model of dumb terminals reliant on a central server that runs every program. Though that model was largely supplanted by PCs, powerful server farms, such as the one feeding Google's search, easily surpass any home system. A Web OS, paired with a PC's ability to install specialized programs locally, may well be computing's future.
Winner: YouOS, launched in 2005 by refugees from Oracle but still in alpha mode, lets you surf the Web via a browser-within-a-browser window, read RSS feeds, create text documents, and use a Nintendo game emulator to play titles like Donkey Kong.
It's mostly a playground for developers right now, and it isn't very fast, but it is free--and running, say, Zoho Writer inside a Web browser that runs on an outside server through a browser running on your PC is oddly thrilling.
Runner-up: EyeOS is an open-source, free application that comes with a full-featured word processor, a basic calendar, a rudimentary Web browser, and an RSS reader. You can use the hosted version of EyeOS or install it on any Web server. Like YouOS, however, it runs slowly.
Also-ran: By contrast, Desktoptwo relies heavily on Flash and Java to pull off its desktop imitation. Though it supplies no browser, the desktop includes a full suite of OpenOffice applications, an MP3 player, and Adobe Acrobat Reader, and it offers a 1GB virtual hard drive.
While Desktoptwo may be the most useful of the three services--thanks to its full-powered applications and its potential role as a document-and music-storage center--its dependence on Flash and Java puts most of the computing burden on your PC, while the others rely on the computing power of servers.
Chart: Mapping Services Compared
The best online maps give you great directions and imagery, and easy access to business (especially restaurant) reviews.
Click the icon below to view the comparison chart.
Map Site
Features
Best feature
Bottom line
Winner
Google Maps
-Road, satellite, and hybrid views
-Multisource reviews
-Point-to-point driving directions
A business's location bubble shows a phone number and a link to reviews.
Google's speed, integration of reviews from sites like Yelp, and high-quality images make it the best choice, but other contenders are getting close.
Runner-up
Ask.com Maps and Directions
-Road, satellite, and topographic views
-No reviews
-10-waypoint walking/driving directions
You can drag location markers on the map and have directions updated instantly.
Ask.com's exceptional overlay of streets on satellite images and handy walking directions shine; but its lack of business searching and reviews, and its slow performance in rendering maps and computing long-distance directions, make it a second-fiddle choice.
Runner-up
Windows Live Local
-Road, satellite, and bird's-eye images
-No reviews
-Point-to-point driving directions
You can add pushpins to a map and save them for future reference.
Microsoft's offering includes live traffic, stunning birds-eye (close-up) views, a great wide-screen view, one-click orientation change, and extensive sharing and saving functions. But the interface is busy, the business search is weak, and many features--not surprisingly--don't work in the Firefox 2.0 browser.
Runner-up
Yahoo Maps Beta
-Road, satellite, and hybrid views
-Reviews only from Yahoo Local
-10-plus waypoint driving directions
A thumbnail map allows you to reposition the detailed main map.
Yahoo Maps Beta relies on Flash, not JavaScript, which makes the initial load time longer but allows for a pretty interface. Yahoo integrates traffic data well, but its satellite imagery lags behind competitors, and it's not nearly as accurate in finding places by name as Google.
Also-ran
MapQuest
-Road, satellite, and topographic views
-No reviews
-10-point driving directions
Makes creating directions that avoid toll roads or highways very easy.
The original mapping site, MapQuest has finally updated its service to include now-old-hat draggable maps and satellite imagery. But the satellite imagery is of low quality compared with that of other sites, searching by business name is hit-and-miss, and the ads on three sides of the map are distracting.
Best Widgets for Your Desktop

Widgets, gadgets, or gizmos--call these small applications what you like, but they can transform your desktop into a cockpit, complete with analog clocks, performance meters, and calendars. Don't wait for Vista's Sidebar Gadgets, because Google, Opera, and Yahoo already offer excellent, free widget engines.
Few of the 505 available Google Desktop Gadgets are visually stunning, but the low-key approach is perfect for things that are constantly alerting you to messages and meetings. The RAM hit on my PC for the engine with a few gadgets running seemed high at 35MB, but that included desktop search.
Yahoo Widgets offer a much wider selection--nearly 3200 widgets--and many are quite flashy. They can sit under, over, or around other application windows. Pressing <F8> brings them all up in a single pane. Memory usage varies, but you should budget about 12MB per widget.
Opera Widgets require only that the Opera browser be open; you can add widgets straight from the browser's toolbar. The selection is heavy on games and light on productivity tools. RAM usage varies from minuscule to truly obscene, as with some of the widgets that use video.
Here are just a few of the widgets we like:
Google Calendar V2: For Google Calendar users, this gadget with a default monthly view allows you to see your scheduled events for the day, to quickly view another day's appointments, and to create new events. The current version lets you see either personal or work calendars, but it offers no reminder function--a fairly significant omission.
Informer: This Yahoo widget keeps track of 21 key PC performance indicators, including memory, Wi-Fi signal strength, laptop battery life, and number of unread e-mail messages, all in a bar that docks above the taskbar.
PasswordMaker: This cool tool generates secure passwords by combining a Web site's URL and your master password, and then applying a hashing algorithm. While the software doesn't store the password, even if you use the widget on multiple machines, you can re-create each password by reentering the site URL and your master password.
Mini iTunes Remote: Though this handy Yahoo gizmo resembles a silver version of the controls on a Shuffle player, it lets you rate tunes, change songs, and adjust the volume without switching to the full player.
Opera Dotoo: With this simple to-do list creator from Opera's bag, you can create multiple lists and check off items as you finish them in a small panel that adjusts its size according to the number of active lists.
Mashups Make the Most of the Web

Mashups are the online equivalent of dunking a cookie in a glass of milk: The combination of data from one Web site with that of another is so-o-o much better than each is on its own. The best tend to use maps, such as one of the earliest--and still outstanding--mashups, HousingMaps. The site plots Craigslist's homes for sale and apartments for rent on a Google Map and allows you to preview a listing by simply clicking on one of the pushpins. It was so good, Google hired its creator, Paul Rademacher.
Here are five more of the best mashups we found:
Pubwalk: This site combines bar listings and reviews from Citysearch with a Google Map. Each pushpin has a pop-up window with bar or restaurant information, including a rating and a thumbnail picture. You can use the service to plot out a bar crawl and either print out directions or see them on your phone.
Weather Bonk: Here you can see detailed local weather reports, traffic data, and weather cameras for cities around the world on a Google Map. While Weather Bonk is far from the prettiest mashup, the traffic data in car-centric cities like Los Angeles and Atlanta could save you hours of frustration, and the Web cameras let you see weather conditions from Seattle to Paris.
Pandora FM: This homebrew site allows you to submit the songs you like to listen to, through Pandora's music categorizing and suggesting service, to Last.FM, a site that monitors the songs you play on your computer. Pandora is a fantastic way to discover new music: You first create a radio station of your favorite bands or songs, and then the service suggests and plays artists in the same vein. The mashup permits you to tag and remember the songs, and later have Last.FM play back just your favorites.
Google Transit: This mashup, cooked up in Google Labs, lets users plan public transportation trips in Eugene and Portland, Oregon; Honolulu; Pittsburgh; Seattle; and Tampa, Florida. After you supply two addresses, the planner will give you directions that combine walking, buses, and trains, and will approximate travel times and fares. You even get to see a handy comparison of what it would have cost you to drive instead.
Mappr: Hackers have done wonders with the open interface of image-hosting site Flickr (even building a Sudoku game). But Mappr, the most attractive of these mashups, lets you choose a tag and see the results plotted on a map of the United States using geo-tags embedded in the photos. While a little slow, searches like "beach" or "Route 66" show the hidden patterns buried in metadata.