The Web's Most Useful Sites
Page 2 of 17
Word Processors

Google, Thinkfree, and Zoho offer the only true collaborative online office suites, with word-processing applications at their center. In October, Google combined Writely, an online Ajax-enhanced word processor it bought last spring, with its online Spreadsheets program to create Google Docs and Spreadsheets. (Ajax is a technique used to make Web pages interactive and often "live," meaning that changes display without your having to reload the page.) At the same time, Zoho united the log-ins for its online Ajax-based spreadsheet, word processing, and presentation software and will soon offer them as a complete suite called ZohoX, which it says will be free for individuals.
Each of these Web suites offers you significant functionality, but they all come with a major caveat: None will allow you to back up all your files at once or store copies at a third-party data center. You might therefore want to keep a local copy of every document in the event that the service goes down or you find yourself without a broadband connection.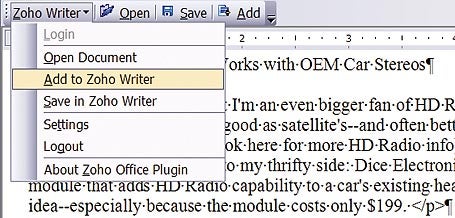 Winner: Zoho Writer features a hideable list of documents divided into sections for private, shared, and public documents, plus templates. Like Google Docs and ThinkFree, Zoho Writer can publish items directly to a blog and can save and import a range of text document formats, from Microsoft Word to HTML. With a plug-in for Microsoft Word, you can save from that application directly to your Zoho account.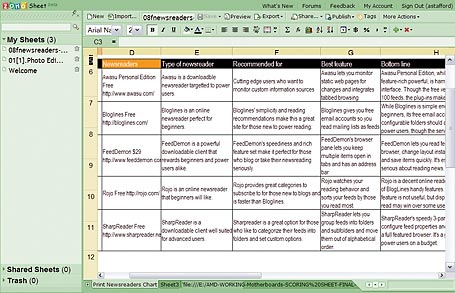 It includes most of the common word processing features, from multiple undo to find-and-replace to extensive text formatting. You can also edit the HTML of a document, but the feature is so hidden you must use the search box to find it. Besting both Google and ThinkFree overall, Zoho handles multiple documents in a single window via tabs and lets you embed a Zoho spreadsheet in a Writer document. Modifying the spreadsheet automatically updates the Writer files.
Zoho also offers a version of its software that runs on your own server and that is free for up to ten users. This option may alleviate security concerns about hosting sensitive business documents outside the office firewall.
Runner-up: Google Docs and Spreadsheets, the new face of Writely, has a clean, if sterile, blue-and-white interface with a single row of icons across the top of the text window. Strong points include automatic versioning (and you can compare versions wiki-style) and easy access to the HTML code. You can upload documents via e-mail, and if you and a coworker open the same document on different systems to collaborate on it, changes made on either system immediately appear on the other.
Many of the most common word processing functions are here, but Docs and Spreadsheets suffers from not having built-in functions for text search or find-and-replace. When you open multiple documents, they have to be in separate browser windows. Oddly, neither Google Docs and Spreadsheets' spelling checker nor Zoho's recognizes its own parent company's name during the check.
Also-ran: ThinkFree offers both a light document editor that is barely useful and a Java-based power editor that looks and feels like a full-blown desktop application. Though the latter relies on a big Java applet to run (one that takes 30 seconds to load on my system), it supports headers, footers, field codes, and almost every other feature in Microsoft Word (including AutoCorrect).
However, unlike Google Docs and Zoho Writer, ThinkFree gives you no way to open multiple documents or to collaboratively edit documents simultaneously.
Shop Tech Products at Amazon