The Web's Most Useful Sites
Page 4 of 17
Bookmark Managers

Being able to access your Internet bookmarks on any computer is handier than e-mailing links to yourself. But what really makes an online bookmarking site useful is its social networking aspect: The ability to share bookmarks with friends, coworkers, and even strangers.
Winner: On Del.icio.us, the original social bookmarking site (now owned by Yahoo), the most popular page features the latest and geekiest tech news as bookmarked and tagged by the site's 1 million registered users. You can use the site to find recipes, podcasts, or the most relevant pages in topics you're interested in.
While it may be hard to remember how to spell the name, using Del.icio.us simply requires two toolbar links--one for your list of links, and the other for adding and tagging pages. It uses a Craigslist-like interface with one field for notes and another for tags. To make things easier for you, Del.icio.us suggests tags for a bookmark based on other users' tags. Since tags are the only organizing method, finding a link later can be hard if your tags aren't consistent. You also can import and export bookmarks, keep tabs on other users' links, and mark certain links as private, though this last feature is difficult to turn on.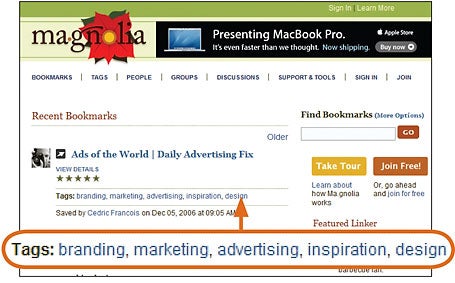 Runner-up: Ma.gnolia.com is Del.icio.us's younger, prettier sibling; it requires only a single toolbar link. Conveniently, Magnolia grabs a Web page's description from the underlying HTML and automatically adds it, so you need only to tag the item. Other useful features include a quick five-star rating system and a "Keep Private" button that is displayed by default. And like Del.icio.us, Magnolia easily imports and exports bookmarks. But with a smaller user base, Magnolia's library of shared bookmarks isn't as useful as Del.icio.us's.
Runner-up: StumbleUpon is an odd social bookmarking site whose real purpose is to show you new sites without your having to search for them. You have to install a toolbar with a button that, when clicked, takes you at random to cool sites in categories that you select, ranging from Chess to Geoscience to Arthritis. You can then vote the site up or down, review it, and choose to add it to your bookmarks list. You can also bookmark any site without ever leaving the page via the toolbar, although the process is not intuitive.
You have to hunt in StumbleUpon's preferences menu to turn on its best feature, Search Links, which appends user ratings and reviews to Ask.com, Google, Live.com, or Yahoo search results.
StumbleUpon's main drawbacks are its busy interface, its continual insistence on your joining its social network, and the necessity of installing yet another toolbar. Fortunately, you can minimize the toolbar and use keyboard shortcuts to stumble and to vote sites up or down; unfortunately, the service gives you no shortcut to simply bookmark a page.
Also-ran: Furl saves a local copy of every page you bookmark on its site, and it's the only one of the three sites here to index the full text of these pages so you can search them. Nevertheless, Furl's relatively drab interface makes it feel like a mid-1990s tool for librarians.
Shop Tech Products at Amazon