The Web's Most Useful Sites
Page 6 of 17
Instant Messaging
Instant messaging isn't just for kids anymore. For many people, it's become an indispensable tool for collaboration in the office and an informal way to make plans and check in with family members. Unfortunately, instant messaging, unlike e-mail, has no agreed-upon standards, so if your kid uses AIM and your boss uses Yahoo Messenger, ordinarily you have to create multiple accounts and run multiple IM applications on your computer. A couple of new IM Web clients, however, can help you sidestep those issues.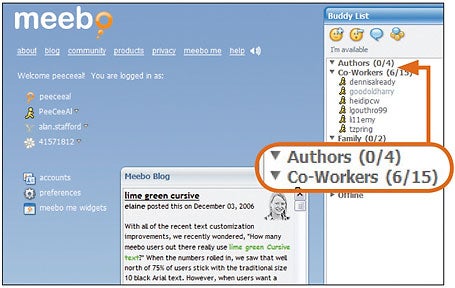 Winner: Meebo, the best of the new Web-based IM services, lets you sign into AIM, Google's GTalk, ICQ, Jabber, MSN, and Yahoo Messenger simultaneously. While the site is open to anyone, registered users can store their log-ins and passwords and be logged in to all the services automatically.
Meebo has a graceful design that lets you run multiple chats inside a single browser window, or you can open the contact list and chat in small pop-up windows. In single-window mode, a contact list clings to the right side of the browser. You can rearrange or minimize chat windows inside the browser. Meebo supports basic font formatting, chat logging, and emoticons, as well, though the lack of a clickable send button is odd.
Security is a concern; you might not want to share your passwords with a third party, and Meebo lacks support for encrypted chats--so you may not want to use it to hold sensitive conversations over a Wi-Fi connection. But as long as you aren't discussing your company's top-secret strategy, it's a great alternative to running multiple desktop IM clients.
Runner-up: KoolIM goes the pop-up route: It opens new browser windows for your contact list and for each chat session. When someone messages you, a chat window pops up just as in traditional IM software. However, KoolIM's alpha still lacks some basic features, such as chat logging, time stamps telling you when a message arrived, and buddy icons; the service also has the same security issues as Meebo.
Also-rans: The Web-based services from the four main IM networks--AIM, ICQ, MSN, and Yahoo Messenger--let you chat without their desktop clients but not outside their networks.
Shop Tech Products at Amazon