The Web's Most Useful Sites
Page 9 of 17
Answer Sites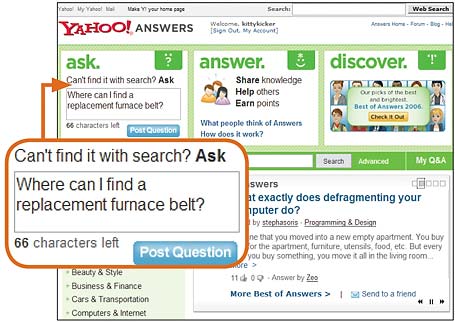 The Web has sites where you can ask nearly any reasonable question--such as "What's the best way to schedule backups for Windows XP?" or whether to break it off with a flaky boyfriend--and get multiple useful answers from strangers within hours, if not minutes. Free advice is supposed to be worth what you paid for it, but some of these sites may have you rethinking that adage.
Winner: The most well-developed answer site is Yahoo Answers. Anyone with a Yahoo ID can post or answer questions, which get funneled into diverse categories ranging from amusement parks to taxes in India.
A rudimentary point system deducts points for asking questions and rewards you for answering questions.
Answers come astonishingly quickly, and they seemed surprisingly good. A question about whether to overclock a new Intel processor garnered three answers in less than 5 minutes, while one about what fertilizer to use for a potted lime tree came in about 15 minutes.
Runner-up: Microsoft is working on its own tag-based answers site called Windows Live QnA Beta. Although answers were somewhat tough to find, QnA users responded nearly as quickly as Yahoo Answers users.
Not surprisingly, queries about Microsoft products brought out the best in QnA members. One about how to schedule backups and disk defragmenting for Windows XP received four answers, including how to use XP's built-in tools, how to run a defrag multiple times via a batch file, and a suggestion for an automated Web backup service.
Even the nontechie questions I asked about magazine recommendations and lime-tree fertilization, however, returned relevant and timely answers.
Also-rans: Metablog site Ask MetaFilter has some very smart people answering quirky questions, but it costs $5 to join. Israeli startup Yeddayedda.com lets you sign up for keywords and be e-mailed when a question matching your expertise hits the system (as with all these services, you can both ask and answer questions); so far it remains only lightly trafficked, however.
Shop Tech Products at Amazon