Exclusive: First Vista PC Tests
Page 4 of 7
The Results: Some Good Performers...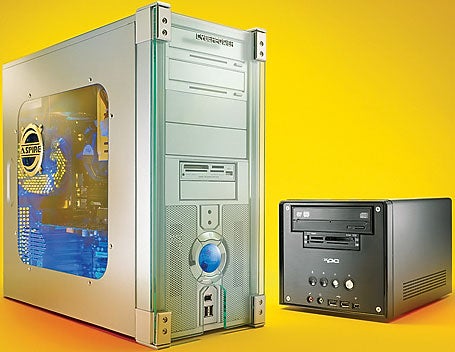 The top score in our evaluations went to the speedy Gateway FX530XT, which was the quickest in every test it completed; the ATI graphics card it came with, however, failed to run our Doom 3 game. Providing the Gateway's zip was an overclocked quad-core Intel Core 2 Extreme QX6700 processor (running at 3.2 GHz, up from the standard 2.66 GHz).
The FX530XT completed our Photoshop component in 295 seconds, while the next- fastest system (the Dell XPS 710) took 360 seconds, meaning that the Gateway was 22 percent faster. It sped through our multitasking test--in which a video encoder and a Web browser run at the same time--in only 211 seconds.
The speedy performance of the FX530XT is likely helped not only by the processor, but by the 4GB of fast DDR2 memory Gateway included; that's double the amount of system RAM we typically see on a power desktop.
The $4500 FX530XT is well tricked out--and is one of the most expensive systems we've tested recently. Its compact configuration leaves little room for expansion, though.
The Dell XPS 710, the second-best performer here, lagged the Gateway by 10 to 20 percent on most of our tests. At $4224, it's slightly less expensive than the Gateway, and its large case provides a lot more room for expansion than does the cramped FX530XT. It was also significantly quieter: The case allows room for bigger, less noisy fans to remove heat from components like the CPU and the GeForce 7950 GX2 graphics card.
Dell's $1954 XPS 410 proved to be a good balance of price and performance: Built around an Intel Core 2 Duo E6600 dual-core processor, it ran through our Photoshop test in a reasonably quick 387 seconds, ranking third among these six systems. And its 291 seconds on our multitasking test was a little slower than the times of the more expensive models, but fast enough to prove its mettle at juggling simultaneous tasks.
Although our previous tests have shown that adding more memory to Vista systems often boosts performance, the CyberPower Gamer Infinity 7500 proves that performance is not just about memory: With its Core 2 Duo E6600 processor and 1GB of RAM, this machine was consistently faster than the Dell C521, which came with 2GB of RAM and an AMD 2.4-GHz Athlon 64 X2 4600+ processor. And despite its sub-$1000 price, the Gamer Infinity 7500 ran only slightly more slowly than the much more costly Dell XPS 710 on a couple of tests.
The Gamer Infinity also features a large, glass-fronted case that gives it a stylish designer appearance, as well as a retro-looking analog internal temperature meter on the front; a cobalt-blue light inside shows off its innards.
...And Two Laggards
The $979 Dell C521 yielded the slowest performance we saw in this group. This system lagged behind the other machines in all of our tests except the Far Cry game. It took a rather lengthy 597 seconds to run the Photoshop test, or about twice as long as the Gateway model. The C521 was also very slow in multitasking, taking 359 seconds to complete a test that the XPS 710 finished in 258 seconds--28 percent slower. Even when compared with a more similarly equipped system, such as the CyberPower, this Dell PC was poky, requiring 148 seconds more to complete our Photoshop test.
To be fair, even running Vista, this very inexpensive machine is fast enough for general computing tasks. Gaming is a different story, though: With an ATI Radeon X1300 graphics card, it managed just 81 frames per second in Far Cry at 1024 by 768 resolution, and a marginal 25 fps in Doom 3.
The $1860 Shuttle G2-3200 proved to be a mixed bag: This diminutive PC came in near the bottom in performance, taking a lengthy 495 seconds to complete our Photoshop test. Its other performance results were equally slow, with our multitasking test taking a protracted 325 seconds.
Although the small case means that this machine could be squeezed into tight spots, it also means it has little room for expansion: There are no vacant PCI or PCI Express card slots, and only a single vacant drive bay. Shuttle also discourages users from opening the case themselves to install upgrades.
Shop Tech Products at Amazon