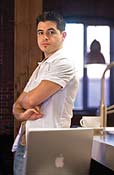 Over the last six months, Ron DesGroseilliers has recommended more than 260 products on his two blogs--everything from travel sites and TV shows to laminate floors and lingerie.
The 47-year-old electronics engineer isn't a know-it-all with a short attention span. He's one of a growing legion of bloggers who get paid to write about products and services by PayPerPost, Review-Me, and similar Web sites.
The sites offer an easy way for bloggers to earn bucks and for marketers to build buzz. As traditional forms of advertising lose effectiveness, word-of-mouth services hope to fill the gap. But critics say such sites are "polluting" the blogosphere, sapping credibility from a medium where it's already in short supply.