GeekTech: Cheap and Easy Remote-Access Software
If you're like me, and often work on the same document using several different computers during the course of a week, then you've probably experienced the same PC-related phenomenon that I have: Invariably the one file you need is the one file you neglected to transfer to the computer you're currently using.
And this can be a real bummer.
I work at home several days a week, and commute more than 50 miles to my office on the other days. So when I leave behind a file I need, it's a problem. After several failed attempts at coaxing my homebound felines into e-mailing me my missing documents, I ran across a more dependable solution for accessing files from afar: a service called LogMeIn.
Easy and Powerful
LogMeIn isn't brand new (the founders established the company in 2003), but it's a relative youngster compared with more expensive remote-access stalwarts such as Symantec's venerable pcAnywhere software, and Citrix Online's World Class Award-winning GotoMyPC service. But the basic version of LogMeIn's service has a feature both of these quality products lack: It's free.

Navigating the LogMeIn Web site is easy, and downloading the necessary software onto each PC you plan to access goes quickly. Once you have the app up and running on said PCs, you can access those machines as long as they're running and connected to the Internet. (Note: A Wi-Fi-connected machine must remain "awake" for this to work; otherwise, a PC networked via Wi-Fi will not respond to a network request.) The service follows a long list of security protocols to protect your data (including 256-bit encryption), and you initiate a connection by signing in to the LogMeIn Web site using a password of your choosing.
After you log in, you select which computer to access, and LogMeIn Free launches a browser window that lets you assume control of the remote PC. You can view the remote computer full screen, launch and close programs, read e-mails, copy and paste text between PCs, and--of course--access that file you left behind. The free service doesn't offer the file-transfer features you'd find with for-pay services, but you can get around that by simply e-mailing yourself the file you need. It's fast, it's easy, and it's free.
Need More? Go Pro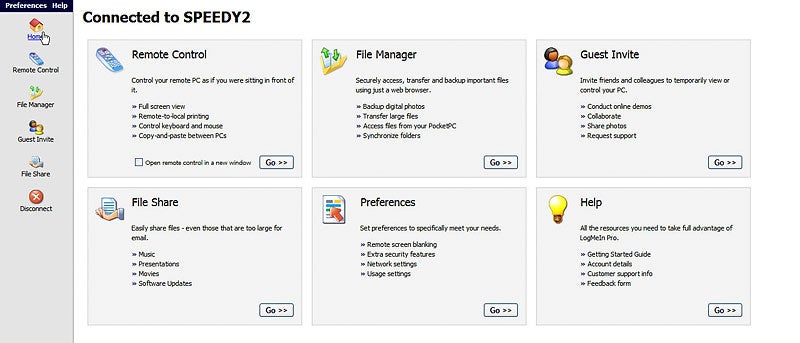 Of course, the folks over at LogMeIn didn't put together this handy service just for the good of humanity, though that's a nice thought. Instead, the company offers a whole slew of LogMeIn-branded services for consumer and business PC users, as well as for IT professionals, and they're hoping you'll like the free version enough to try one of their paid services.
I tested the LogMeIn Pro service, the next step up from the free service. It costs about $13 per month (or $70 per year) for access to one PC; each additional PC (up to 10 total) costs another $10 a month, or $60 per year. (GoToMyPC charges $20 per month--or $180 per year--for a single PC; $30 a month--or $269 per year--for two PCs; and $15 more per month--or $135 more per year--for each additional PC up to 20 systems.) In addition to adding a handy remote-to-local printing capability to its Remote Control tool, the Pro service adds a host of features to the mix.
Chief among these is File Manager, which lets you move files between your local and remote PCs in a number of different ways. For example, you can Replicate, which updates a folder on your remote PC to look exactly like the one on the local PC by adding new files and updating existing ones.
One thing to note about Replicate: If your destination folder has a file that's not in your source folder, the service will delete that file. Despite warning messages (that I absentmindedly clicked through), I accidentally nuked a few files I wanted to keep, which wasn't much fun. Replicate really is best used when you've been working in a folder and deleting files on purpose on one PC and you want to make sure the remote PC's matching folder has exactly the same files.
Another option is to Synchronize current folders, which ensures that the folders you select on the source PC and on the remote PC have the same set of files. Files that appear only on one PC are copied to the other system, and in situations where the same file is in two places, the service saves the newest version of the file in both locations. This is an incredibly handy feature, and one that I find useful for keeping my multiple PCs organized. However, if you're cleaning out files on the source PC, and then sync to your remote PC, you'll bring back all the deleted files that are still on the remote system (hence the need for Replicate).
The File Manager also lets you access remote files using a Windows Mobile PocketPC, but I did not test this feature.
File Sharing and Guest Invites
Two additional features the Pro version offers are File Share, which lets you share large files with others, and Guest Invite, which lets somebody else temporarily view or control your PC. Neither requires that the third party subscribe to the LogMeIn service.
The File Share feature lets you share large files on your remote PC, such as photos, with friends or colleagues without filling up their e-mail inbox with oversize attachments. Using the feature, you select a file, and the service automatically generates an e-mail message with a link to the file (noting your own e-mail in the subject line). Alternatively, you can copy the link and paste it into your own e-mail message and send it yourself. The person who receives the e-mail can click the link to securely download the file from your PC. You can control how many times recipients can download the file and how long to keep the link active (you can also close active links at any time).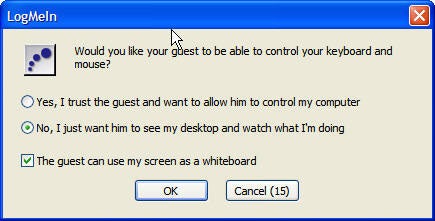 The Guest Invite feature lets you send an e-mail link that offers to share access to your PC with another computer user over the Web. The other person doesn't have to be a LogMeIn customer, but when he or she wants to take advantage of the offer, you must be present at your PC in order to accept access. This tool has all sorts of practical uses, from presentation sharing to online training to collaboration. The person sending the invite controls the degree and length of access, and can shut it down at will.
Another very interesting possibility--one that I hope to test myself--would be to make sure that that friend or relative who's always calling for long-distance tech support is running the Pro service on their machine. That way, when they run into a snag, they can send you an invite and you can take a look at the problem yourself. Imagine how much time you could save by skipping the part where your aunt reads off each item in each of an app's menu drop-downs. You can do a lot of this stuff with Windows XP's Remote Access feature, but it's just not as quick and easy to use.
I've used the free version of LogMeIn for months, and it has made my life easier on several occasions. I've also enjoyed using the Pro version, which I think offers enough useful tools to justify its monthly fee. I do, however, miss calling my cats and asking for their help.