GeekTech: Cheap and Easy Remote-Access Software
Page 2 of 2
File Sharing and Guest Invites
Two additional features the Pro version offers are File Share, which lets you share large files with others, and Guest Invite, which lets somebody else temporarily view or control your PC. Neither requires that the third party subscribe to the LogMeIn service.
The File Share feature lets you share large files on your remote PC, such as photos, with friends or colleagues without filling up their e-mail inbox with oversize attachments. Using the feature, you select a file, and the service automatically generates an e-mail message with a link to the file (noting your own e-mail in the subject line). Alternatively, you can copy the link and paste it into your own e-mail message and send it yourself. The person who receives the e-mail can click the link to securely download the file from your PC. You can control how many times recipients can download the file and how long to keep the link active (you can also close active links at any time).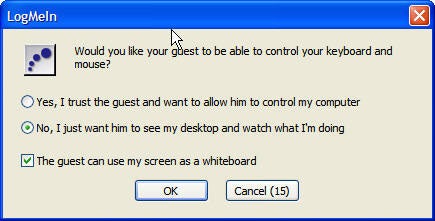 The Guest Invite feature lets you send an e-mail link that offers to share access to your PC with another computer user over the Web. The other person doesn't have to be a LogMeIn customer, but when he or she wants to take advantage of the offer, you must be present at your PC in order to accept access. This tool has all sorts of practical uses, from presentation sharing to online training to collaboration. The person sending the invite controls the degree and length of access, and can shut it down at will.
Another very interesting possibility--one that I hope to test myself--would be to make sure that that friend or relative who's always calling for long-distance tech support is running the Pro service on their machine. That way, when they run into a snag, they can send you an invite and you can take a look at the problem yourself. Imagine how much time you could save by skipping the part where your aunt reads off each item in each of an app's menu drop-downs. You can do a lot of this stuff with Windows XP's Remote Access feature, but it's just not as quick and easy to use.
I've used the free version of LogMeIn for months, and it has made my life easier on several occasions. I've also enjoyed using the Pro version, which I think offers enough useful tools to justify its monthly fee. I do, however, miss calling my cats and asking for their help.
Shop Tech Products at Amazon