Motherboards: Power at the Right Price
At a Glance
Asus P5N-E SLI

PCWorld Rating

ECS (Elitegroup Computers) nForce 570 SLIT-A (V5.1)

PCWorld Rating

MSI P965 Platinum Motherboard (Intel Core 2 Extreme/Core 2 Duo/Pentium EE/Pentium, Socket T, P965, ATX, 8GB DDR2, 1066MHz)

PCWorld Rating

ABIT Abit AB9 Pro

PCWorld Rating

Gigabyte GA-M59SLI-S5 Motherboard (Athlon 64 FX/ Athlon X2, Socket AM2, ATX, 16GB DDR2, 1GHz Bus)

PCWorld Rating

ABIT Fatal1ty AN9 32X

PCWorld Rating

MSI K9A Platinum Motherboard (Athlon 64/64FX/64 X2, Socket AM2, nForce2, ATX, 8GB DDR2, 1000MHz Bus)

PCWorld Rating

Asus Crosshair

PCWorld Rating

Sapphire Pure CrossFire PC-AM2RD580

PCWorld Rating
Page 2 of 6
Our Best Buys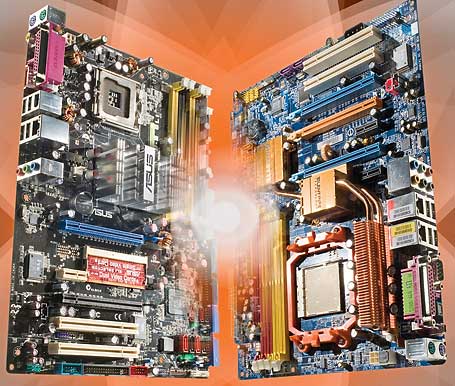 Our top pick among the Intel-based motherboards is the $149 Asus P5N-E SLI. The only model we looked at featuring nVidia's nForce 650i SLI x8 chip set, it did just about everything well. It still has a few minor weaknesses, however; for instance, it provides only three one-eighth-inch analog outputs on the back panel, limiting you to 5.1-channel sound (instead of 7.1) unless you use the rear-panel digital coaxial connection or internal analog audio header. The second-ranked ECS nForce 570 SLIT-A (v5.1) impressed us with a very attractive price ($95), but it uses an older nForce 570 SLI x8 chip set and is the only board in our roundup that lacks FireWire ports of any kind.
In contrast, the $249 Asus P5N32-E SLI, using nVidia's nForce 680 SLI x16 chip set, missed a spot on our chart largely because of its relatively high price.
Among AMD-based boards, Gigabyte's $170 GA-M59SLI-S5 won our Best Buy nod, combining state-of-the-art and legacy peripheral ports with a nice price. A pair of AMD-based boards failed to rank. The $165 Asus M2R32-MVP's performance numbers were a hair slow in a field of fast competitors. And DFI's $190 LanParty UT NF590 SLI-M2R/G, while an excellent overclocker's board, just missed out because it allows a maximum of only 4GB of memory and lacks legacy ports (which may not be a big deal, but other boards continue to offer them).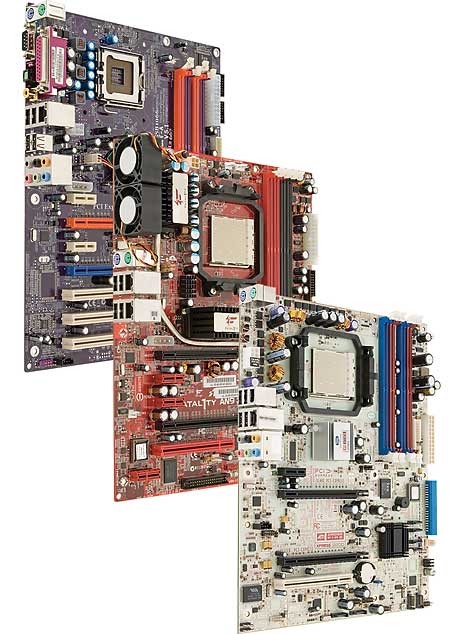 Power users with AMD leanings should note that overclocking is the raison d'être of the Abit Fatal1ty AN9 32X, the Asus Crosshair, and the Sapphire Pure CrossFire PC-AM2RD580 boards. All three provide every BIOS-tweaking option you could possibly wish for.
Despite not making the chart, the Intel DG965WH remains a very good choice for a budget system, where overclocking and high-end graphics aren't as great a concern. The board's integrated GMA X3000 graphics chip ran Vista's Aero interface satisfactorily, and it saves you the expense of buying a graphics card.
Choosing a CPU
Previous testing has shown that Intel's Core 2 Duo has shoved AMD's chips into the backseat in performance. (See "Intel's New Core 2 Duo Processors Run Blazingly Fast in PC World Tests.")
For our tests we used an AMD 2.6-GHz Athlon 64 X2 5200+ that costs about $300. Our Intel test bed used an approximately $500 2.66-GHz Core 2 Duo E6700.
If you want maximum performance, buy a top-of-the-line Core 2 Duo or perhaps a quad-core chip (see "Quad-Cores Need Multithreaded Apps"). If you don't want to pay Formula 1 prices and you're content with mere NASCAR get-up-and-go, opt for an AMD processor or a cheaper, second-tier Intel CPU.
At a Glance
Asus P5N-E SLI

PCWorld Rating

ECS (Elitegroup Computers) nForce 570 SLIT-A (V5.1)

PCWorld Rating

MSI P965 Platinum Motherboard (Intel Core 2 Extreme/Core 2 Duo/Pentium EE/Pentium, Socket T, P965, ATX, 8GB DDR2, 1066MHz)

PCWorld Rating

ABIT Abit AB9 Pro

PCWorld Rating

Gigabyte GA-M59SLI-S5 Motherboard (Athlon 64 FX/ Athlon X2, Socket AM2, ATX, 16GB DDR2, 1GHz Bus)

PCWorld Rating

ABIT Fatal1ty AN9 32X

PCWorld Rating

MSI K9A Platinum Motherboard (Athlon 64/64FX/64 X2, Socket AM2, nForce2, ATX, 8GB DDR2, 1000MHz Bus)

PCWorld Rating

Asus Crosshair

PCWorld Rating

Sapphire Pure CrossFire PC-AM2RD580

PCWorld Rating
Shop Tech Products at Amazon