Motherboards: Power at the Right Price
At a Glance
Asus P5N-E SLI

PCWorld Rating

ECS (Elitegroup Computers) nForce 570 SLIT-A (V5.1)

PCWorld Rating

MSI P965 Platinum Motherboard (Intel Core 2 Extreme/Core 2 Duo/Pentium EE/Pentium, Socket T, P965, ATX, 8GB DDR2, 1066MHz)

PCWorld Rating

ABIT Abit AB9 Pro

PCWorld Rating

Gigabyte GA-M59SLI-S5 Motherboard (Athlon 64 FX/ Athlon X2, Socket AM2, ATX, 16GB DDR2, 1GHz Bus)

PCWorld Rating

ABIT Fatal1ty AN9 32X

PCWorld Rating

MSI K9A Platinum Motherboard (Athlon 64/64FX/64 X2, Socket AM2, nForce2, ATX, 8GB DDR2, 1000MHz Bus)

PCWorld Rating

Asus Crosshair

PCWorld Rating

Sapphire Pure CrossFire PC-AM2RD580

PCWorld Rating
Page 3 of 6
Greater Graphics
If you're a high-resolution-gaming fan, graphics support should weigh heavily in your motherboard buying decision. Ten of our test models have two PCI Express x16 slots, which together will support two graphics cards. However, the x16 slots on the nVidia 570- and 650i-based boards function at only x8 when operating in dual-graphics-card mode (SLI in this case). Caveat: For a single-card setup, you can use any brand of PCIe graphics board in these systems; but when doubling up, you must use only nVidia cards in SLI motherboards and only ATI cards in CrossFire boards. Dual-card graphics are overkill at 1280-by-1024-pixel resolution or less, but they improve 3D graphics performance as you increase the resolution beyond that. In our test group, the four boards with Intel's P965 chip set all have a single PCIe x16 slot.
Intel's DG965WH is the only motherboard in our roundup with integrated graphics (we tested it, and all boards, with a GeForce 7800 graphics card to level the playing field). Though we recommend getting a discrete graphics board for gaming, integrated graphics are adequate for most other uses. Just make sure you opt for a motherboard that has a PCIe x16 slot so that you can add a graphics card later if necessary.
Shifts in Storage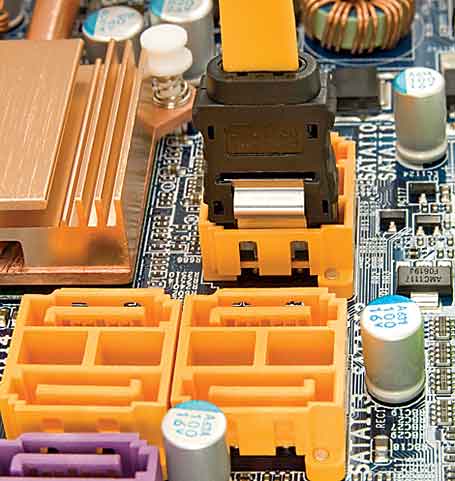 Every motherboard in the roundup has a floppy-drive connector, and many of them include drivers on floppies. Parallel ATA (PATA) drive support is also universal, though only Asus's P5N-E SLI offers more than one connector. PATA support persists despite Intel's decision to drop it from the P965/ICD8DH chip set--which overlooked the fact that the majority of current internal CD/DVD burners are PATA-based. Not only does no performance advantage accrue from replacing a PATA burner with a same-speed SATA drive, but vendors have been slow to introduce SATA burners. Dropping PATA simply forced P965 motherboard vendors, Intel included, to add an auxiliary PATA controller.
State-of-the-art 3-gbps SATA is universal in the boards in our roundup, as is RAID hard-drive support. Every board offers both RAID 0 (in which data is split, or striped, evenly across drives for increased performance) and RAID 1 (in which one drive's contents are mirrored on another drive). Each motherboard also supports either RAID 5 (data striped across at least three drives, with parity protection) or a combination of RAID 0 and 1 (a striped and mirrored pair requiring four drives).
Most of the motherboards include at least six internal SATA ports. In addition, some boards come with an external SATA (eSATA) connector--a handy feature that lets you hook up an external SATA drive (which is still rare despite being faster than USB or FireWire types). The Asus P5N-E SLI and M2R32-MVP and the Abit AB9 Pro each feature a single back-panel eSATA port, while the Asus Crosshair and the Asus P5N32-E SLI offer two. Of course, each board in our test group allows you to connect eSATA drives using internal SATA connectors with an expansion bracket (such as those that Gigabyte bundled with its boards), but dedicated rear-panel ports save you the hassle.
At a Glance
Asus P5N-E SLI

PCWorld Rating

ECS (Elitegroup Computers) nForce 570 SLIT-A (V5.1)

PCWorld Rating

MSI P965 Platinum Motherboard (Intel Core 2 Extreme/Core 2 Duo/Pentium EE/Pentium, Socket T, P965, ATX, 8GB DDR2, 1066MHz)

PCWorld Rating

ABIT Abit AB9 Pro

PCWorld Rating

Gigabyte GA-M59SLI-S5 Motherboard (Athlon 64 FX/ Athlon X2, Socket AM2, ATX, 16GB DDR2, 1GHz Bus)

PCWorld Rating

ABIT Fatal1ty AN9 32X

PCWorld Rating

MSI K9A Platinum Motherboard (Athlon 64/64FX/64 X2, Socket AM2, nForce2, ATX, 8GB DDR2, 1000MHz Bus)

PCWorld Rating

Asus Crosshair

PCWorld Rating

Sapphire Pure CrossFire PC-AM2RD580

PCWorld Rating
Shop Tech Products at Amazon