Motherboards: Power at the Right Price
At a Glance
Asus P5N-E SLI

PCWorld Rating

ECS (Elitegroup Computers) nForce 570 SLIT-A (V5.1)

PCWorld Rating

MSI P965 Platinum Motherboard (Intel Core 2 Extreme/Core 2 Duo/Pentium EE/Pentium, Socket T, P965, ATX, 8GB DDR2, 1066MHz)

PCWorld Rating

ABIT Abit AB9 Pro

PCWorld Rating

Gigabyte GA-M59SLI-S5 Motherboard (Athlon 64 FX/ Athlon X2, Socket AM2, ATX, 16GB DDR2, 1GHz Bus)

PCWorld Rating

ABIT Fatal1ty AN9 32X

PCWorld Rating

MSI K9A Platinum Motherboard (Athlon 64/64FX/64 X2, Socket AM2, nForce2, ATX, 8GB DDR2, 1000MHz Bus)

PCWorld Rating

Asus Crosshair

PCWorld Rating

Sapphire Pure CrossFire PC-AM2RD580

PCWorld Rating
Page 6 of 6
Quad-Cores Need Multithreaded Apps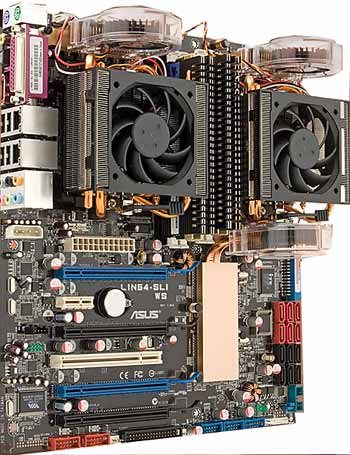 For maximum performance when multitasking or when using demanding, multithreaded applications, quad-core CPUs such as Intel's Core 2 Extreme QX6700 or the more consumer-oriented Core 2 Quad processors offer some performance benefits. Quad-core chips, for example, enable video encoders to process multiple frames simultaneously.
On the other hand, if you tend to spend your day simply switching between tasks that don't use the CPU concurrently--say, sending e-mail and trolling eBay--PC World's lab tests reveal that four cores offer no real advantage over two; even two cores help only in certain cases, such as when you're backing up a hard drive or burning a DVD in the background while word processing.
For anyone playing games or manipulating audio or video on a regular basis, however, having four cores can potentially deliver real benefits. We qualify that statement because, aside from a few forthcoming games such as Unreal Tournament 2007, the list of optimized applications is short, dominated by expensive offerings such as the latest versions of Adobe's Premiere Pro and Encore DVD, Autodesk's 3D StudioMax, and Steinberg's Cubase 4. Nevertheless, additional multithreaded software titles are on the way, and eventually every activity that can benefit from multiple-core processing will do so. Intel's current quad-core desktop chips work quite nicely in any LGA775-socket-based motherboard, including all of the ones in this roundup, so you can upgrade at any time. Unfortunately, AMD has been mum on its plans for supporting socket AM2 (the current AMD motherboard socket for its DDR2-based CPUs) with single-die, quad-core CPUs.
What AMD has announced and shipped is a quasi quad-core product known as Quad FX, which is really two dual-core Athlon 64 X2 CPUs on a dual AMD socket 1207 motherboard using a slightly revamped nVidia nForce 680a chip set (such as the Asus board pictured above).
Our WorldBench 5 suite of tests doesn't currently include enough apps that take full advantage of a quad-core CPU for this technology to affect test results significantly, but WorldBench 6, now in beta, will. The Quad FX generally fared no better than a similarly configured PC using AMD's Athlon 64 FX-62. See "AMD Releases Its 4x4 Platform, New FX CPUs" for more details.
For the time being, quad-core sounds sexy, but dual-core is the sweet spot for the majority of users. Early adopters can elect to buy quad-core processors now and see better performance with the few optimized applications.
At a Glance
Asus P5N-E SLI

PCWorld Rating

ECS (Elitegroup Computers) nForce 570 SLIT-A (V5.1)

PCWorld Rating

MSI P965 Platinum Motherboard (Intel Core 2 Extreme/Core 2 Duo/Pentium EE/Pentium, Socket T, P965, ATX, 8GB DDR2, 1066MHz)

PCWorld Rating

ABIT Abit AB9 Pro

PCWorld Rating

Gigabyte GA-M59SLI-S5 Motherboard (Athlon 64 FX/ Athlon X2, Socket AM2, ATX, 16GB DDR2, 1GHz Bus)

PCWorld Rating

ABIT Fatal1ty AN9 32X

PCWorld Rating

MSI K9A Platinum Motherboard (Athlon 64/64FX/64 X2, Socket AM2, nForce2, ATX, 8GB DDR2, 1000MHz Bus)

PCWorld Rating

Asus Crosshair

PCWorld Rating

Sapphire Pure CrossFire PC-AM2RD580

PCWorld Rating
Shop Tech Products at Amazon