Fast and Versatile Scanners for the Office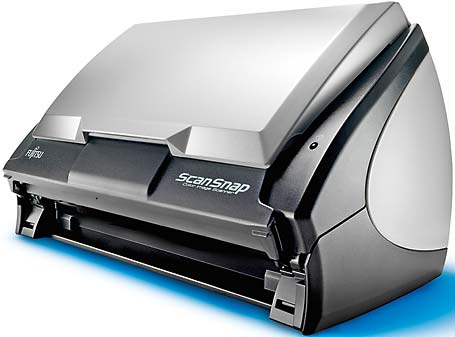 Today's document scanners are tailored for the office, expressly designed to digitize volumes of documents into multiple formats quickly.
You don't have to spend a lot to get fast speeds and plenty of features. We tested eight low-cost models priced from $399 to $799. Our Best Buy, the compact Fujitsu ScanSnap s500, delivered high image quality and costs $495. The even smaller and less expensive $399 Plustek SmartOffice PS252 proved faster at scanning text. The s500, however, was significantly speedier at scanning a two-sided graphics document, and Fujitsu offers customers toll-free support; Plustek uses a toll number.
All of the models we looked at include optical character recognition (OCR) software, though most of them don't provide a full-featured version. Many of these scanners also come with document management software and an application for scanning business cards.
Most document scanners work only with sheets of paper. Offices that also need to scan books or other thick items should look for a flatbed model, such as the $500 Microtek ArtixScanDI 2020 or the $599 Epson GT-2500. The latter model missed our Top 5 chart, in part due to its limited software. Two other units--the $795 Canon DR-2050C and $799 Kodak i1210--fell out of contention because of their high price and slow speeds. But both scanners earned a Superior rating for their extremely sharp text scans.
Every model we evaluated offers an automatic document feeder (ADF). Sheet-fed scanners are more specialized, scanning only from their ADF, so you might expect them to be faster than flatbed scanners. Yet in our tests two of the fastest units overall, the Microtek ArtixScanDI 2020 and the Epson GT-2500, were flatbed models.
The scanners that created high-quality text scans also tended to produce good-looking scans of graphics. Both the s500 and the PS252, for example, received a Very Good mark for their sharp scans of text documents, and both earned a Superior score for their scans of color graphics documents.
Unique Features
Ultimately your preferred file format may determine which scanner is appropriate for your office. For example, the s500 and PS252 each offer a one-touch button for making searchable PDF files; the s500 also scans to JPEG, as well as to Microsoft Word and Excel formats--but it does not scan to TIFF as many other models do. And while the s500 and PS252 each have a basic version of Abbyy FineReader OCR software, the HP Scanjet N6010 includes the full ReadIris Pro 11 OCR package.
For more details, see our Top Document Scanners chart.
Shop Tech Products at Amazon