First Look: New Ways to Watch Movies on Your PC
At a Glance
Netflix Watch Instantly

PCWorld Rating

Wal-Mart Video Downloads

PCWorld Rating
Remember the days when you had to drive to a store to rent a movie? Two new services--one from Netflix, the king of online DVD rentals, and the other from Wal-Mart, the king of retail--are hoping to make that a faint memory.
If you're a Netflix subscriber, the company's new Instant Movie Watching feature lets you watch streaming movies on your PC without waiting for a DVD to arrive in the mail--or for a movie to download. Wal-Mart's Video Downloads store, meanwhile, allows anyone to purchase and download flicks for watching on a PC or a portable device. Both services offer a handy and legal way to watch movies on your PC, but both have a few wrinkles to iron out.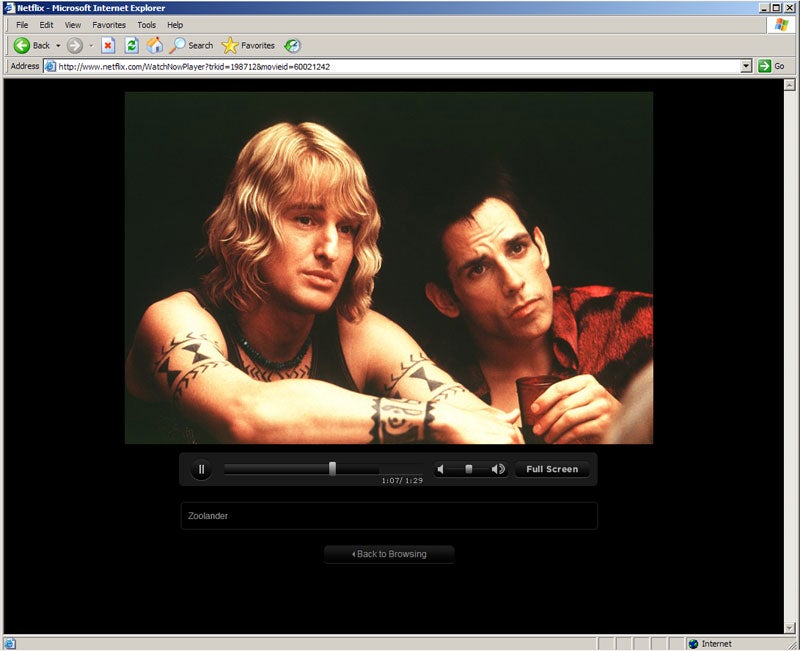 Instant Movie Watching will be available to all Netflix subscribers by June; right now it is rolling out to approximately 1 million users per month. Instead of downloads, it provides streamed versions of movies and TV shows. It will be included with all Netflix subscriptions, which range in price from $5 to $48 per month, for no additional fee. Users are allotted an amount of Instant Watching hours each month, corresponding to the monthly fee for their account. If you subscribe to the $15-per-month service, for example, you're allotted 15 hours of instant movie watching each month. Whether you use the feature or not, you will continue to receive your regular Netflix DVDs in the mail.
Wal-Mart's service, currently widely available in beta, follows the iTunes Music Store model: It offers movies and TV shows for download and purchase for between $1.96 and $14.88. Once you buy a video, you own it. You can play it on the PC that you used to purchase it, or transfer it to as many as three portable devices. You can also burn it to a CD or DVD for backup, but Wal-Mart says that the disc will play only on the PC that you used to buy the video.
Both services allow you to scan available titles online, read brief synopses of the movies or shows, and watch previews. Netflix says its service currently has 1000 titles for instant viewing but will offer 5000 by the end of the year. This modest quantity of available titles is the service's biggest downfall; scanning through the selection, I saw only a handful of movies from 2006, and of those I recognized few of the titles. Netflix attributes its limited offerings to the reluctance of movie studios to release titles for electronic distribution, but Wal-Mart's service has a much better selection. Though you won't be overwhelmed by the number of movies available for download there--the online store currently offers more than 3000 titles--you will see newer titles, such as The Departed, The Devil Wears Prada, and Little Miss Sunshine.
Let the Movies Play
Both services run on the Windows Media Player platform, but you must download software (even if you already have WMP installed) before you can begin watching or downloading movies. Netflix requires that you use its own Movie Player, which runs right in your browser window. You're prompted to download the app when you select a title to watch. The download is quick and installation is easy; within just a few minutes, my selected movie was playing. The Wal-Mart Video Downloader, which manages your downloads and your video collection, also serves as the player for your files. Downloading and installing this app wasn't as easy; the process required several reboots, and I had to initiate the installation twice before it took. Such hiccups could be due to the beta status of the service, however.
With Netflix Instant Movie Watching, you must be connected to the Internet to watch a movie. The site measures the speed of your Internet connection to determine your likely video quality; I found that the quality varied greatly depending on both my connection speed and whether I viewed the video in a partial-screen or full-screen format. Even when I viewed the video in the smaller format, the quality never matched that of a DVD; the video was often blurry, and I noticed occasional pixelation. You can stop watching a movie and resume watching later, but the service does not remember where you left off if you've closed that browser window. Though you can pause, fast-forward, and rewind video, the movies don't include any DVD formatting--such as chapters--for jumping through the content.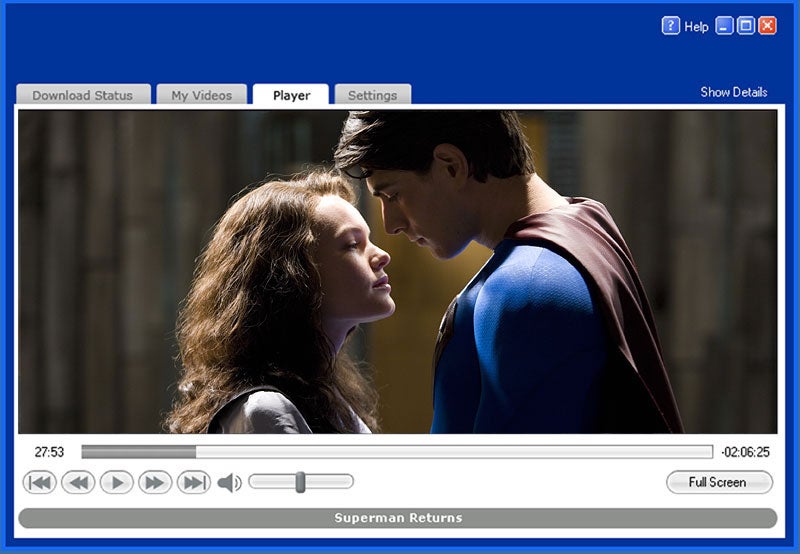 The speed of your Internet connection, as well as the format you choose, will determine how long downloading a movie from Wal-Mart's store will take. You can download a movie in a portable format, which is compressed for transfer to any PlaysForSure 2.0 portable device, or in a standard format, which is a larger file designed for playing on your PC. A 1-hour, 45-minute portable-format movie that I tried was only 536MB and downloaded to my PC in less than 25 minutes. In standard format, a 2-hour movie can be more than 1GB, and in my tests such files took anywhere from 30 minutes to more than an hour to download.
I also ran into problems getting my movies to play after they downloaded. You initiate the playback from within the Wal-Mart Movie Downloader app, which lists all of your available titles. When I tried to play Running With Scissors, I was repeatedly told that I did not have the rights to do so, even though I had just downloaded and purchased it. Wal-Mart's customer service reps were unable to solve the problem, even after walking me through repeated downloads and updates of all my WMP components, and I never could watch the movie. I had a similar issue with another title that I downloaded on another PC: Every time I tried to play the movie, I saw the same error message. But on that PC, after I clicked Play four times, the error message disappeared and the movie started. These difficulties may be due to the fact that the service is in beta, but they still hampered my ability to watch and enjoy movies--and those movies cost money.
Overall, Netflix Instant Movie Watching offered a smoother experience. The service is severely held back by its limited array of titles, but I like that it's included with an existing Netflix membership. Wal-Mart Video Downloads lets you watch your videos offline, and has a much better movie selection. If you can't get a movie to play, though, the title selection doesn't mean a whole lot.
Netflix Instant Movie Watching
This service offers an easy way for subscribers to watch movies on their PCs, but its selection of titles is meager.
Price when reviewed: Free with Netflix subscription ($5 to $48 per month)
www.netflix.com
Wal-Mart Video Downloads
Though Wal-Mart's beta service provides an impressive movie selection, playback problems mar the experience.
Price when reviewed: $1.96 to $14.88 per download
mediadownloads.walmart.com
At a Glance
Netflix Watch Instantly

PCWorld Rating

Wal-Mart Video Downloads

PCWorld Rating
Shop Tech Products at Amazon