The 50 Most Important People on the Web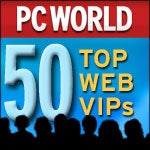 Despite what Time magazine would have you believe, you are not the most powerful or influential person on the Web. At PC World we love online personals, social networks, and videos of people falling on their keisters as much as the next person, but without the folks who create the Craigslists, MySpaces, and YouTubes of the world, much of the Web's potential would be lost among spam sites and other online detritus.
So who's making the biggest impact online? We considered hundreds of the Web's most noteworthy power brokers, bloggers, brainiacs, and entrepreneurs to figure out whose contributions are shaping the way we use the Web. We whittled the list down to the top 50--well, actually the top 62--people, but as you'll see, there are some you just can't separate. And don't despair: Get a little more traffic on your Web site, and you may show up on the list next year.