There's only one way to keep your files truly confidential: Encrypt them. The Encrypting File System (EFS) in most versions of Windows Vista, XP, and 2000 scrambles the contents of files and folders, making it very difficult for snoops to read them. It's easy to make encryption a part of your security arsenal.
Get ready to encrypt: EFS is in Windows Vista Business, Enterprise, and Ultimate; XP Pro; and Windows 2000. XP Home lacks EFS, and Vista Starter, Home Basic, and Home Premium allow only decryption--so you can read encrypted files but not encrypt them. To use EFS on a partition, that partition must be formatted using the NTFS file system. Not using NTFS? The switch is easy. See "Go With the NTFS Flow" (the same steps work in Vista). Also, encryption requires that you use a password-protected account.
Stow your files: To encrypt a file or folder, right-click it in Explorer or any folder window and choose Properties (you can also right-click a group selection to encrypt several files or folders at once). In the General tab, click Advanced, check Encrypt contents to secure data, and click OK twice.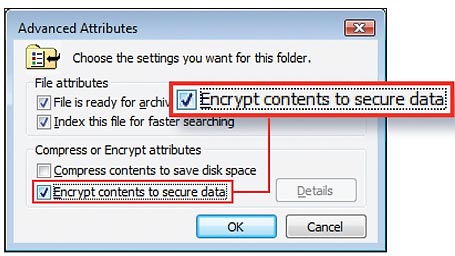 If you're encrypting a folder, you'll be asked if you want to encrypt its files and subfolders, as well. Once encrypted, the files or folders will work like any others on your system; you don't have to use any special passwords to open or save them. Other user accounts on the PC, and other PCs on the network, can't view the file contents. Only someone who is logged in to your account with your password can access these files.
Streamline the steps: You can shorten the process by adding an Encrypt command to your right-click context menu (the command switches to Decrypt when you right-click encrypted files). You can do this in XP with a quick Registry edit, but you might find it easier and safer to use Tweak UI, a free PowerToy from Microsoft. If you already have Tweak UI on your system, you may need to upgrade to a more recent version. Once Tweak UI is downloaded, installed, and running, select Explorer in the left pane, scroll through the options on the right, and check Show "Encrypt" on context menu.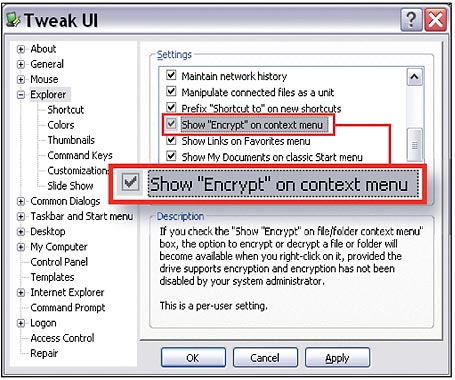 Click OK. Now when you right-click an unencrypted file, you'll see a new command: Encrypt (or Decrypt if you've selected an encrypted item). Choose that option, and respond to any prompts. As of this writing, Tweak UI was incompatible with Windows Vista. However, Totalidea Software's free TweakVI Basic utility allows you to tweak many Vista settings, letting you add the Encrypt/Decrypt commands to the context menu.