Page 2 of 9
Nail the Basics
Hands down, the most common network problems are disappearing Internet connections, printers, and PCs.
Lost connections: Usually these can be solved by rebooting your broadband modem, network router, and/or computer. But if you have to do this repeatedly, your router and PC settings are likely culprits.
Start by extending your router's DHCP lease time (the amount of time the router reserves an IP address for a device on the network) to a period of at least a week. You can access this setting through your router's browser-based firmware.
If disconnects are affecting a laptop, check the power management setting for its network adapter. In Windows XP, go to the Device Manager's Network Adapters area, find your adapter, and select Properties. Under the Power Management tab, uncheck the box that turns off the adapter when power saving kicks in. Your battery may run down a little quicker, but you'll have a stable network connection.
Domain-name system (DNS) services are another possible factor that can contribute to lost connections. DNS servers are the PCs on which your ISP stores the databases that it uses to translate individual URLs (like www.pcworld.com) into their corresponding numerical IP addresses on the Internet. If you receive messages informing you that Web pages can't be found or that e-mail can't be retrieved, try using the DNS servers at OpenDNS.com in place of those at your ISP. Start by accessing the wide-area network (WAN) settings in your router's browser-based firmware; then change the IP addresses for DNS to 208.67.222.222 and 208.67.222.220. OpenDNS is free, and it blocks known phishing sites.
Disappearing printers: If your shared USB printer seems to come and go with a mind of its own, make sure the computer it is attached to isn't hibernating. If possible, connect your printer to a desktop PC (as opposed to a notebook), and leave it on. (To cut back power consumption, allow the display--rather than the PC--to go into sleep mode.)
In Windows XP, also verify that 'File and Printer Sharing for Microsoft Networks' is installed for all network adapters so that switching between wired and wireless networks doesn't kill printer sharing. In XP, go to Control Panel, Network Connections, and (for each network adapter) right-click the device and select Properties. If you don't see File and Printer Sharing for Microsoft Networks in the window that appears, click the Install button to add it.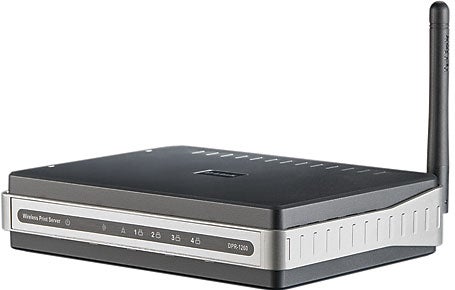 Better yet, set up a print server so that you don't have to worry about working through a host PC. Some routers have built-in USB printer ports; stand-alone print servers plug into your router. If you use a multifunction device for printing, look for a print server that also supports scanning, such as D-Link's USB RangeBooster G Multifunction Print Server (list price $100).
Invisible PCs: In many cases, network file-sharing problems stem from improper workgroup and PC naming.
Make sure that each computer has a unique name; multiple PCs identified as 'Desktop' or 'Dell' can cause mixups. Don't use spaces in names (Windows ME and earlier Windows OSs don't support it), and don't create names of more than 15 characters. Also, confirm that all PCs use the same workgroup name. The default name in Windows XP Home is 'MSHome'; in older versions of Windows and in Windows Vista, it's 'Workgroup'. To change either the workgroup or the computer name in XP, click Start, Control Panel, System, and choose the Computer Name tab.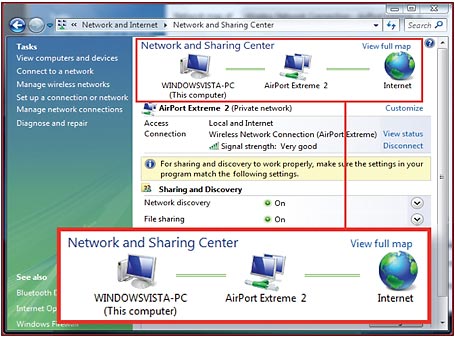 The Vista difference: Still having major unresolved sharing issues? It's time to consider upgrading to Windows Vista. The new operating system's Networking and Sharing Center lets you know which sharing features are enabled and makes configuring them easy. Vista's Link Layer Topology Discovery automatically detects network devices and allows you to see their locations on a Network Map.
Break through firewalls: Vista's firewall is smart enough to permit sharing within a workgroup. But if that's a problem with XP's firewall, try a free third-party utility. ZoneAlarm's Trusted Zone feature lets workgroup computers communicate.
Or sidestep XP's file and printer sharing complexities altogether by adopting a program such as Network Magic ($30 for three PCs, $40 for five, and $50 for eight). Like Windows Vista, Network Magic (one of our 100 best products of 2006) puts all sharing and networking functions in one place, and it simplifies sharing folders and printers. A special mode even protects shared folders when your laptop is connected at a Wi-Fi hotspot, a major security concern. A free version of Network Magic provides Internet connection repair and wireless network protection, but only the paid version supports printer and file sharing as well.
Print Across Networks and the Net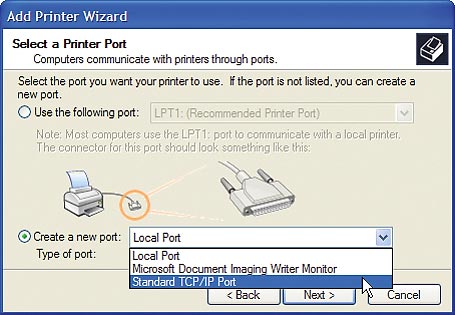 You brought your corporate notebook home, but now you find that you can't print on your home network--or over a VPN connection to a printer in your office. What to do? IP printing, which most newer networkable printers support, is your best bet. You'll need the printer's IP address (get it from your IT staff, or check with your printer vendor on how to find it--by printing a test page, for example). Then run the Add Printer wizard in XP's 'Printers and Faxes' window. Check Local Printer, and under 'Select a Printer Port', choose Create a New Port and Standard TCP/IP Port in the drop-down menus. Enter the printer's IP address, click Next, and you will initiate the usual printer installation routine, where you can pick a driver (either Windows' default driver or the vendor's driver, if you have it).