Page 7 of 9
Add a Mac
Okay, you've networked your Windows PCs. But now a new Mac is in the family. How will it fit in? Will it work with your printer? Will you be able to share files with it the way you can with your PCs?
In most cases the Mac OS X operating system provides everything you need to connect your Mac to your Windows network and share files and printers. You can plug your new Mac into your wired network or access your wireless router, just as you would with a new PC, by selecting your SSID from a list of available Wi-Fi nets and then entering your wireless encryption key. All recent Macs support WEP, WPA, and WPA2.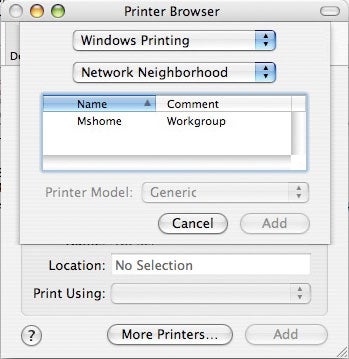 In order to share files and printers, the Mac cleverly assumes the guise of a PC. It does so by implementing the SMB/CIFS Windows file-sharing standard and using Windows workgroup naming. The default workgroup name for any Mac is Workgroup; however, you can change this name to MSHOME, for example, by running the Mac's Directory Access utility, which also supports the Windows Active Directory (used by corporate servers).
Next, turn on 'Windows Sharing' in the Mac's Sharing Preference Pane and enable each of the user accounts that you'd like to be able to share. The new Mac should appear as a member of your workgroup when you browse your network.
After selecting it and entering your user name and password, you'll be able to navigate the Mac drive and copy or upload files by dragging and dropping. This works in both XP and Vista.
Similarly, you can print from your Mac to shared Windows printers via SMB, though the setup process is not obvious. In the Mac's Printer Setup Utility, click Add. If your Windows printer does not show up in the resulting list of available printers, choose the More Printers button, which brings up the Printer Browser.
Now select Windows Printing and Network Neighborhood from the drop-down menus. Your local workgroup will appear in the window; when you select it, you'll see a list of shared printers to choose from. Thereafter, the Windows printer will appear in the Mac's Print dialog box.
If all of this sounds like too much of a hassle, consider buying Pure Networks' Network Magic for Mac ($30 for three Macs, $40 for five, $50 for eight). A preview version is available for download. It promises to do for the Macs on your network what its Windows counterpart does for PCs.