The 10 Worst PCs of All Time
#10. Dell Dimension 4600 (2003)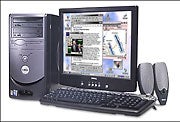 Consumers who purchased this machine entered a new dimension all right, the altered dimension of Dell Hell. The Dimension 4600 was only a middling machine when new, but after about a year--or shortly after the standard warranty expired--power supplies in some machines began to fail. Worse, Dell's customer support misdiagnosed some of these problems as motherboard failures.
Dell's support forums filled up with complaints from similarly powerless users, but the company refused to admit to defects with the power supply. (Dell politely declined to comment for this article.) The Dimension 4600's problems were yet one more reason why the "Dude, You've Got a Dell" tagline became a joke--though not a particularly amusing one for some customers.

Amazon Shop buttons are programmatically attached to all reviews, regardless of products' final review scores. Our parent company, IDG, receives advertisement revenue for shopping activity generated by the links. Because the buttons are attached programmatically, they should not be interpreted as editorial endorsements.