The 10 Worst PCs of All Time
#6. Texas Instruments TI-99/4 (1979)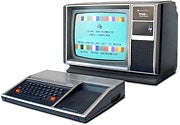 Texas Instruments' foray into the home computer market didn't last long, and the TI-99/4 offers a few clues as to why. At a time when all other home machines connected to your television, the 99/4 worked only with its own display--which was in fact a bulky 13-inch Zenith TV. Its keyboard came with Chiclet-sized keys more appropriate to one of TI's hand calculators, and like your computer-illiterate mother-in-law, the machine could type only in SCREAMING CAPITAL LETTERS.
Two years later the company released the TI-99/4A, which featured more powerful processors, a better keyboard, the ability to plug in your own monitor, uppercase and lowercase letters, and a price tag less than half the TI-99/4's $1150. But it wasn't enough. TI exited the home PC biz a few years later, focusing exclusively on laptops.

Amazon Shop buttons are programmatically attached to all reviews, regardless of products' final review scores. Our parent company, IDG, receives advertisement revenue for shopping activity generated by the links. Because the buttons are attached programmatically, they should not be interpreted as editorial endorsements.