At a Glance
Google google

Palm GPS Navigator (3207NA)

Creative Zen V Plus

PCWorld Rating

JotSpot Tracker

Honest Technology My-IPTV & Cam Anywhere

PCWorld Rating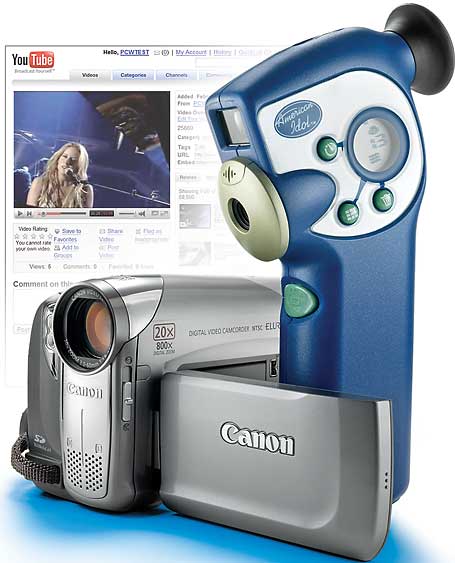 I'm still on the waiting list for my 15 minutes of fame. To hurry things along, I started posting videos to YouTube, the video sharing site that claims 65,000 new videos are posted every day (and none of mine are pirated TV shows -- honest).
I use a MiniDV camcorder to capture footage, and video editing software to fine-tune the resulting videos, but often the process takes more time than I'm at liberty to spend. So I decided to look for a combination of hardware and software that would make the process easier and faster while retaining the high quality my prospective fans would no doubt expect.
Our Test Center analysts, unconcerned with my lack of a fan base but intrigued by the prospect of comparing dissimilar devices, agreed to test five products: the Canon Elura 100, an inexpensive MiniDV camcorder; the Creative Live Cam Optia Webcam; the Digital Blue American Idol Digital Camcorder, which is aimed at kids; the Palm Treo 750 camera phone; and the Panasonic Lumix DMC-LX2, a digital camera that captures video.
Even a low-end camcorder captures better video than a camera phone can. After all, the primary function of a camcorder is video, not telephony. But uploading video to YouTube requires that you either compress it or start out with already-compressed footage, since the site limits files to 100MB -- and anyway, most home broadband connections have pitiful upload speeds. So the end product won't look nearly as good as the original did, and that can level the playing field substantially.
For our tests, we captured footage of the same scene, using each device's best quality settings. We then compressed and converted each clip with AVS Media Video Tools 5.5, a video-conversion utility, using YouTube's recommended settings: 320 by 240 resolution and MPEG-4 format for the video track and MP3 as the audio format. (YouTube accepts several different formats, including those generated by most digital cameras, camcorders, and cellular phones). We then loaded the original footage onto five identical systems we'd connected to identical, color-calibrated 19-inch ViewSonic VG1930WM wide-screen LCD monitors, and uploaded the compressed footage to YouTube. A panel of editors and Test Center analysts then judged both the original and the compressed movies for color, detail, motion, and overall quality. You can watch our test videos.
Our chart doesn't report the PCW Rating for each product, because we judged only their video features for this review. It wouldn't have been fair to try to compare all of the features of a camera phone to all of the features of a camcorder, for example. You can read a full review of each product by clicking on the review links in our chart.
At a Glance
Google google

Palm GPS Navigator (3207NA)

Creative Zen V Plus

PCWorld Rating

JotSpot Tracker

Honest Technology My-IPTV & Cam Anywhere

PCWorld Rating
Shop Tech Products at Amazon