Zoom Your Way to Mobile Content with ZenZui
ORLANDO, Florida -- Let's be honest: No one who's ever used a cell phone browser has come away impressed by the experience. At best, Web sites intended for big screens look ugly and disjointed on tiny ones; at worst, they become unusable because handsets don't support their technology.
ZenZui, a new company formed by former Microsoft researchers and others, promises a slicker, quicker way to access and interact with Web content--but only from sites that buy into the company's technology and business models.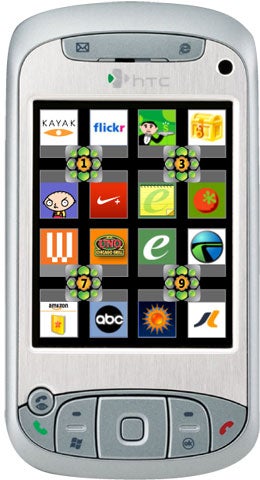 People who download the free ZenZui application when it ships later this year will be able to customize their experience by choosing a lineup of "tiles"--clickable squares, each from a different ZenZui partner site, that are displayed on a grid. In the prototype version, the default launch view (which ZenZui calls a Zone View) shows 4 tiles, or one quadrant of the full ZenZui ZoomSpace, which consists of 16 tiles.
Zoom In, Zoom Out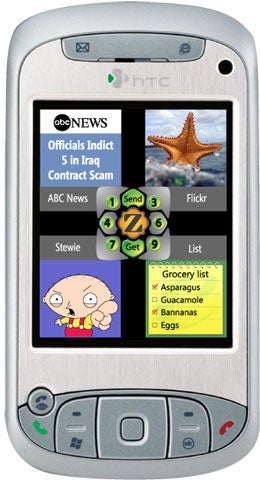 You navigate between tiles and to content by zooming in and out using your phone's keypad (numbers are helpfully displayed in small, floral-looking clusters). Thus, if you're in the ZoomSpace, you can get to the top-left Zone View by hitting the 1 key.
Similarly, you access a tile by pressing the key that points to it--in the sample ZoneView, you'd access the Stewie tile by hitting the 7 on your keypad.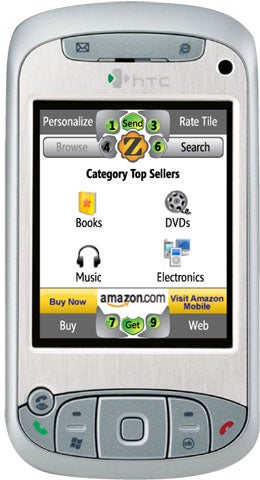 Once you drill down to a specific tile, options change depending on the site. Amazon.com's is meant to facilitate e-commerce and is tied into ZenZui's transaction processing technology; the Stewie tile, which promotes Fox's Family Guy animated series, also has e-commerce links, but additionally has keys labeled "Amuse" and "Belittle."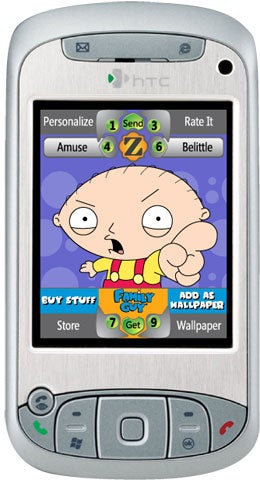 The goal of ZenZui is primarily to help sites monetize their content by making it easier for people to access that content from cell phones. Content providers and site operators who wish to reach people using ZenZui will strike deals that either depend on transactions or ad support: For example, a developer could come up with a tile that performs an application, such as a tip calculator, and advertisers would bid for the right to support it. ZenZui officials say they will provide for some public service announcements in lieu of ads for worthy sites.
While the tiles look good, one potential problem for ZenZui is the highly proprietary nature of its technology. Some potential partners might also object to the extent to which ZenZui maintains control of all data passing through the service. All tiles must be written using ZenZui's proprietary markup language and all tile content must be synchronized through ZenZui's servers using ZenZui's synchronization architecture.
"Every tile lives in our data center," ZenZui cofounder John SanGiovanni explained.
SanGiovanni helped develop some of the design and interface concepts involved in ZenZui while working at Microsoft Research. Microsoft maintains a minority interest in the company and has assigned some of the relevant Microsoft Research patents to the company.
ZenZui is being announced at the CTIA Wireless 2007 show here, but is currently only in alpha trial with "100 friendly users" on Windows Mobile devices. An invitation-only beta pilot is planned to begin this summer, concurrent with the launch of a Java (J2ME) version of the service. ZenZui expects to add BREW support and to provide general availability later in the year.
For more CTIA show coverage, go to PC World's Cell Phones and PDAs Info Center.