Page 2 of 2
iTunes and DRM-Free Music, Continued
Will the EMI songs play only on iPods?
No. You can listen to them on any player that can handle .aac music files. Microsoft's Zune player and Sonos players, for instance, can also handle .aac, but other players, including those from Creative, SanDisk, MobiBlu, and iRiver, for example, can't.
What software can play these EMI files?
The Yahoo Music Jukebox can play them, as can Winamp Pro (but not the free basic player). Windows Media Player 11, as it ships, cannot.
What if my music player or preferred software can't handle .aac files?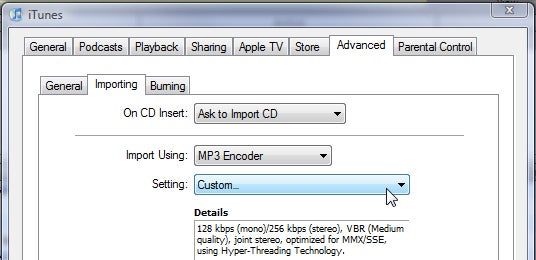 You can convert non-DRM protected .aac files to the format of your choice. To convert to .mp3 in iTunes, go to Edit/Preferences and choose the Advanced tab. On the Importing tab, under Import Using, choose MP3 encoder, and choose a bit rate below that under Setting. After that, head to your library, right-click a song, and choose Convert Selection to MP3. We also like imToo's conversion software.
What about my current iTunes music? Can I upgrade 128-kbps songs to the higher quality level?
Apple says you'll be able to upgrade existing music by paying the cost difference, 30 cents per song.
Can I share the new DRM-free music?
The technology won't stop you, but the same copyright laws that make sharing music illegal still apply.
Will this new scheme discourage illegal file sharing?
No, according to experts--including EMI's Nicoli. Why? Because currently no matter how the music is priced, illegal file swappers will continue to download and distribute music they have not paid for, according to Michael Gartenberg, vice president and research director for Jupiter Research. Nicoli says that removing DRM from EMI music tracks is about trust, adding that he trusts his customers.
Will other online stores follow EMI's example?
EMI is now offering its music DRM-free to all of its digital distributors, not just to Apple, and the company says it is in discussions with Microsoft (for the Zune store) and others. But according to EMI, it's up to those distributors to decide whether, when, and for what price they'll offer EMI's music DRM-free. DRM will likely stay in place for subscription music services such as Napster, Rhapsody, and Yahoo Music Unlimited, according to Gartenberg.
What about other record labels?
Gartenberg estimates that the other three big labels--Sony BMG Music Entertainment, Warner Music Group, and Universal Music Group--will follow suit within the year. And Steve Jobs says he expects to offer more than half of iTunes' 5 million songs DRM-free by the end of the year.
I hear EMI is up for sale. What happens to this deal if EMI gets bought?
EMI has said it would entertain serious buyout offers. And Warner, which has previously made a bid for the company, has come out against DRM-free music. But EMI wouldn't comment today on what might happen to the DRM-free music if the company is bought.
What, if anything, does this mean for video?
EMI music videos will also be available in DRM-free format at the current price. Apple hasn't yet responded to our inquiries about the other videos in the iTunes store.