Google is the search engine I prefer on my desktop PC. When it comes to a search engine for my cell phone, however, the verdict is still out. The choices include the usual suspects--Google, Windows Live Search/MSN, and Yahoo--each of which offers a mobile version specifically designed for handsets and PDA phones. Last month I checked out Yahoo's mobile search services, with their impressive array of local search tools, mapping software, and a city guide. This month I investigated Google's mobile services.
To get the ball rolling, I visited Google's Mountain View, California campus. A couple of the guys from the Google mobile team and I grabbed a portable lunch at the No-Name Cafe in Building 43 and toted it back to a nearby conference room. As we ate, I got the word on all things Google Mobile.
Google Search and SMS
Type google.com in the address field of your cell phone's browser (data plan required), and you'll jump to a bare-bones Google landing page consisting of a search box and hyperlinked text that invites you to add weather, news, movies, and more to the page. The simplified interface is designed to "make it easy for users to find information [on the Web] as quickly as possible using their cell phone," says Yael Shacham, product manager for Google Mobile Search. By providing the options in a simple-text format, she says, the company allows people to see at once what's in store--no scrolling involved.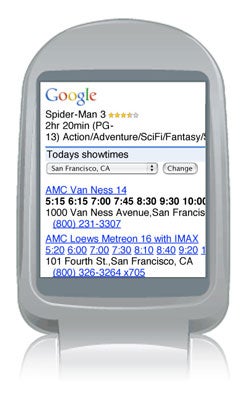 To compare Google's mobile search engine to Yahoo's OneSearch, I ran the same search request on both. I entered 300 in the Google search box and received results about the movie and the comic book series, with links to the official movie Web site, IMDB, and Wikipedia. After adding movies to my mobile Google home page, I ran another search for 300 and received additional search results, including local movie show times. The search engine remembered my location and settings, too. Meanwhile, Yahoo's OneSearch provided show times without my having to enter a zip code--but the default location was New York City. I had to change the location manually to get show times for my locality.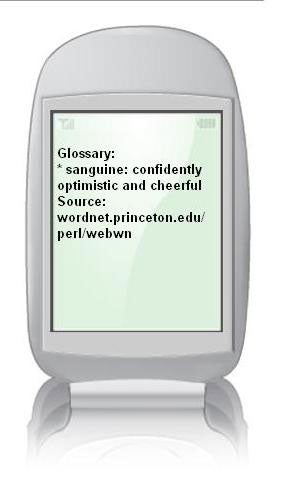 Yael also showed me how to search with Google SMS, where you submit queries and Google texts the results back to you. When I sent a message consisting of the words pizza 10012 to 466453 ('GOOGLE' on most devices), I received a reply with information about three pizzerias located in the 10012 zip code.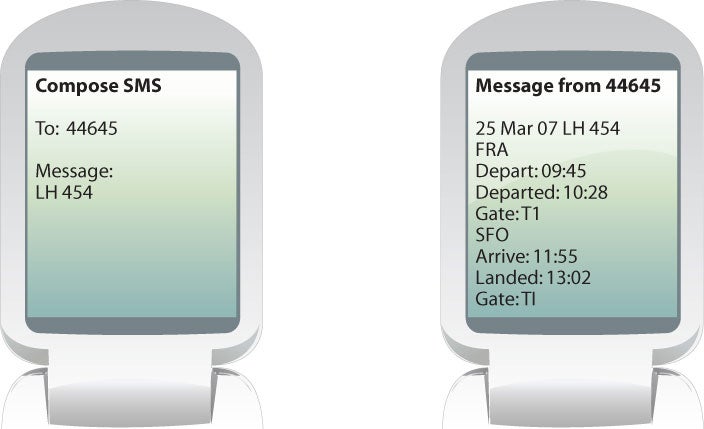 For the cost of a text message, you can get all sorts of information, including flight updates (text your airline and flight number), language translations, driving directions, Q&A's, and word definitions. For tips on Google SMS, read "Six Things You Never Knew Your Cell Phone Could Do."
Google Maps for Mobile
I also got a quick overview of Google's mobile mapping application, which the mobile team calls "GMM." Its features are similar to those on the desktop version (maps.google.com). For instance, you can get directions, find businesses, and view traffic. But a mobile phone user's needs differ from a desktop user's, says Gummi Hafsteinsson, product manager for Google Mobile Applications. "The key is to make the information contextually relevant and easy to access."
Google's mobile mapping app can run on most cell-phone operating systems, including Java, BlackBerry, Windows Mobile 5 and 6, and Palm. Notable exceptions include BREW (which many Verizon cell phones run on) and iDen (which many Nextel phones use). To download Google Maps, type www.google.com/gmm on your handset's browser and then follow the instructions on the page.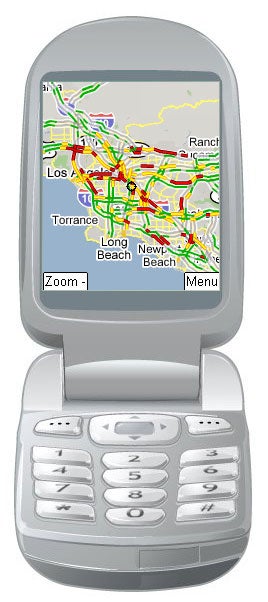 I used Google Maps on a recent trip to Los Angeles, and the mapping app proved invaluable in that heavy-traffic city. Using a Palm Treo 750, I checked traffic conditions between Malibu and West Hollywood, so as to avoid clogged freeways. I entered my location and zoomed out (virtually speaking) to see traffic in the immediate area and in neighboring towns. A solid red line along a major interstate highway signifies slow traffic and green line indicates traffic running at the speed limit. One caveat: Maps can take a while to load if your data connection is slow. With my Treo 750's EDGE connection, for example, a map of Malibu took from 15 to 25 seconds to load. The maps also refreshed painfully slowly when I panned around to adjacent areas from the same view.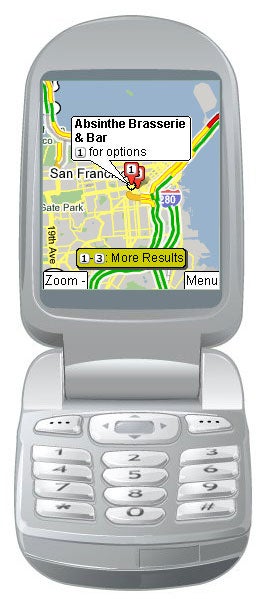 Typing in pizza as a search term in Google Maps' business listings feature called up details about pizzerias in my specified location. The listings are based on relevance, prominence, and proximity, according to Gummi. The tool returns up to nine listings (coinciding with a cell phone's numeric keypad). Like Yahoo's mobile mapping tool, Google Maps provides additional information--user reviews, for example--about a listing, if available.
Gmail for Mobile
Gmail is one of my main e-mail accounts so I was delighted to hear that a mobile version of the app can be installed on most wireless handsets, including Java phones and BlackBerrys. You must have Java Virtual Machine on your phone to run the Gmail client, however, and a fair number of popular devices--including some Palm devices and many Windows Mobile devices--do not.
Tony Hsieh, product manager for Google Mobile, says that using the Gmail mobile client application to access e-mail takes one-fifth as long as using the cell phone's browser to do the same thing. (You can get to Gmail through your cell phone's browser by entering www.gmail.com and signing into your mail account as usual.)
The Gmail client app offers other conveniences, too, such as real-time syncing. If you access your mail from a desktop and a cell phone, the app will synchronize the information and keep it up-to-date on both devices. You can also view attachments saved as .jpg, .doc, .pdf, or .gif files, or in other common file formats.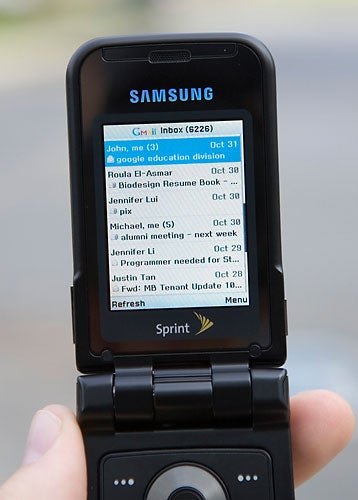 To install Gmail on your cell phone, enter gmail.com/app in the browser's Web address field and click the link to download the app. I installed Gmail on the Sprint BlackBerry 8703e and the Nokia N75 from AT&T. The process was simple on both devices, and downloading the client on each phone took only a few minutes. The app's look and feel on both phones was similar to the corresponding desktop experience. I could view an e-mail thread, delete messages, and the like. Remember, though, that reading e-mail on a smart phone requires a lengthier scrolling and more button presses than on a desktop due to the smaller screen size and the specialized input method.
As we went to press, Google introduced Calendar for Mobile. For our first impressions, read PC World Editor in Chief Harry McCracken's blog.
Google vs. Yahoo
Which service is better? That depends on the type of phone you have and the e-mail client you use. Here are some of the plusses and minuses: Google's mobile tools currently run on more mobile operating systems than Yahoo's Go. Both clients did a good job on e-mail and Web searches, providing relevant, useful information. Yahoo Go consolidates its various local search services and its photo sharing service, Flikr, into one easy-to-navigate application. The user interface is attractive, too. Google's mobile offerings are piecemeal and less jazzy, though you can download all of them in one fell swoop. Finally, Google SMS is a great mobile service for getting instant information while you're on the move, especially if text messaging is already part of your data plan.
Grace Aquino is a contributing editor for PC World. Do you have a favorite mobile application? Tell us about it.