Top 10 Laptops: Asus Gets Game, Sony Gets Connected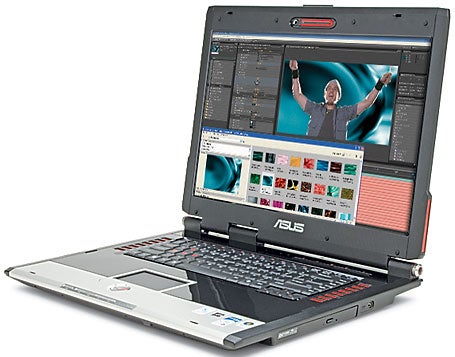 An Asus gaming notebook debuts atop the desktop replacement half of the chart, while a Sony model equipped with an 11.1-inch screen slides in at fifth place on the ultraportable list.
Shoot-'em-up fans will like the smooth gaming action and flashing red lights of the heavy, 17-inch G2P-7R009C from Asus, which even color-codes gaming action keys--A, S, D, and W--in red.
On the ultraportable side, Sony's expensive and lightweight VGN-TXN15P/B is long on battery life, but its 1.2-GHz Core Solo U1400 CPU gives it less power than other units on the chart. Like the top-ranked Dell XPS M1210, though, the VGN-TXN15P/B is broadband-ready; using Sprint Mobile Broadband service, you can access the Internet when you're out of reach of a Wi-Fi hotspot.
Find the Very Latest Laptops Charts
Click on the links below for the latest online laptop rankings or a comprehensive list of all notebooks we've tested.
Top Notebooks From the August 2007 Issue of PC World Magazine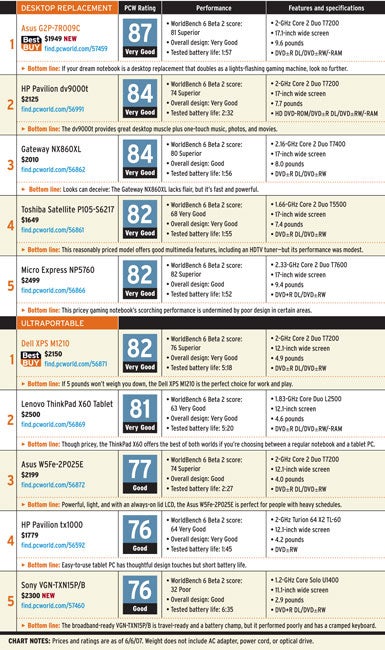 Amazon Shop buttons are programmatically attached to all reviews, regardless of products' final review scores. Our parent company, IDG, receives advertisement revenue for shopping activity generated by the links. Because the buttons are attached programmatically, they should not be interpreted as editorial endorsements.