Supercharge Acrobat Reader
Adobe Reader 7 is more than just a static PDF viewer. By customizing its toolbars and menus, you'll gain more control over how a document appears on screen, and how you can use its contents.
Click Edit, Preferences, or press <Ctrl>-K, to view your customization options. For example, select Reading to choose an option on either the Reading Order menu or the Screen Reader Options menu (Read the entire document, Read only visible pages, and so on) to alter how documents are displayed. (Acrobat 8's new audio reader adds volume, voice, and other controls.)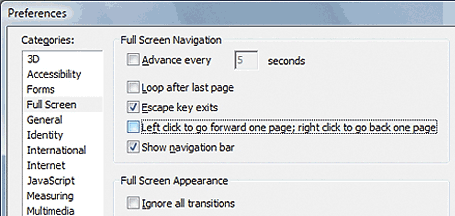 Viewing documents in Reader's Full Screen mode gives you more screen real estate by hiding menu and toolbars. You can change your full-screen options by clicking Edit, Preferences, Full Screen. To move between screens via the navigation toolbar rather than using mouse clicks, uncheck Left Click to go forward one page, right click to go back one page, and choose Show navigation bar. Another option is to hide the cursor, or to keep it in view (the default is to hide it after a specified number of seconds.
To move text and pictures from a PDF file to other applications, click the Select Tool option on the Basic toolbar, use yourcursor to highlight the text you want, and choose Edit, Copy to place the text in the Windows Clipboard. Now open a file in the target application--say, Microsoft Word--and select Paste (or click <CTRL>-V). All or most of the formatting will be converted, with all line breaks in place (assuming that the person creating the PDF didn't lock it).