Get to Your Data Anywhere and Anytime: Tools and Tips
Page 10 of 10
Dial In to Your Data From Any Web-Enabled Cell Phone
Blackberry and Treo owners have long known the joy and the pain of having access to e-mail and critical documents at all times.
But you don't need to purchase a fancy PDA phone to get in on the action. If your cell phone has any Web browsing or text messaging capabilities, you can check your e-mail while you're on the road and you can retrieve files from your home computer.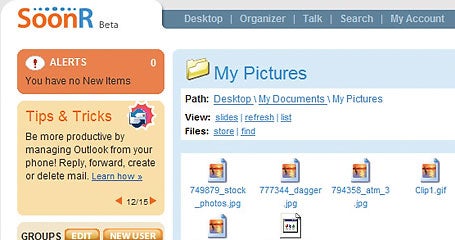 A few new services aim to bridge the gap between cell phone and PC. One of the most promising of these is the free SoonR, which may be the most full-featured application in this group. SoonR turns any Web-capable phone into a remote-access tool. Just install the compact SoonR application on your PC and leave it running in the system tray when you head out. SoonR interfaces with your inbox and gives you access to files in your My Documents folder, or in any other folder you care to share. SoonR also works remotely with any PC desktop search system you use.
Once you've found your file or e-mail, SoonR displays it on your cell phone in miniature. If you use a regular cell phone, you'll have to do some scrolling, panning, and zooming to see everything; on a larger smart-phone screen, however, SoonR displays very nicely. You also can elect to e-mail the file to another, bigger device, which might be preferable when viewing things like PowerPoint slides.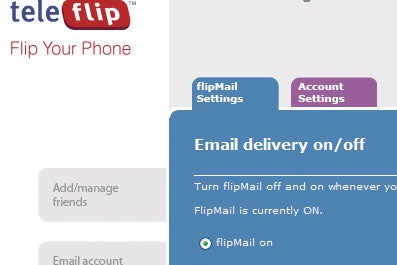 For users with modest needs, a number of services allow basic cell phones to access any e-mail account. TeleFlip lets you forward your home or work e-mail to your cell phone. Simply sign up for the free service, tweak your e-mail account as requested, and you're in business. Messages sent from individuals you specify (and only those you specify) arrive in the form of short, standard text messages. Don't expect much: Messages may not exceed 120 characters, and (obviously) attachments are not allowed. The service breaks larger messages into pieces; you set the maximum number of pieces permitted before TeleFlip should truncate the rest.
Of course, even though these services are free, text and data service charges from your cellular carrier still apply. And if you do not have an unlimited data or texting plan, these fees can add up quickly. Also, the faster your wireless service (EvDO and HSDPA services are speediest), the better.
Shop Tech Products at Amazon