Get to Your Data Anywhere and Anytime: Tools and Tips
Page 4 of 10
ThinkFree
Though the no-cost ThinkFree displays Google AdWords on the right side of your screen while you edit word processing, spreadsheet, or presentation documents, the ads are fairly nonintrusive and don't narrow your workspace in other respects.
Getting files into ThinkFree is simple. The application's upload system enables you to quickly drag files from Windows Explorer into your browser and then upload them all in one shot. You can download those files just as easily, with a couple of button clicks; a "download all files" feature is in the works.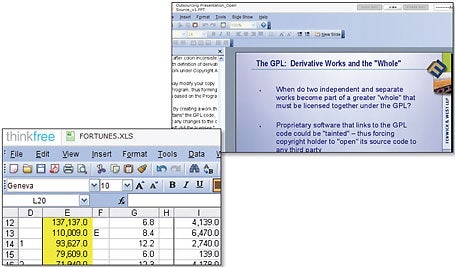 ThinkFree gives you two ways to edit files. A "quick edit" system lets you perform simple tasks like creating basic tables and changing fonts; it's most suitable for text-only documents. If you need more-advanced options (as most users will), switch to "power edit" mode, which gives you nearly the same level of control over the document as you'd have in Microsoft Word--in fact, the power-edit interface is a near clone of Office. The edit modes available for the spreadsheet and presentation subsystems are similar to those for text files. The presentations module also contains a boatload of clip art for you to use.
Like Google's service, ThinkFree gives you a good way to back up files on the fly. It offers generous storage space of 1GB, and its 10MB individual file size limit is more than enough for even the most complicated, art-heavy presentations. You can store many types of files at ThinkFree--not just data documents--though certain types (such as .exe and .dll) are excluded.
When you choose to share a file with another user, ThinkFree sends an e-mail trigger to the user you're sharing the file with, directing that person to a custom URL where the document can be edited via ThinkFree's standard interface. Invited users can view documents without having their own ThinkFree account, but they must have one to use any of the service's editing functions.
ThinkFree's Java-heavy design is the system's only troubling aspect. Java can cause browser problems, and there is no guarantee that a computer you borrow will happen to have Java installed.
Shop Tech Products at Amazon