Get to Your Data Anywhere and Anytime: Tools and Tips
Page 5 of 10
Zoho
In the world of hosted office applications, Zoho may be relatively new (the service debuted in 2005), but it's packed with features. Zoho offers a large and mostly free set of tools designed to replace almost anything you'd have installed on your PC at work. And though some of its tools are still in beta stage, the service mostly succeeds.
Zoho comprises 12 separate modules, including the usual document, spreadsheet, and presentation services, plus a project management module, a chat system, a Web conferencing tool, and even a wiki creator. Using the various Zoho applications is straightforward and simple. Apps load quickly and the interfaces will be generally familiar to any Office user. One exception is the presentations module, which is rudimentary and not very functional.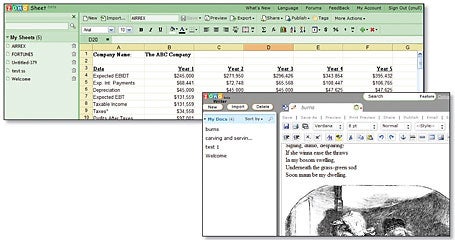 You can log in to any of the systems with a single Zoho ID, but the services are not entirely connected. In particular, if you want to store all your data online, you may be frustrated by the absence of any central repository for files in Zoho: Instead, documents are sequestered in Zoho Writer, in Zoho Sheet (spreadsheets), or in Zoho Show (presentations). Though you can have multiple applications open in separate browser tabs or windows, having a single place to browse through all of your stuff would be far more convenient. This is possible on a limited scale through Zoho's Notebook applet, which allows you to manage clusters of spreadsheets and word processing files, along with other media. (See our full review of Zoho Notebook here.)
You can invite other users to collaborate on your Zoho documents by using the service's integrated e-mail invitation system. As with ThinkFree, you can share documents via an e-mailed URL. People can view Zoho documents without having to create a Zoho account for themselves, though collaborators will have to sign up to edit files online.
Putting your data into Zoho is easier than getting it back out. An innovative feature lets you install a plug-in for saving any file directly to Zoho from within Word or Excel. You can also use Word or Excel to open documents stored online in the Zoho service without ever visiting the Zoho site (you do have to be online, however). It's a handy way to use the editor of your choice while keeping all of your data online. You can export spreadsheets and documents in various formats, but only one at a time. Worse, the only way you can save a presentation is as an HTML document with an embedded Flash file, which makes it essentially uneditable offline.
Zoho has set a generous size limit of 10MB per file, with no size maximum either for word processing documents or for total storage (though the service will limit total storage to 1GB per customer at the end of its beta run). Of the services we tested, Zoho did the best job of handling old file formats: We even managed to import some ancient Excel 4.0 files without a hitch; most other services choked on them.
Overall we were pleased with Zoho, despite some early bugs that required the intervention of a Zoho administrator. For instance, when we used an E-mail address as our Zoho user name, Zoho produced custom URLs with @ symbols in them, which won't work on the Web. If Zoho can figure out a way to tie its scattered services together better, it will be a serious contender.
Shop Tech Products at Amazon